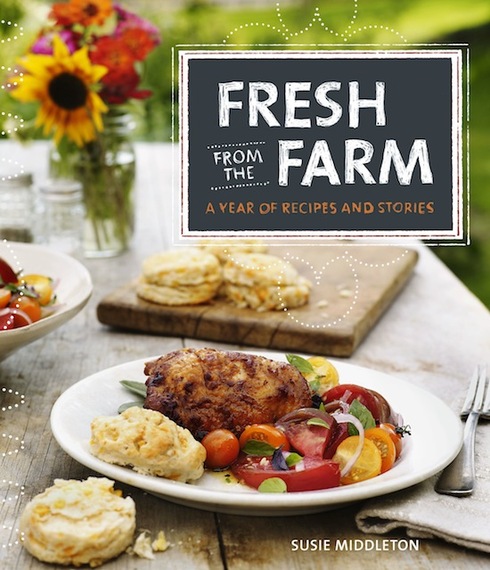 It's nothing short of an act of God that I was able to transform a strange longing to be better connected to my food into a rural life of growing vegetables and raising laying hens. Sometimes, in fact, it seems so otherworldly to me, that I feel like writing about it in any authoritative sense is kind of a sham. (Fortunately, things like cleaning chicken coops, living on a small budget, and battling cabbage worms quickly bring me back to reality.)
I also realize that any kind of farming is a leap of faith. Whether you're a young person setting out, determined to be a Grower of Things, or a mid-life changer like me, intent on a less stressful lifestyle, or someone who grew up on a farm who wants simply to continue working in this age-old profession, you know it will be hard and that there will be failures. But that's true of the best things. And the secret, I now realize, is that it is possible to succeed.
So if you're willing to hang with me here (knowing I'm not the last-word-expert on any of this), I'll give you a list of things that worked for us in our small farm start-up, in case you're dreaming (or acting on the dream) of starting one.
Consider leasing or renting land, rather than taking on a mortgage. The two biggest challenges for beginning farmers are getting access to farmable land and avoiding crushing debt. So if you can get going without a heavy mortgage, it's ideal. A great way to do this--and get access to land you might not have considered--is to look at the leasing and renting opportunities in your community.
In our small but vibrant farming community, we have several examples of how renting is working. We have farmers leasing land for very reasonable rates from land conservation groups like the Martha's Vineyard Land Bank Commission and the Sherriff's Meadow Foundation. We have farmers leasing town-owned land directly from the town itself. We have young farmers renting small pieces of land from older farmers who are not actively farming the whole property but still want to see the land worked. And in our case, we rented an old farmhouse as a place to live, and it happened to come with enough land to plant a large market garden. The house was the original homestead for a large acreage farm which has been parceled up, and fortunately, once we got to know our landlords, they agreed to lease us one of those parcels (a 4-acre piece adjacent to us) to expand our enterprise.
Start small and use your land wisely. And don't quit your day job. If you research your market (see below) and plant smartly, you can grow or raise a lot of food in a small space and be profitable (take in more money than you spend!) with a market garden. By keeping things manageable, you can still do off-farm work while you learn a bit about farming. (Realistically, you're looking at a future that will always involve some off-farm work, so it is good to acclimate to juggling your time.)
For the first three years of our start-up, we were profitable (without paying ourselves anything other than in food) and always able to carry over some money to invest in the next year. This year, after forming an LLC and expanding our egg operation, we were profitable, paid ourselves a small salary, and held over enough to reinvest. And we still had time to do other income-producing work.
Plan your expansion carefully. The second year we doubled the size of our market garden. The third year we built a hoop house, which extended our growing season and cash flow throughout the year, rather than piling on more work in high summer. (The hoop house also solved a very real problem of where to put seedlings and plant starts.) Then we made a conscious decision to expand the egg operation next. And finally this year we have a new, additional quarter-acre plot tilled and enhanced for more vegetables.
Do your market research. There's a big demand for local eggs where we live, and after raising 50 laying hens in our second year and finding ourselves continually undersupplied for the demand, we targeted laying hens and eggs as our primary farm business. (We now have 550 laying hens and more on the way.) We also made this decision based on our own strengths. My partner is a builder and carpenter (and expert salvager-of-materials!) so we were able to build the coops efficiently and with a budget that still made the numbers look good. But you may find that something like growing boutique vegetables for restaurant chefs is a good niche for you to fill in your area.
Consider writing a business plan and reading farm business books. Thankfully, I was forced into learning how to write a small business plan when we applied for an opportunity to lease a much larger and historic piece of farm land (which we ultimately did not get) and were required to submit a pretty comprehensive plan. I carried that knowledge over to writing a business plan and cash flow analysis for our existing farm once we decided to really go for it. (And doing that gave us confidence about purchasing a large amount of hens for our egg operation.)
The book that was most helpful to me was Starting & Running Your Own Farm Business by Sarah Beth Aubrey. I also got some valuable tips from Making Your Small Farm Profitable by Ron Macher. I learned to use QuickBooks Online to keep track of our expenses and income; without it, I'd never have time to keep the books up properly, or have access to the valuable analytics it provides me. I also regularly read a great publication called Growing for Market, and I keep an ear out for announcements from state and federal agencies about grants and programs available to new and beginning farmers. A membership in your local organic organization (ours is NOFA) will keep you abreast of opportunities for learning and networking, too.
Do the work you enjoy most, and make your farm work for the lifestyle you want. I am crazy about vegetables; my partner enjoys working with birds. And we both love working outside. So I manage most of the vegetables and our small farmstand; he runs the chicken operation and builds and maintains all farm structures. So most of the time, we can both get pretty excited about our farm chores.
Best of all, the farm puts delicious food on our table--and helps me develop delicious recipes for my work. It allows us to contribute to our community by providing another source of local food for our neighbors. And it lets us participate in the practice of raising animals humanely.
Of course the farm lifestyle has its drawbacks (traveling gets tricky and work is nonstop), but if you step into it mindfully, you'll soon know if its right for you.
Susie Middleton is the author of Fresh From the Farm: A Year of Recipes and Stories (Taunton Press, Feb. 2014); The Fresh & Green Table (Chronicle Books, 2012); Fast, Fresh & Green (Chronicle Books, 2010). She blogs about vegetable cooking and life on Green Island Farm on Martha's Vineyard at www.sixburnersue.com