We're nuts about this beautiful berry and goat cheese salad with toasted almonds. The sweet and salty flavors put the 'wow' in this salad. Toasting the almonds is a cinch! We always toast extra for a ready-to-go energizing snack. Not a fan of goat cheese? Substitute your favorite cheese. Try feta or mozzarella. Just about any cheese goes great in this salad. Adding a lean protein like grilled chicken or salmon will provide you with a well-balanced and satisfying meal.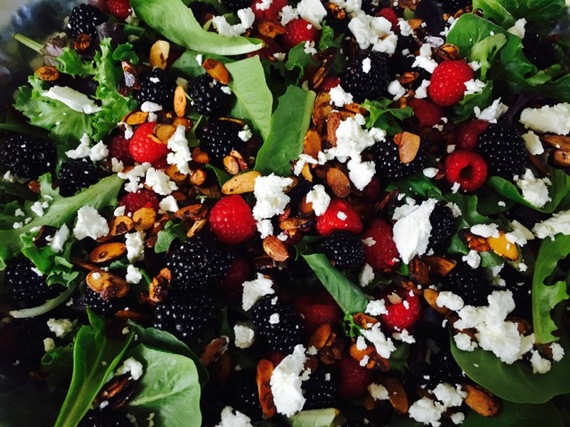 4 cups organic sweet greens
1 cup blackberries
1 cup raspberries
½ cup honey roasted sliced almonds
½ teaspoon sugar (for toasted almonds)
raspberry vinaigrette, to taste
crumbled goat cheese, to taste
1. Lightly coat sauté pan with no-stick cooking spray.
2. Place ½ teaspoon sugar and ½ c almonds in pan.
3. Toast almonds over medium heat for 1-2 minutes or until golden/dark brown. *Stir frequently to prevent burning.
1. Place 2 cups of greens in two separate bowls.
2. Evenly divide the berries, toasted almonds, and goat cheese and layer them on top of the greens.
3. Drizzle each salad with raspberry vinaigrette and serve.