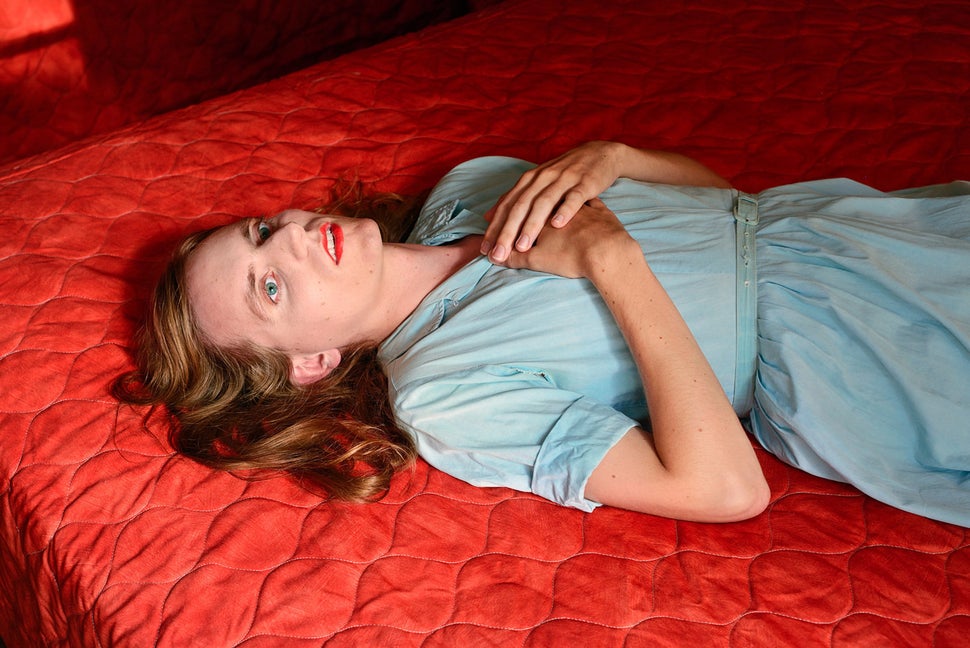 Their collaboration began, as the artist writes on her website, as "a confession between two friends." BJ had, on the subway one evening, confessed to Rivera that he comfortably wore women's clothing in college, but since graduation, found it more difficult to embrace a genderqueer identity in public. She subsequently suggested using photography as a tool of experimentation, a process that could provide for BJ a safe space to explore notions of androgyny and gender fluidity in the presence of another person.
"Taking the first pictures was an emotional experience," Rivera explains of the shoots that took place soon after. "I connected with my friend's vulnerability [...] Both of us have long, fraught relationships with femininity that have fundamentally shaped who we are. Our desires were matched." As time went on, she notes online, BJ and Rivera realized that they had unexpectedly fallen in love. Making images about shame, strength, and intimacy had transformed their relationship from one of friendship and collaboration, into one of romance and partnership.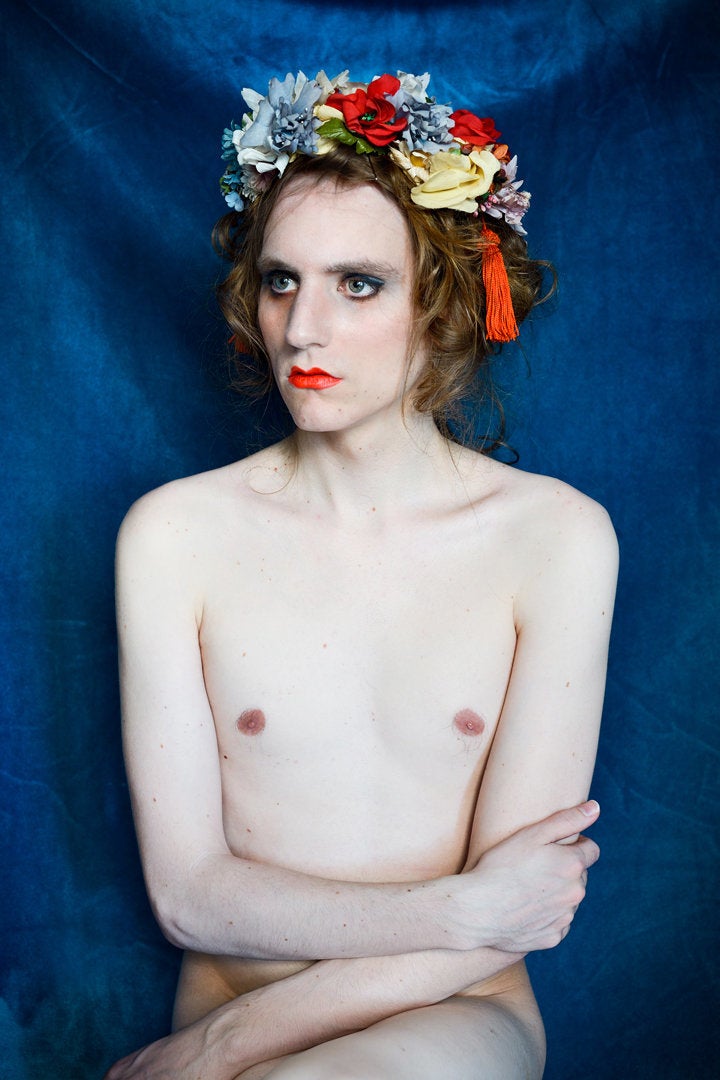 Rivera describes the photos of BJ as obsessive and decadent, collectively meant to push the boundaries of gender, desire, freedom, and cultural taboo with their saturated colors, cinematic poses, and sensual backdrops. But just as they are a reflection of BJ's personal experience with gender fluidity, the images reveal a shared experience between two people in the early moments of a partnership, performing romance together despite the fact that only one face appears before the camera. Rivera likens their emotional process to the ways bonds are formed between a director and an actress, or an artist and a muse; two people who grow to "share a deep connection to the fantasy captured."
In an interview with The Huffington Post, Rivera explains further what her series, named "Beautiful Boy," taught her about love, acceptance and creative expression.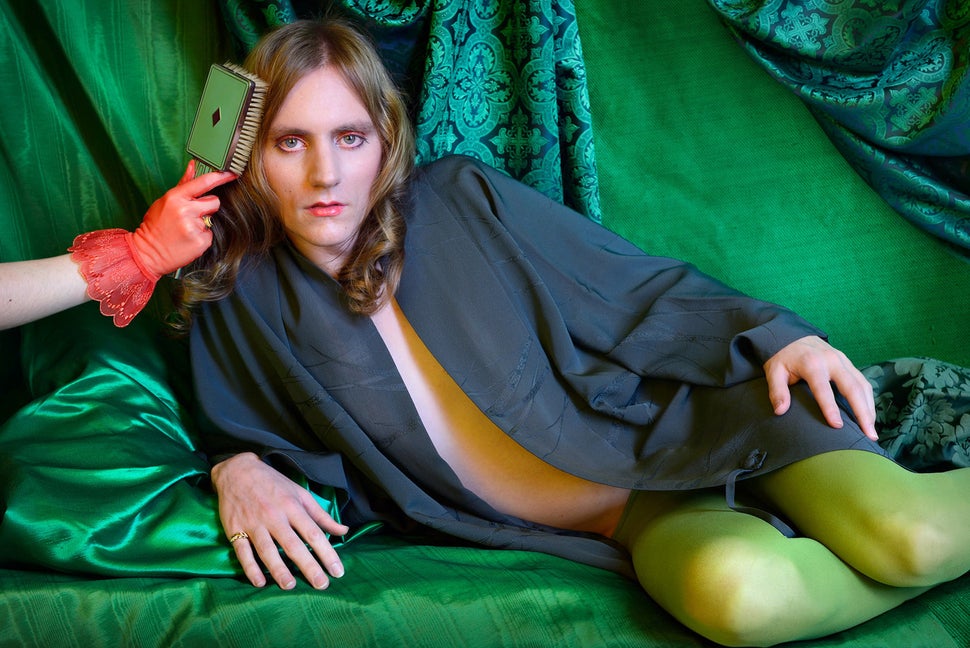 After speaking with BJ about his desire to wear women's clothing, what made you want to collaborate with him on a photography project in particular?
I had been interested in the idea that popular notions of beauty are largely drawn from looking at repeated images. The quality of the image has an incredible power to create desire, and that desire can be to inhabit the space of subject. At the time I was working in the collections department of a museum where each day I was in charge of photographing and processing hundreds of images from a Broadway theater archive dating from the mid 19th to the late 20th century. Within this archive, I saw that conceptions of feminine beauty changed over time, and were not stable; I could not help but associate this with the public desire to replicate media images of celebrity. 
Before our conversation, I had already had the concern that people who are outside the norm of beauty are not photographed as well as those who fit into accepted standards. People outside the norm often do not see themselves represented in the media. BJ had only seen himself in women's clothing in casual college snapshots and selfies taken during a period of isolation. If you have no experience with photography, your photos are often poorly lit, from unflattering angles, or taken with lenses that distort. The struggle to see one's self is a ubiquitous phenomenon that can be traced through selfies posted on social media! I wanted to photograph BJ as if it were no question that he should be the subject of the photographs. I wanted to explore the history of the representation of femininity, placing him unquestionably in that place.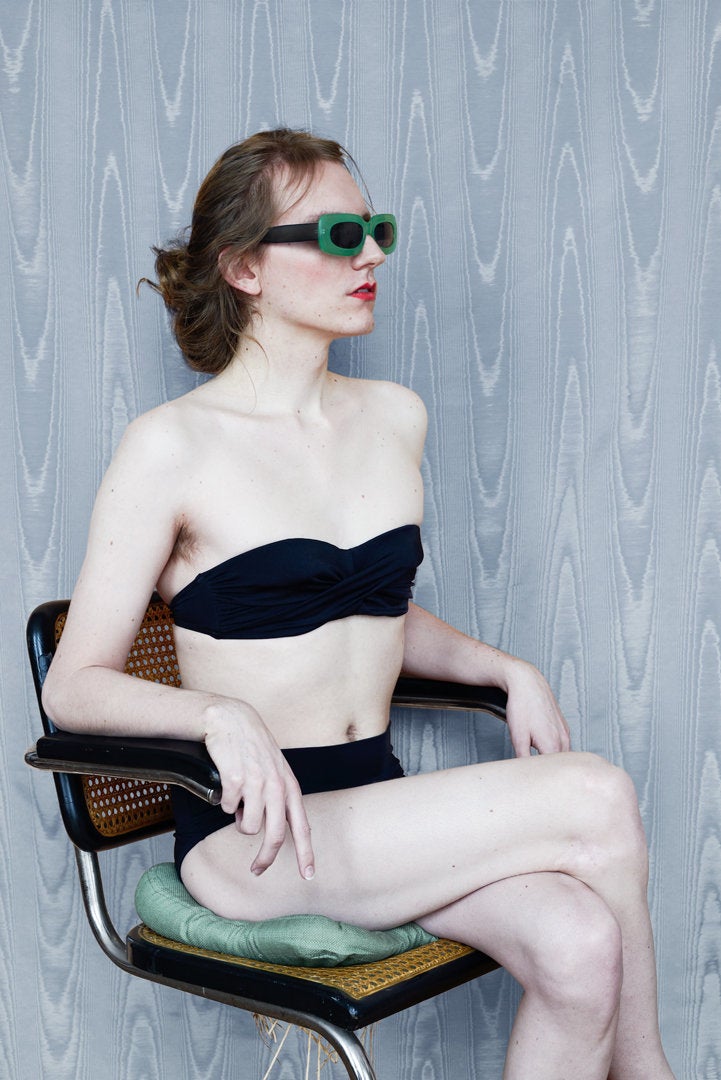 A few other things inspired me, as well. One was that I saw the trappings of femininity as something that was learned and culturally based. I wanted to share with him that even as a biological female, I had struggled to feel like I was passing as "female enough." Women are constantly faced with the pressures of "dressing for the occasion," of attaining a certain physical shape, of performing domestic duties, and at the same time not being too girly, of being sexual but not too sexual. I wanted to let BJ know that I had built my femininity largely through looking -- looking at films, at photographs, at other women. I did not feel that anything about the clothing and accessories of femininity were particularly biological.
Although we each came at it from very different perspectives, it seemed like the perfect opportunity for both of us to explore our conflicting feelings of desire and shame about femininity. As a photographer, it is not always easy to find a model so willing to collaborate. BJ was game. The potential was limitless. I wanted to show femininity as strength -- that wearing a dress wasn't a signifier of weakness. I wanted to show gender as something that one could use to experience freedom, instead of constraint. I was excited at the anticipation of a project that could empower us both.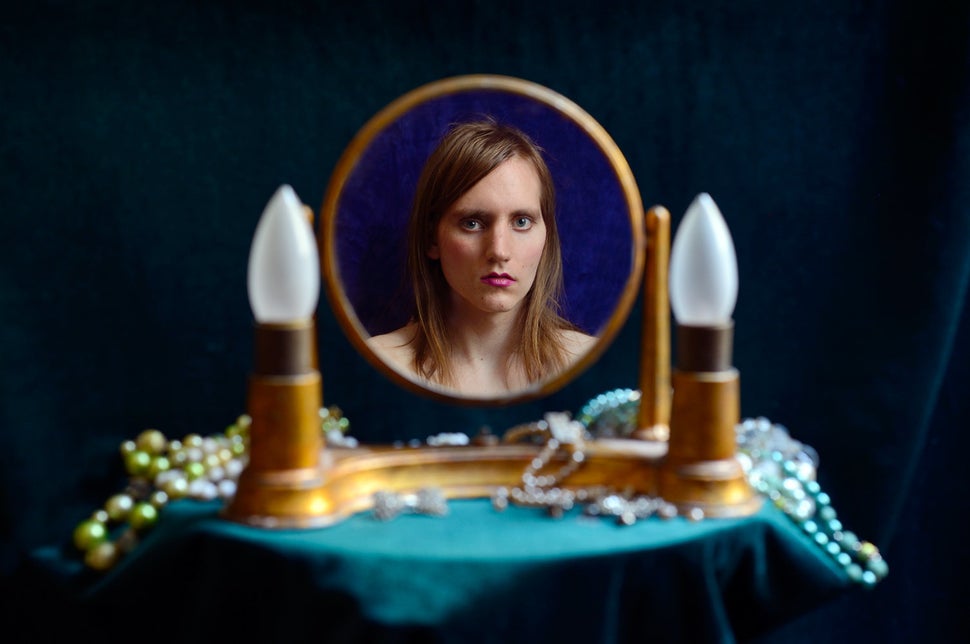 Where did you take the photos, and how did you style the shots?
Most of the photographs were taken in the small kitchen of my Brooklyn apartment using rudimentary materials -- natural light, inexpensive backdrop stands, fabrics from discount stores, dresses I had in the back of my closet. As we became more familiar with the process, we organized a shoot at BJ's former college, renting fabulous clothing for the occasion. Some photographs were taken in BJ's childhood home. At the time those were taken, BJ was still having trouble communicating about this side of himself with his family. Those times were especially emotional. BJ and his family are now able to share more, which has been a huge accomplishment of this work. 
Once the project gained momentum, I became pretty obsessed with the styling. Many times we will watch a film or sift through vintage photographs, taking careful notes about details we find most tactile -- like the "punctum" described in Roland Barthes' Camera Lucida. Because I do the hair and make-up the only way I know how (which is practicing on myself), the images at times oscillate between being both portraits of BJ and of myself.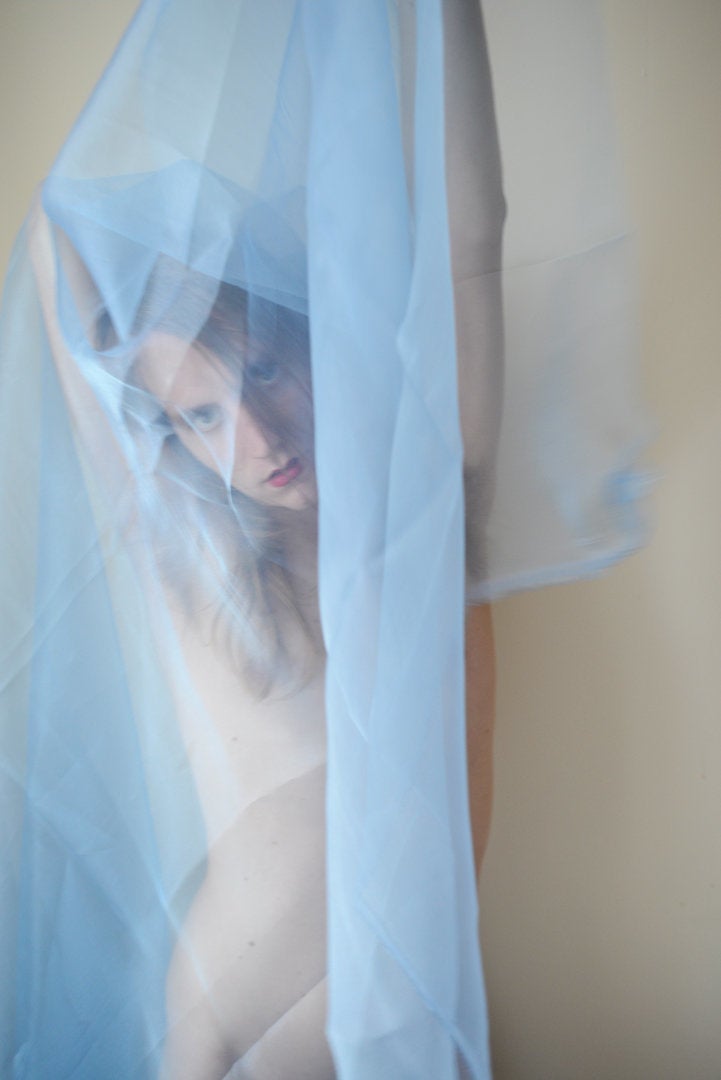 You mention online that you were concerned with making sure the images were not a compromise for either you or the subject of the series. What exactly were you worried about here?
When we started the work, BJ did not know what his desire to be feminine meant for him. There is a tremendous pressure to label identities in our culture and he was feeling that. Because he was sharing something so personal in such a delicate stage in exploring his identity, I did not want to do anything to obstruct his freedom. I also did not want to create a documentary -- I wanted to use the medium of photography to make our fantasies reality. I did not want my vision to overpower his own or his mine. There is always that element of balance; when it swings my way it can reveal much about my own subconscious desires.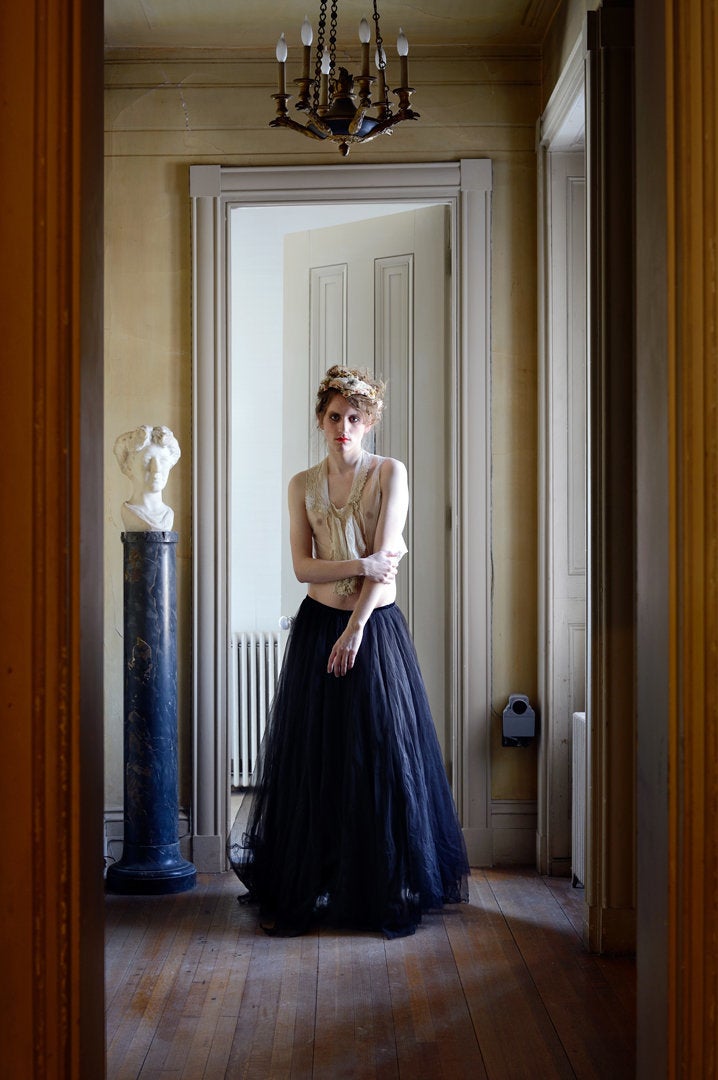 When did you realize you were falling in love with him?
I realized I was falling in love early on in the project. BJ's vulnerability and trust in me was so moving. Having him open up to me about something so personal released the floodgates to a tremendous amount of pain that I had been harboring. It changed my consciousness. I felt such a release from my obligations to perform "my proper role" or from being ashamed of not living up to the social expectations placed on women. To both release each other from the pressures of our gender was incredibly freeing. Here was a man that could be completely open emotionally, who could do so from such a place of empathy. Being in this relationship has offered me such a precious space of honesty. I feel freed from the pressures of my body, which has given me such peace.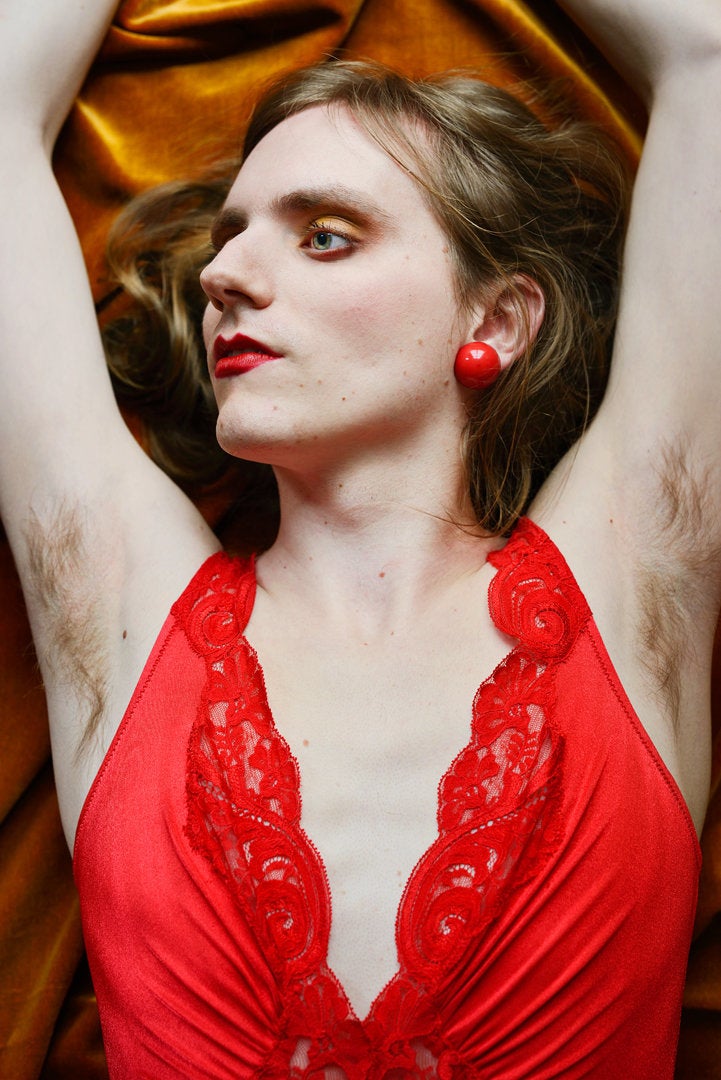 Do you think the photos are as much a reflection of one person's fluid experience with gender expression as they are a reflection of the romance that you both shared?
The photographs are about a shared experience of exploring the parameters of a new kind of relationship, of indulging one another, and creating the world we want to live in. In the images we play dress up, it is childlike and great fun. At the same time, we transcend boundaries of both class and gender. I feel like not many women have stood in my shoes, and it is incredibly enlightening. When I am with BJ, he is naturally androgynous, unafraid to be gentle and emotionally generous. We have taught each other to be more loving and accepting toward ourselves, which leaves us with more energy for creative expression.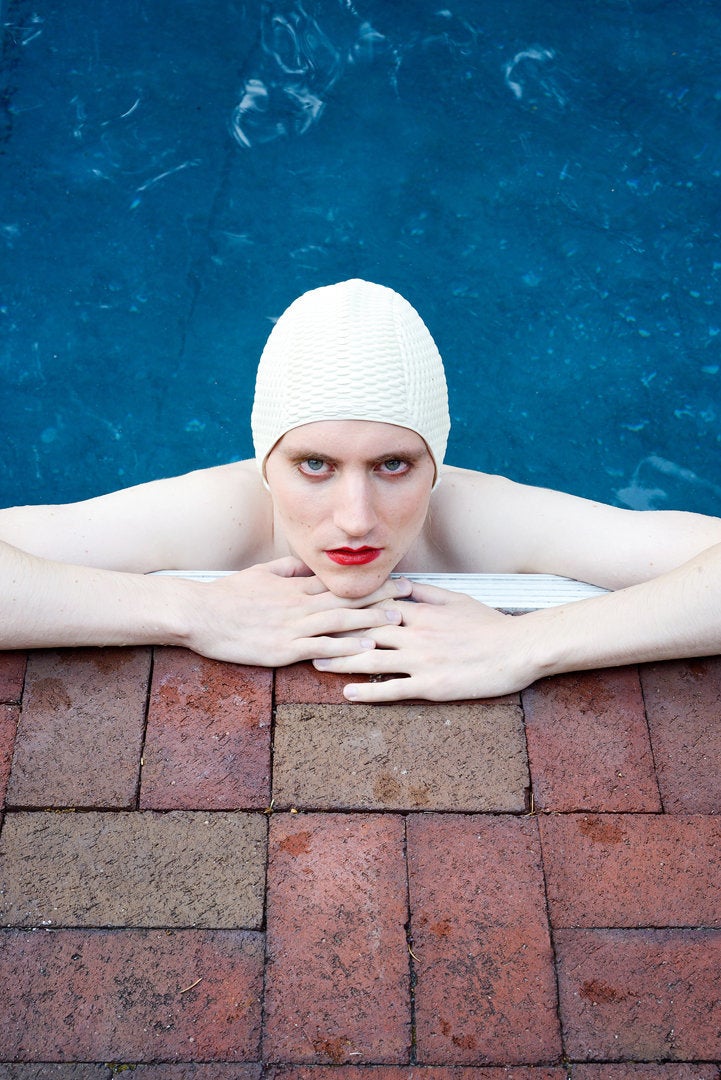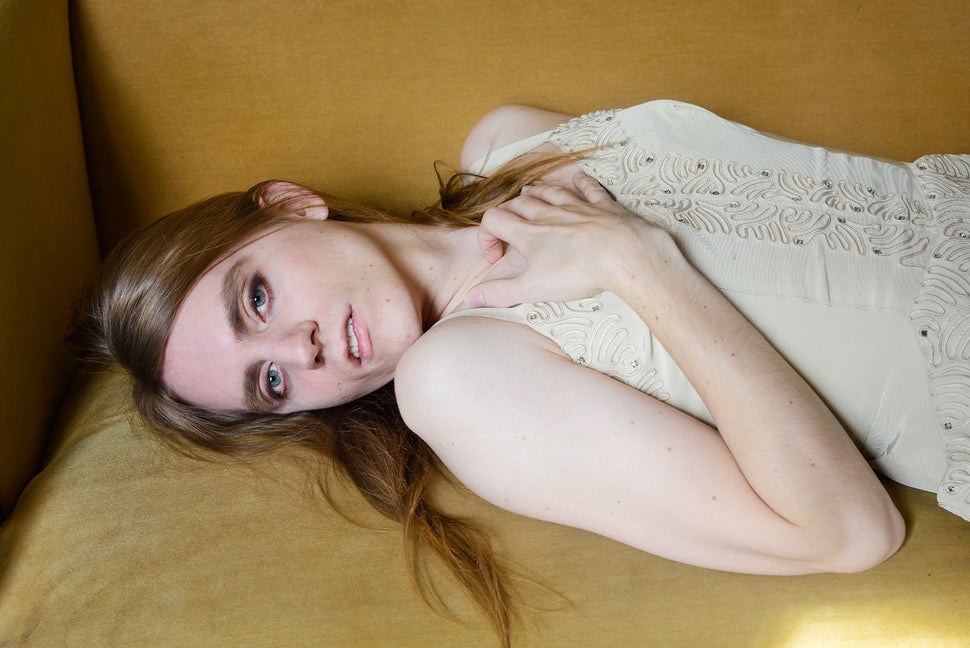 Calling all HuffPost superfans!
Sign up for membership to become a founding member and help shape HuffPost's next chapter
BEFORE YOU GO
PHOTO GALLERY
8 Moments That Made Us Totally Rethink Gender In 2015