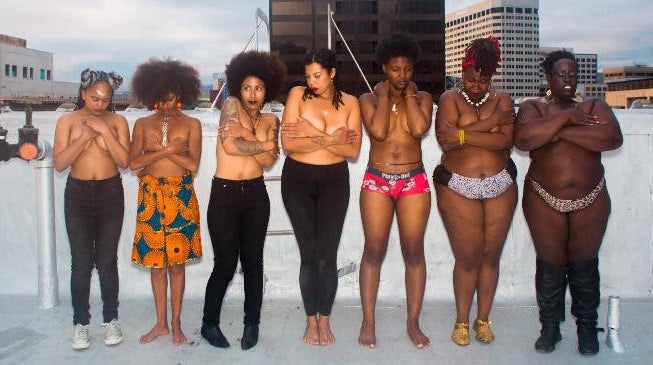 A new campaign is bringing some much-needed diversity to the Free The Nipple movement.  
Created by Wear Your Voice Magazine, the #liberateALLnipples campaign features people of color showing off their beautiful curves (and nipples) to prove their bodies will not be censored and illustrate that they won't be left out of the Free The Nipple Movement.  
The campaign was inspired shortly after National Topless Day, which was celebrated this past Sunday. Across the country women honored the holiday by going topless in public. The celebration is part of Free The Nipple movement, which fights against censoring women's bodies, in particular women's nipples. Currently, it's illegal for a woman to be topless or breastfeed in public in 35 states.  
Wear Your Voice Senior Editor Monica Cadena pointed out that while #FreeTheNipple and the women celebrating National Topless Day are fighting for a good cause, there weren't many women of color included.  
"While we couldn't be happier that women are banding together for gender equality, we can't help but think how much more powerful campaigns like these would be if they were inclusive of all women?" Cadena asked in a recent Wear Your Voice article launching the campaign. 
Images below may be considered NSFW to some readers.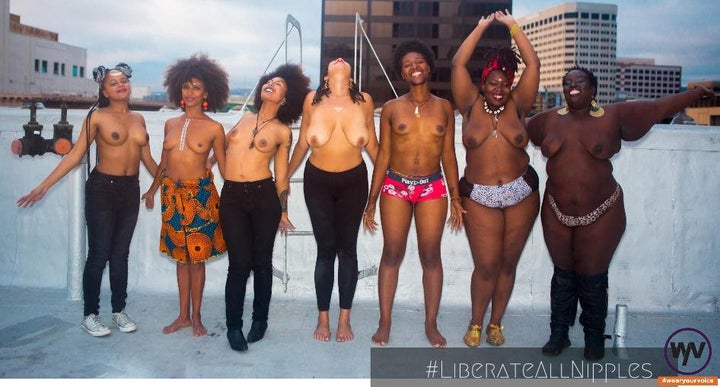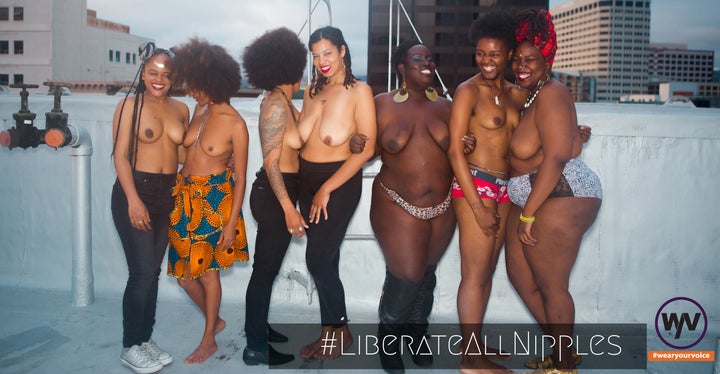 In a video for Wear Your Voice, writer Randi Butler explains why it's so important to actively include people of color in the feminist movement. "Women of color already feel left out by the feminist movement," Butler says. 
She goes on to highlight why the liberation of people of color's nipples carries particular significance. "There is already a divide when it comes to black women's sexuality and femininity," Butler says in the video. "It's demonized significantly more if you're a black woman or you're a Latina woman than if you were necessarily white."
Cadena explained in her article that the lack of diversity in the National Topless Day campaign was very apparent. "While this doesn't imply that there weren't Black, Trans, Latina and Asian women attending the demonstrations," Cadena wrote. "It does suggest that [people of color] were outnumbered by white cis-gendered women in another feminist movement (yet again)."
While the organizers of these demonstrations aren't necessarily responsible for who shows up, Cadena noted, "maybe if campaigns like #FreeTheNipple showed more diversity in their campaigns, people from various backgrounds would be more compelled to attend such events in the first place."
We can definitely get on board with that.
Scroll below to see people of all color and sizes liberating their nipples.
Images below may be considered NSFW to some readers.  
PHOTO GALLERY
We Exist: Diversity In Plus Size Bodies
Calling all HuffPost superfans!
Sign up for membership to become a founding member and help shape HuffPost's next chapter