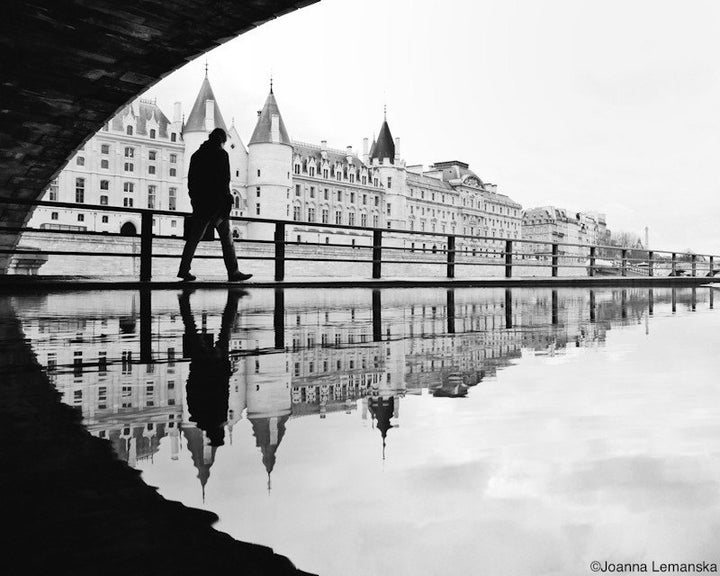 Countless tourists arrive in Paris each year, snapping hundreds of pictures on cameras and smartphones. Joanna Lemanska's mirrored photographs of the romantic city, however, stand out from the average visitor's snapshot.
Lemanska, who goes by the handle MissCoolpics, is an art historian living in the City of Light. Unlike typical shots of Parisian monuments or clichéd cityscapes, Lemanska uses naturally-occurring reflections to capture unique views. Her mirrored images create serene moments of time, so her images look more like futuristic dreamscapes than a bustling tourist hub. In the stunning photos below, Paris becomes new again.
"First thing that I do when a see a potentially interesting reflective surface, like puddle, window, floor, is to look around and see if there is anything interesting enough that would reflect. Otherwise 'doing reflection' would become just a totally mechanical activity," Lemanska told The Huffington Post via email. "I try to think a lot about the elements of the composition. It's almost like playing with toys -- I have various elements and I have to put myself in the best place possible to have the in the right composition."
Lemanska's street photos from France and Poland will be on view in Kyoto at Gallery Yamashita until April 7 in an exhibition titled 'Cool Pics from Paris.'
See more of Lemanska's photos on her Instagram, and scroll through the slideshow below to rediscover Paris in the springtime.
Correction: In an earlier version of this story, we mistakenly reported that Lemanska's photos would be on view at Gallery Yamashita until May 7. We regret the error.
PHOTO GALLERY
Réflexions de Paris
Calling all HuffPost superfans!
Sign up for membership to become a founding member and help shape HuffPost's next chapter