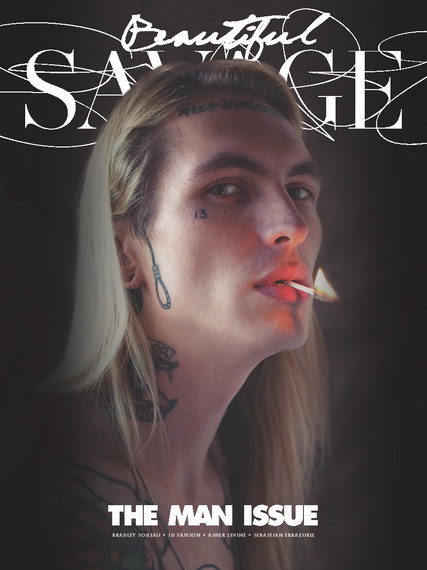 What does it take to push past the standard parameters of beauty and social norms? Who do you enlist to help you with such a bold and unconventional mission? These are two questions recently answered when I sat down with Chad Saville, the Editor-in-Chief of Beautiful Savage magazine, an indie mag that boasts finding the beauty in an aesthetic that often challenges your perspective and your comfort zone.

On the eve of their spring issue launch, we discussed the meaning behind Beautiful Savage's controversial men's issue that explores new ideas around masculinity while providing us beautiful and stimulating visuals to tell their story.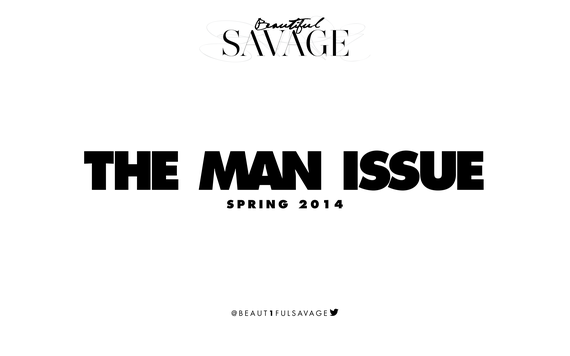 Saville has always been a writer. His fascination with glossies as a kid pushed him to study journalism in college. While pursuing this career it became clear that journalism in the traditional sense wasn't a great fit for him. He ditched that idea all together and got into digital. Little did he know that this path would lead him right back to writing and creating content in new and exciting ways.

Without the backing of a traditional editorial experience, Saville and a few of his Brooklyn buddies started Beautiful Savage magazine. They saw the white space in the market which, was that space in between traditional glossies and magazines displaying an aesthetic that was visually beautiful but had an underlying challenging or dark theme. "Art that makes you feel challenged or conflicted in some way, that's the feeling I'm always trying to get to", says Saville.

Well, the Beautiful Savage team accomplished just that in their spring men's issue. Taking on the loaded topic of masculinity is no easy task. Though a very relevant topic it is not one that has yet been presented in extremely visually appealing ways in many of the standard magazines. Saville likes to think that "We are pushing the boundaries of gender just a tiny bit."
Rowshana Jackson, Beautiful Savage's Fashion Director, has similar thoughts on presenting visuals for the men's issue. "This issue is about every man. My inspiration came from Chad [Saville]. His aesthetic, his person and his curiosity about life is what I ran with. All of what you will see is just a collection of inspirations I've pulled from those I'm working with."

For example, one of their features is JD Samson who identifies as gender non-conforming. Though born a female, you get an authentic johnny boy feel when around Samson. "The lines between masculine and feminine are blurred," says Saville.

"The agenda of this issue is to celebrate mankind and it's the Beautiful Savage answer to titles like 'Man of the World', 'Dapper Dan', and 'Fantastic Man'. It was inspired by a chance stop in front of Bowery Iconic's store front by Saville. He saw many of the men's issues and wanted to make them better, darker and cooler while still pushing boundaries. Saville wanted to show the spectrum of the male. The issue explores the range of the alpha male all the way to gender non-conforming with the underlying young, dark, eclectic aesthetic Beautiful Savage is known for.

Though the spring issue deals with many loaded social topics centered around masculinity Saville is quick to note, "As a human being I care about social issues but as an editor I'm not trying to preach on people I'm just having fun. We do these things because A. its fun and B. it looks really good."

The aim of Beautiful Savage is to uncover the best artists, the best photographers, the best musicians etc. who are creating on their own terms. The magazine celebrating these people because Beautiful Savage are those people. It's about encompassing a certain creative freedom.

"Everything about Beautiful Savage is about the community of people we work with. I know who is around me, they know my vision, they know the aesthetic of Beautiful Savage. Its just about embracing the people that people around us." --Chad Saville
To pick up your own copy of the Man Issue, head over to Beautiful Savage.
For behind the scenes video footage of the making of this issue head on over to Culture-Complex.com!