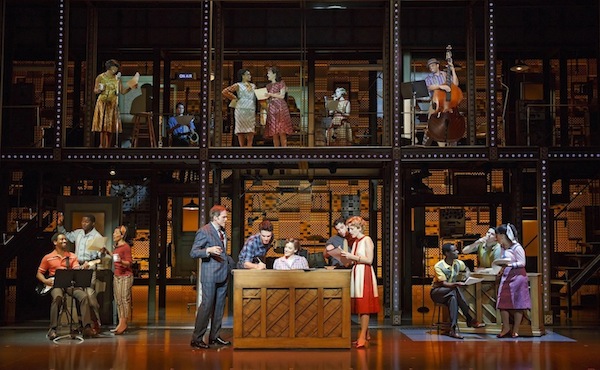 What could be better than a Jukebox Musical set on a Greek Island? One set in an office building where Jewish married couples write songs for black stars to sing.
Premiering in San Francisco before its January New York opening, Beautiful, The Carole King Musical, is yet another Juke box musical. But unlike other recent musical biographies about musical careers, the Carole King story is really about music making.
Set in the hey day of The Brill Building's famous song spinning mill, the show, with book by Douglas McGrath, hits the highlights and lowlights of Carole King's songwriting and personal partnership with her husband, Gerry Goffin. And like any great romance turned sad divorce, their partnership yielded beautiful songs.
If you spent hours of your formative youth contemplating Carole King's bare feet and her blurred cat on the Tapestry album cover, (I'm sure I'm not the only one) then Beautiful, the Carole King Musical could make you giddy and verklempt.
Against the backdrop of the evolution of popular music, Beautiful celebrates King's evolution into maturity and independence. The formula -- a Behind the Music -- behind the lyrics narrative, accompanied by a Greatest Hits song list -- provides oodles of pop junkie trivia. But thankfully, the show has a few more dimensions. Beautiful applauds the journey of a nice Jewish girl from Brooklyn who becomes a teenage team player hit-maker and emerges as a singular singer-songwriter who comes into her own.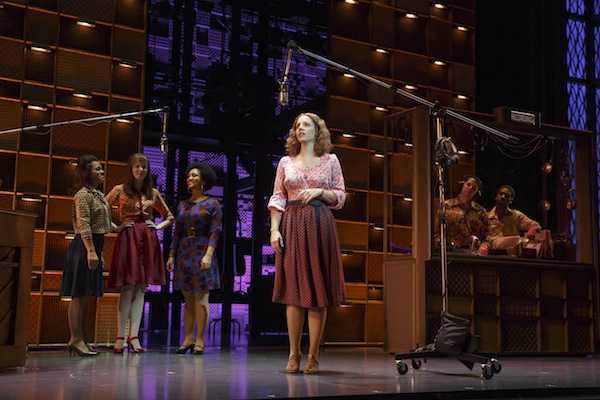 Jessie Mueller is excellent as Carole King, née Carol Klein. It's a tricky task to play a look-a-like sound-a-like icon and perform the role as a character and not a celebrity impression. Mueller's voice is not an exact reproduction of King's, but it projects her voice's clear, resonant loveliness -- injected with a jolt of soulfulness.
Jake Epstein plays Gerry Goffin, a brilliant lyricist and lousy husband. Epstein is commendable for rousing a degree of sympathy instead of hisses for this conflicted guy who breaks our Carole's heart.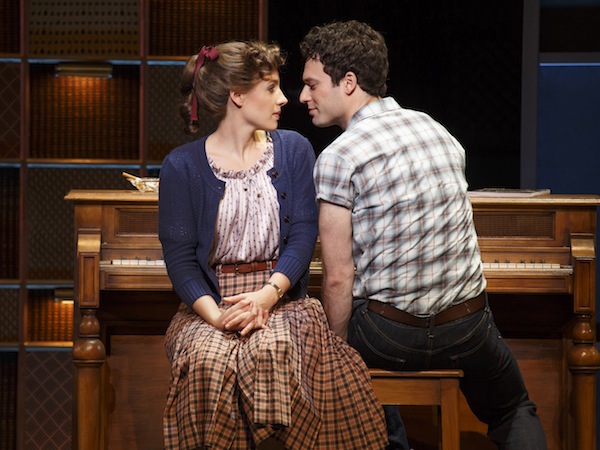 Much of what is fun in this record-lover's Broadway musical is hearing the paired down solo piano versions of famous hits, followed by the famous recordings which burst with rhythm, strings and guitar arrangements. It's a thoroughly enjoyable way to show and tell about the catalogue of Goffin/King songs made famous by so many Doo-Wop and R&B vocalists.
Director Marc Bruni and playwright Douglas McGrath have cleverly crafted these before and after, back-to-back musical makeovers that weave together the character-driven creative process with flashy Broadway showmanship. We see the songwriting teams create and compose and demo the unplugged version -- and then we watch the pop- soul stars perform the lushly orchestrated numbers decked in sequins and color coordinated duds.
Goffin-King songs like The Shirelles' "Will You Love Me Tomorrow?" The Chiffons' "One Fine Day" and The Drifters' "Up on a Roof," are staged with American Bandstand splash. As in Dreamgirls, the years between the packaged Fifties and the liberated Sixties are marked with changing fashions, mores and musical styles. Like Dreamgirls, we see fashions go from glitter to groovy, hair goes from high to long. Josh Prince's choreography and Alejo Vietti's splashy girl group and boy band costume design bring eye-candy to the sound candy.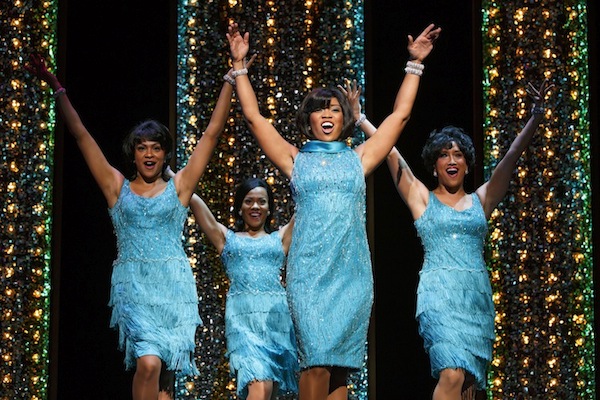 All Photos by Joan Marcus
Like Dreamgirls, Beautiful shows artistic collaborations, infidelities and jealousies and stylized musical numbers . Dreamgirls shows the black stars on stage and backstage. Beautiful reveals the Jews in the cubicles writing songs for these stars.
The show also tells the story of Cynthia Weil and Barry Mann, the songwriting team in the next cubicle over. Anika Larsen and Jarrod Spector play Weil and Mann, another husband-wife team who were both friends and rivals of the Goffin/King hit machine.
Weil's brash confidence and Mann's neurotic neediness bring some laughs to the play. (As does Carole's self-deprecating Barbara Streisand-esque quips.)
The two team's competition and dueling song pitches bring an American Idol appeal and a useful brisk pacing to a play in which people are often sitting on piano benches. Each demo their songs for impresario-tastemaker Don Kirshner ( played by Jeb Brown) who decides whether Mann-Weill's "He's Sure the Boy I Love" or Goffin-King's "Will You Still Love me Tomorrow?" will be sung by The Shirelles.
The Shirelles' 1960 version of "Will You Still Love Me Tomorrow?" is great. But when Carole King records it on Tapestry, it is raw and vulnerable and beautiful. By then, its 1971 and she has traded her troubled marriage, her Brill building office and her mousey hair-do for her famous Jewish curls and a piano at Carnegie Hall.
Related
Popular in the Community