There's no doubt that water is essential. We drink it. We swim in it. We're even made up of it. But sometimes, we should stop and appreciate the sheer beauty of it.
If you're yearning for that feeling of serenity, the peaceful moment amidst the craziness of the world, these fifteen water landscapes will undoubtedly take your breath away and then, maybe, just maybe, reawaken your wanderlust: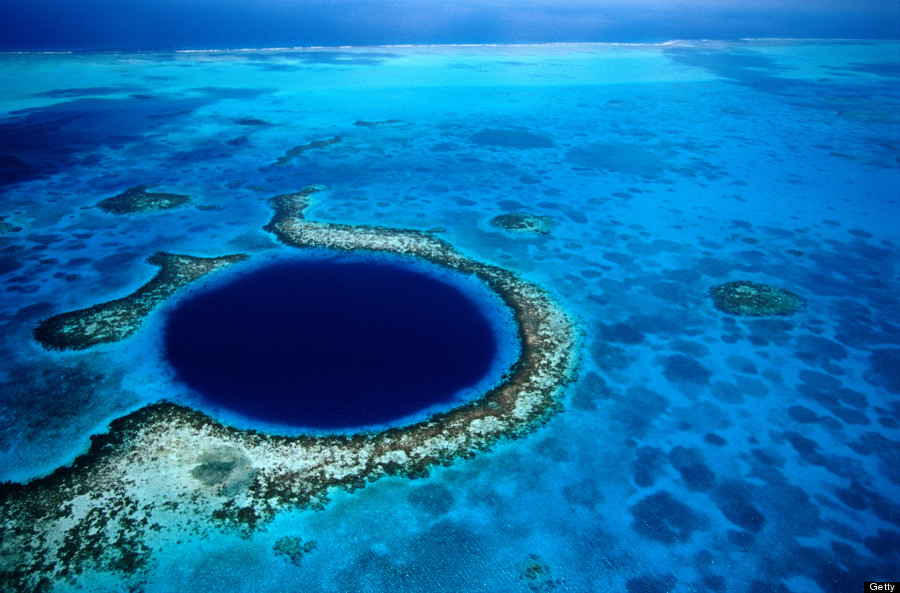 The Great Blue Hole is an underwater sinkhole, or cave, in Lighthouse Reef, Belize. It was a vertical cave above ground during the past ice ages, but with time, the rising ocean levels flooded the 400 feet deep cave.

Eleuthera Island, Bahamas

(Flickr/Michael Harris)
In the 110-mile long and 1-mile wide island of Eleuthera, there is bridge called the Glass Window Bridge. There, you can see the incredible deep dark blue of the Atlantic Ocean on one side and the aquamarine of the Caribbean Sea on the other.

(Imgur)
Like other pink lakes around the world, the beautiful pink color could have been caused by a combination of salt-attracted Dunaliella Salina bacteria and sunlight absorption.

Iguazu Falls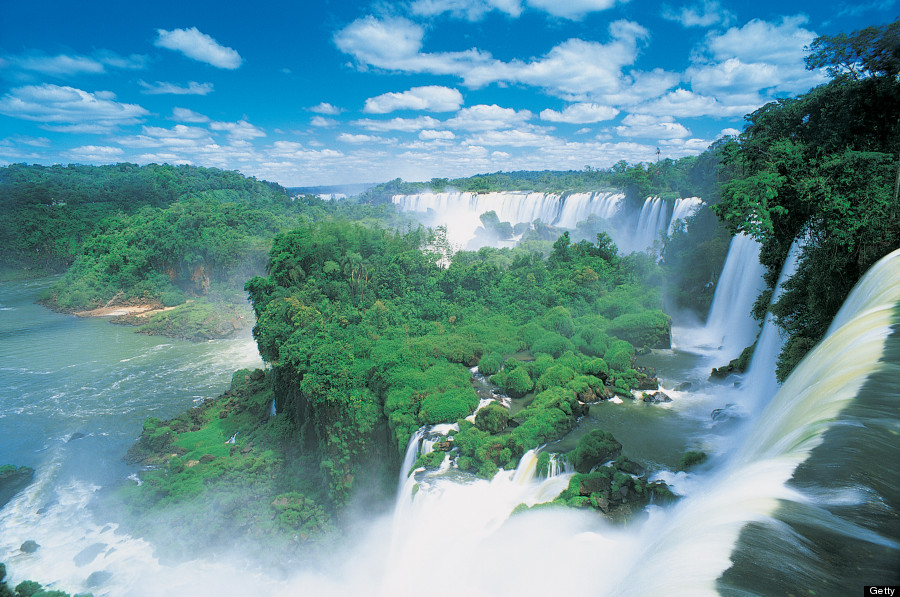 This semicircular waterfall lies on the border of Brazil and Argentina and about 2 miles wide

Grand Prismatic Hot Spring, Wyoming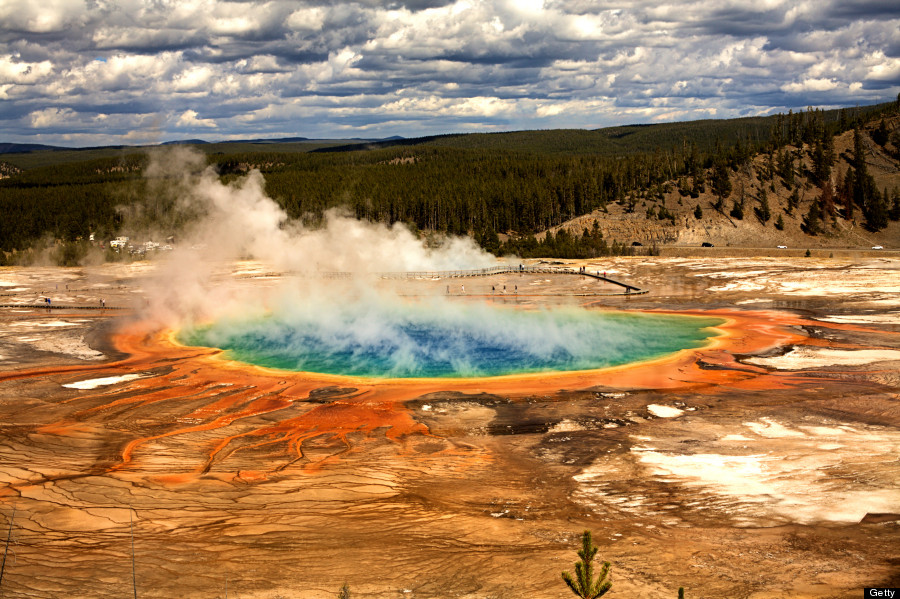 Located in the Yellowstone National Park, the Grand Prismatic Spring is the third largest hot spring in the world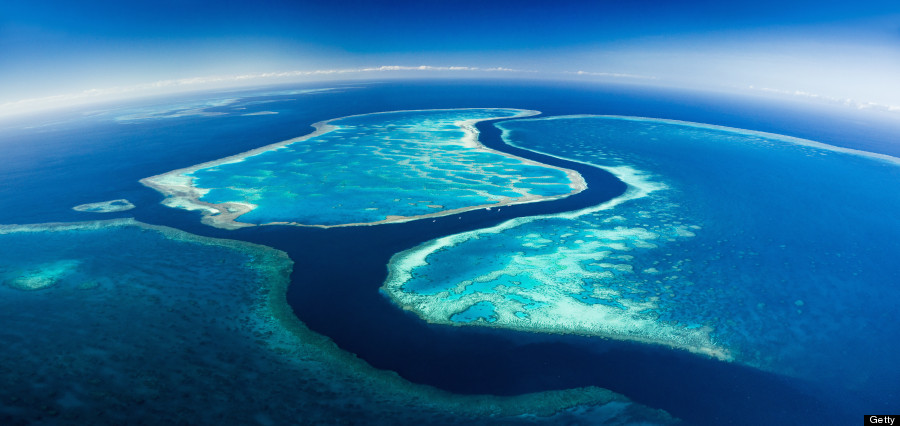 Home to an abundance of marine life, the Great Barrier Reef is the world's largest coral reef, consisting of 3,000 individual reef systems.

Perito Moreno Glacier, Argentina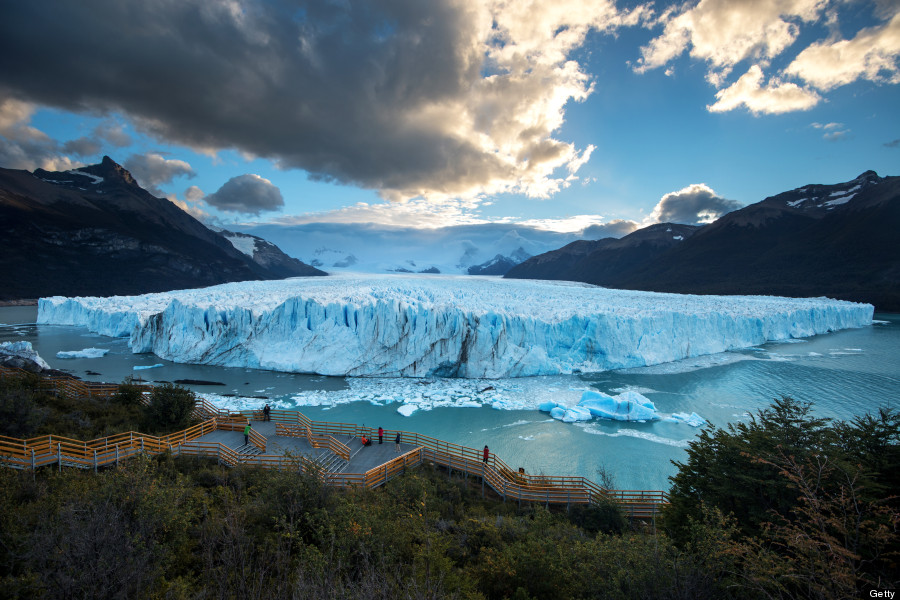 One of the most famous glaciers in Patagonia, visitors are allowed to hike this incredible glacier in the town of El Calafate, Argentina.
Abraham Lake in Alberta, Canada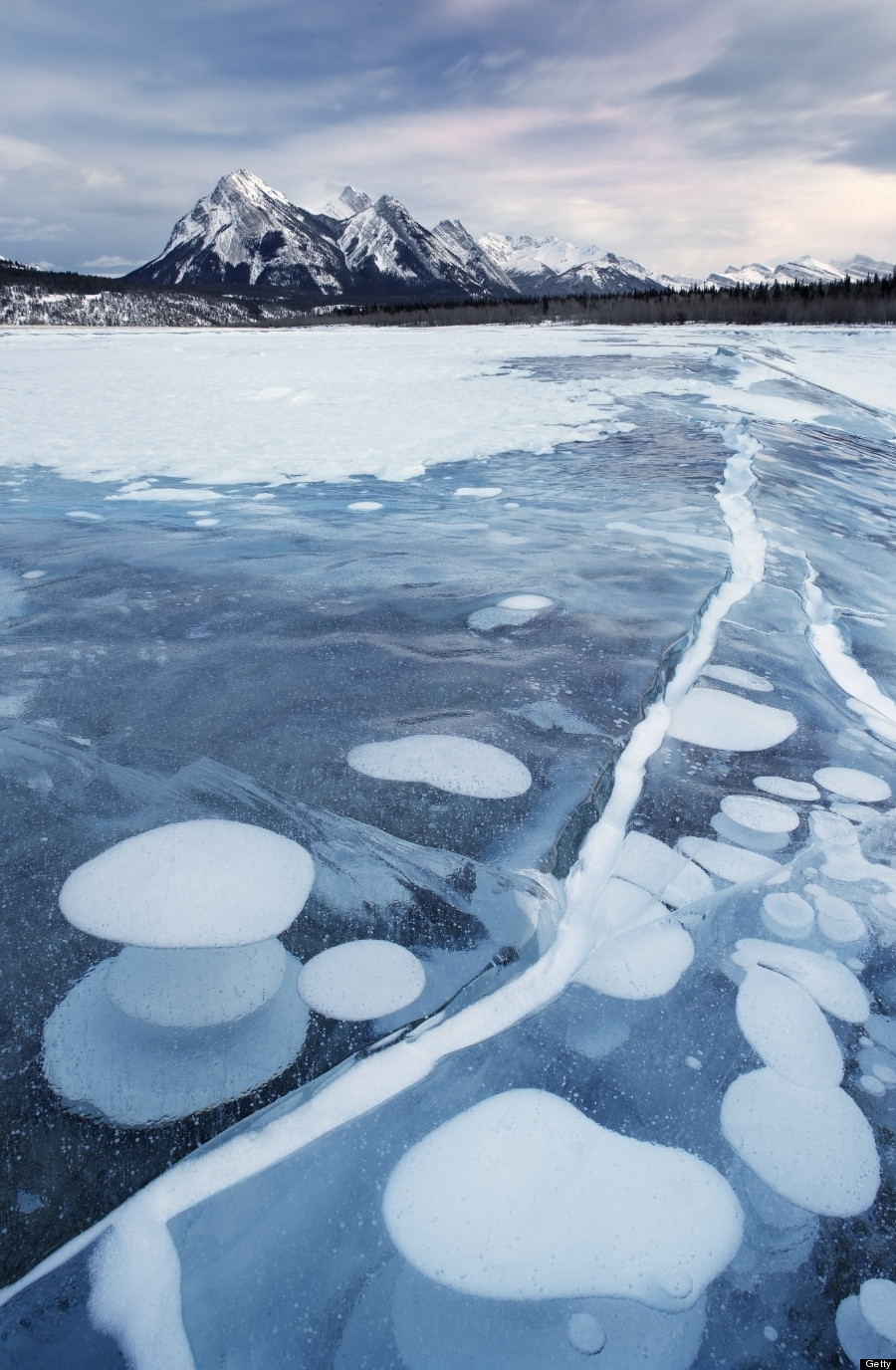 These magnificent ice bubbles in Abraham Lake are created by methane gas released by the plants at the bottom of the lake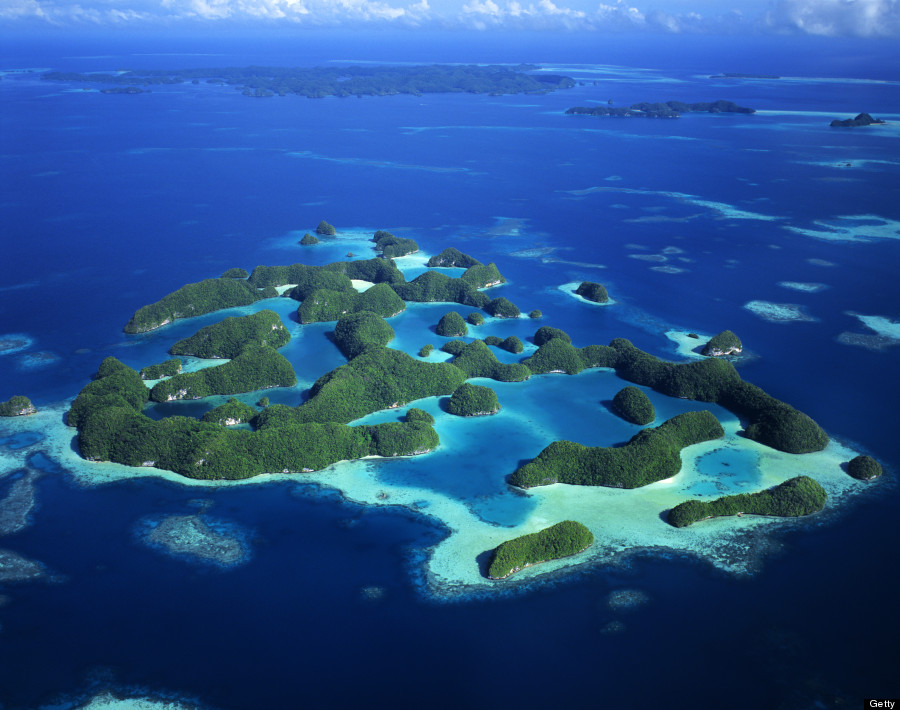 Palau, in Western Pacific Ocean, is a country made up of of volcanic and limestone islands and is a hot spot for scuba divers.
Fairy Pools, Scotland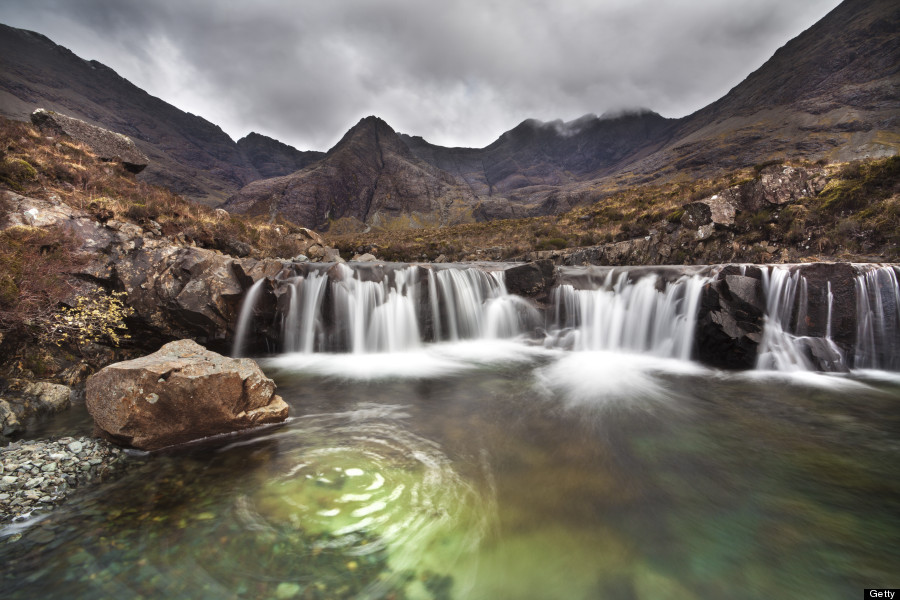 These gorgeous waterfalls, known as Fairy Pools, can be seen while hiking in Isle of Skye, Scotland.
Pamukkale Travertine Pools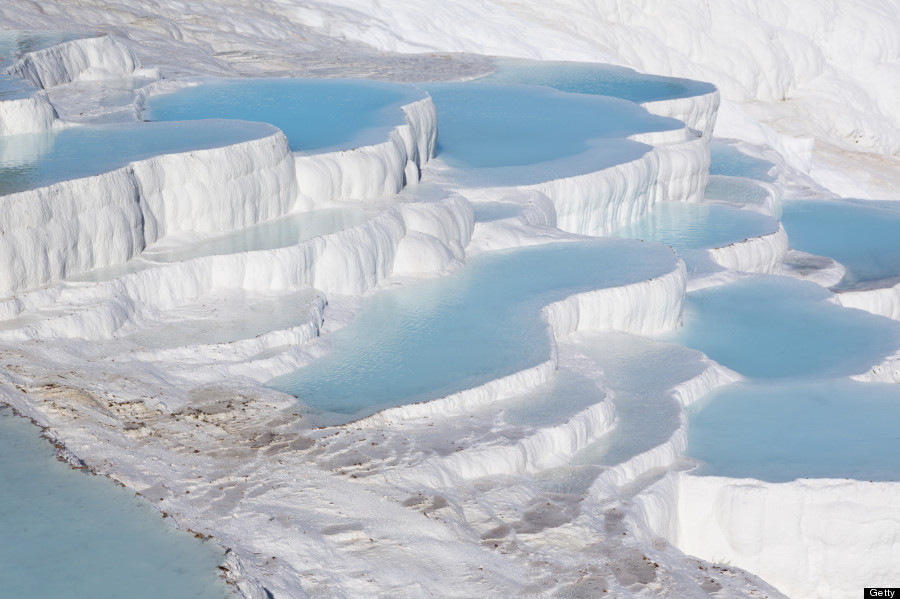 A UNESCO world heritage site, these hot springs were built in 2nd century BCE in Pamukkale, Turkey.

Five Flower Lake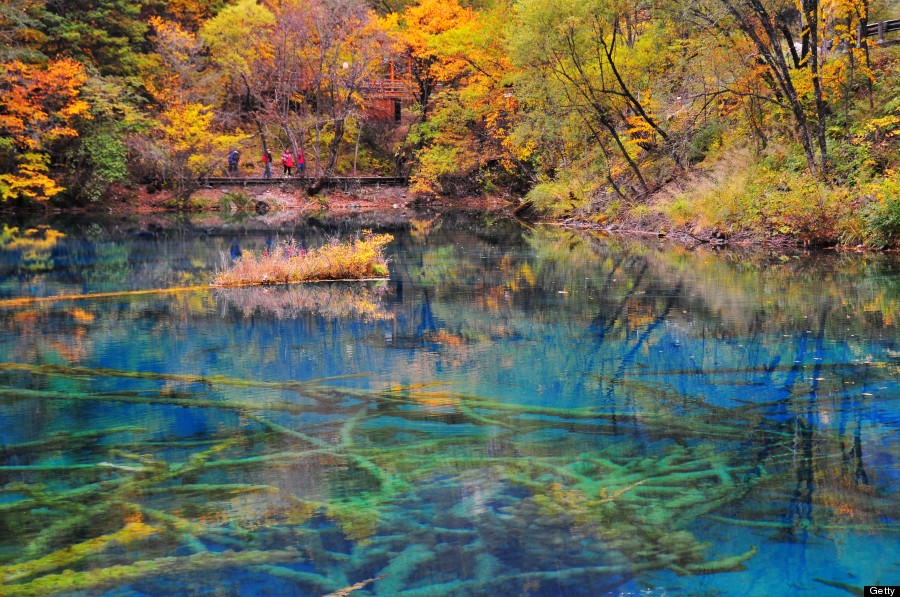 The Five Flower Lake in Jiuzhaigou Valley, China gets its beautiful colors from plant and mineral deposits.

(Flickr/BMC Ecology)
You know the algal bloom that causes the red tide? A big enough movement (a wave in this case) can chemically change the same algal bloom and create these beautiful bright blue waves visible at night.
Correction: A previous version of this post mistakenly had the Grand Prismatic Hot Spring in Colorado, not Wyoming. The error has been fixed.
Related
Before You Go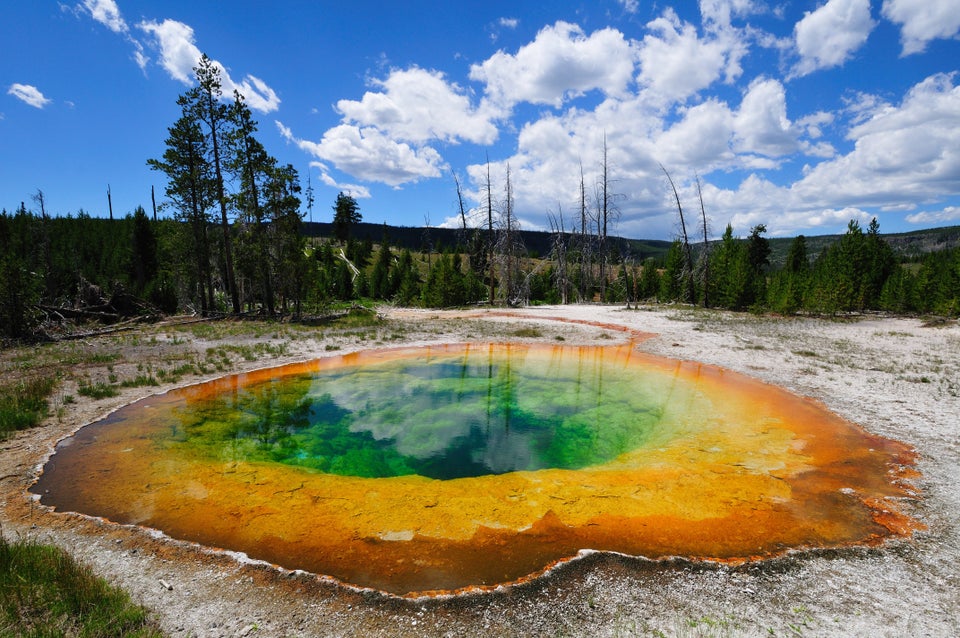 11 Insanely Cool Bodies Of Water