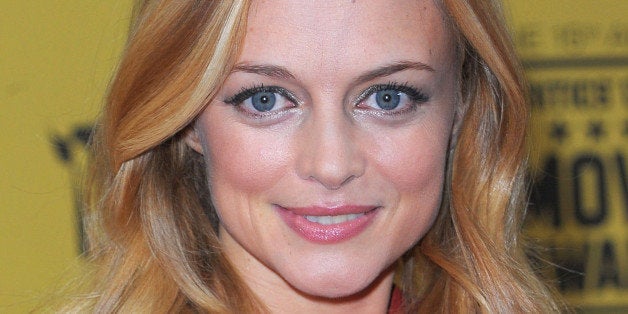 Believe it or not, Heather Graham has been the drool-worthy obsession of anyone with eyes for about three decades. From License To Drive to Boogie Nights to Scrubs to The Hangover to Californication, Heather Graham has had a very long career that proves that she is in fact the personification of whatever anyone might have dreamed the perfect woman to be come to life- and has managed to stay just as magnificently beautiful as the day she started! Magnificently gorgeous, she continues to defy all justice in this world as she must have a painting in an attic somewhere, Dorian Gray style. For many years, it was Graham's outrageously perfect appearance that made the world believe that she was in fact "the perfect woman" and got her cast in roles that spoofed this part.

But, clever to a fault, with a keen sense of comedy, Graham was always in on the joke. She harnessed it and made it her own, turning the joke on the rest of the world as she made a long-lasting, solid and viable career out of it. Time and time again, she proved that she had lasting potential for this industry and that she was more than just a pretty face, continuously showing that the things that made her invaluable went far beyond her looks, but were actually her outstanding work-ethic, her ability to find the directors vision and take chances, and her talent- especially her impeccable and irreplaceable comedic timing. This was particularly revolutionary as she helped paved the way for actresses to be silly on screen. Beautiful as she is, she was really one of the first actresses directors could depend on to really be brave enough to put herself out there for a laugh. Before, there was a big distinction between "beauties" and "comediennes," and Heather Graham helped blend the two cohesively.

Now, she takes on another important role in a very progressive time. With so many stories told from a male's perspective and so many films being patriarchal, Graham is stepping up to the plate to help change the mold yet again and offer a fresh women's perspective; she is stepping behind the lens. Now trying her hand in writing and directing with her new movie Half Magic, Graham tells the story of a woman who is daunted by a man and told that only male stories will sell in Hollywood- an experience she is all too familiar with. But, clearly Graham can't be stopped when she has something important to say. Case in point? She was one of the first celebrities to start rallying behind raising awareness for climate change! And with two movies on the way, and two guest starring roles on two hit TV shows, there is clearly no slowing Heather down!
On her most recent stint on cop comedy Angie Tribeca, Graham parodied the role she so often finds herself in; "The Perfect Woman," and although it's supposed to be in jest, looking at her resume of accomplishments it becomes hard to believe it's anything but true- even if you discount her perfect appearance. Here, she talks about all she's been up to, the pressures of a patriarchal society, diving in to writing and directing, and what she has coming up;

You just did a stint on Angie Tribeca which really so perfectly parodies the "perfect female cop" we've seen in media for so long - and if anyone should be playing this role it's you because you've really shown that this is a joke that you get for so long. Talk about your role on Angie Tribeca and lampooning these sort of perfect women.
I love the absurdity of the comedy they have on that show. I love how they make fun of those cop shows that people love, but can be ridiculous if you really think about it- they tap into all the clichés. I love how they don't try and make it real. Some shows take reality and exaggerate it, but this show is just super absurd. I was talking to the showrunner Ira Ungerleider and relating it to Monty Python- how things never made sense, it was all for humors sake and you're laughing at the absurdity of that genre.
Speaking of being "the perfect woman"- you have been idolized by many as the living equivalent of this idea for about three decades- and clearly you're just as beautiful as the day you started. Hollywood has so much pressure on women and appearance and aging- do you feel this? Can you touch on that?
Well, I think it's not just Hollywood, I think that the world is unfortunately pretty patriarchal, and as a woman it's good to counteract that by not buying into it. You have to feel good inside yourself and not base yourself worth on what other people think, and I think if you are happy and enjoying your life, then that sort of makes you more attractive. And I recently started writing my own stuff, which is fun. In the past, I think I was always waiting for someone to give me my dream job and then I realized that I was going to give myself my dream job. So, I just wrote and directed a movie- which was so fun and fulfilling, and it's really cool that a lot more women are writing and directing their own stuff. It's not just women as seen through the eyes of men, we get to see how women see the world. I know that I personally would love to see more things from a women's point of view and not just see women as objects.
You have shown in your career that you are a tremendously hard worker and you are so much more than a pretty face. You have worked on more movies and television shows than anyone can count as both an actress and a producer. Now with Half Magic, you will also be directing and writing, as well as starring! Talk about the film a bit and stepping behind camera.
It's a sex comedy and it has a female point of view on sex and friendship. It's really fun and funny. I love comedy. I loved working on Angie Tribeca and I love working with funny people and I got to work with a lot of great comedians on my movie. I never laughed so hard. Some nights I went home hurting from laughter. One of my biggest problems on set was trying not to laugh and ruin the take! And again, I love that it's from a female perspective. The character in my movie works for this guy who is telling her she will never get her content made because no one wants to see stories about women and she should focus on a guy if she wanted to get a movie made- and that was very much my experience! So I decided to make fun of that.
You're also keeping extremely busy- you have another movie coming out with Robert Patrick called The Last Rampage. What can you tell fans about that?
I'm working on that right now! It's a dark story and a true story from a book about a guy whose ex wife and son's broke him out of prison. They thought him to be wrongly accused and he is a pretty dark character.
You also popped up on Flaked as Will Arnett's character's ex-wife. Is that a role you might reprise?
I've always been a fan of Will and his work, and I'm such a fan of Netflix and their shows and I always wanted to do one. I loved the tone of Flaked, that particular darkness that still had great humor.
Let's talk a little bit about Twin Peaks- it's getting a reboot all these years later, and just two years ago they re-edited old footage to put together more material. This show has had such a wonderful long lasting cultural impact. Do you still have fans come up to you all the time about it?
I love that show so much. I remember watching it as a kid, and then when I got to be on it, it was really a dream come true. It was great working with David Lynch. And funny story- I'm actually really good friends with Moby now through Twin Peaks! I was at a party once and he came up to me and he said he was obsessed with Twin Peaks, which shows that impact- and I got to make this great friend!
You were one of the first celebrities to get on board raising awareness for climate change and joined the campaign Global Cool in 2007- talk about what brought you into the cause.
Well, I guess I just love nature and really care about protecting the planet and making sure that we don't destroy our world. So, I think it's something we should all be concerned about and try and make changes to protect our resources. It's extremely important.

What else do you have coming up that fans can look out for?
A film called Wetlands with Adewale Akinnuoye-Agbaje. He is such a good actor. It's a dark drama about an addict who tries to go clean and make things right with his family. And it takes place in Wildwood, New Jersey, which is where I spent my childhood summers- so it was very fun to shoot there.
Let's circle back- speaking of perfect cops, everyone thinks Felicity Shagwell was the best part of the Austin Powers franchise, hands down, and probably one of the most perfect crime fighters ever! Would you ever think of revisiting that role or spinning her off?
I love working with all those people! The director, Jay Roach?, is probably one of the nicest people in Hollywood, and Mike Myers is great! I had a wonderful time! I would work with them again any time!
Slipping back into the role of the perfect woman? Let's face it folks- it's the role Heather Graham was simply born to play...and with all her credentials from talent, to intelligence, to activism, her beauty is merely a bonus!
Popular in the Community