Joel Lynch, a graduate student at Iowa State University, popped the question to Cara Szymanski on Jan. 14 in the periodical room of the campus library ― a location a bookworm like Belle would no doubt have approved of.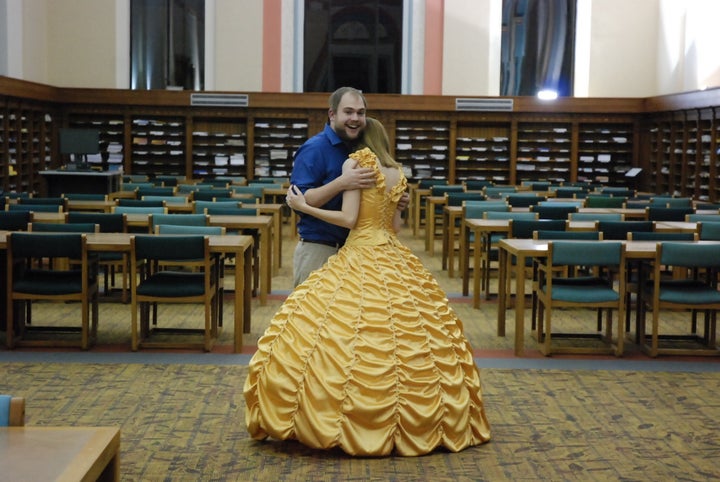 But it wasn't just the location that made the proposal so romantic.
"[Cara] grew up admiring Belle from 'Beauty and the Beast,'" Joel wrote in an Imgur post on Sunday. "Wanting to recreate the famous scene, I decided to make her the dress to coincide with my proposal."
So armed with a cheap sewing machine and lots of coffee, Joel hand-made Belle's signature yellow ball gown.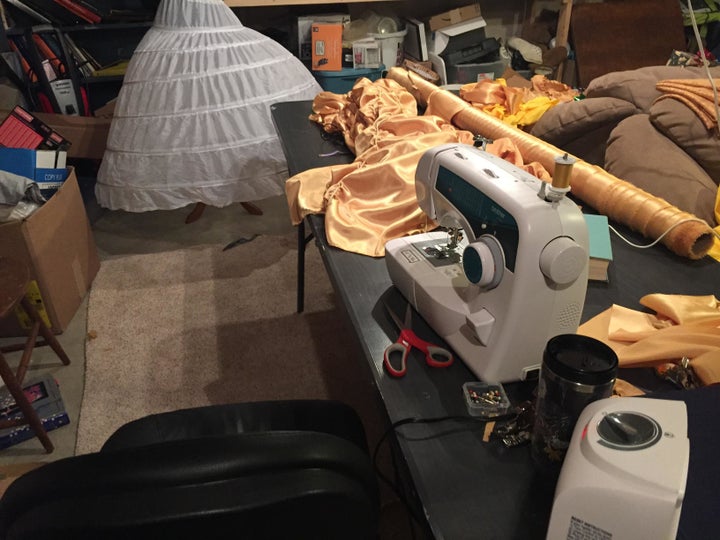 And though you'd never know it by looking at the finished product, he told The Huffington Post he has "never sewn anything before in [his] life, actually."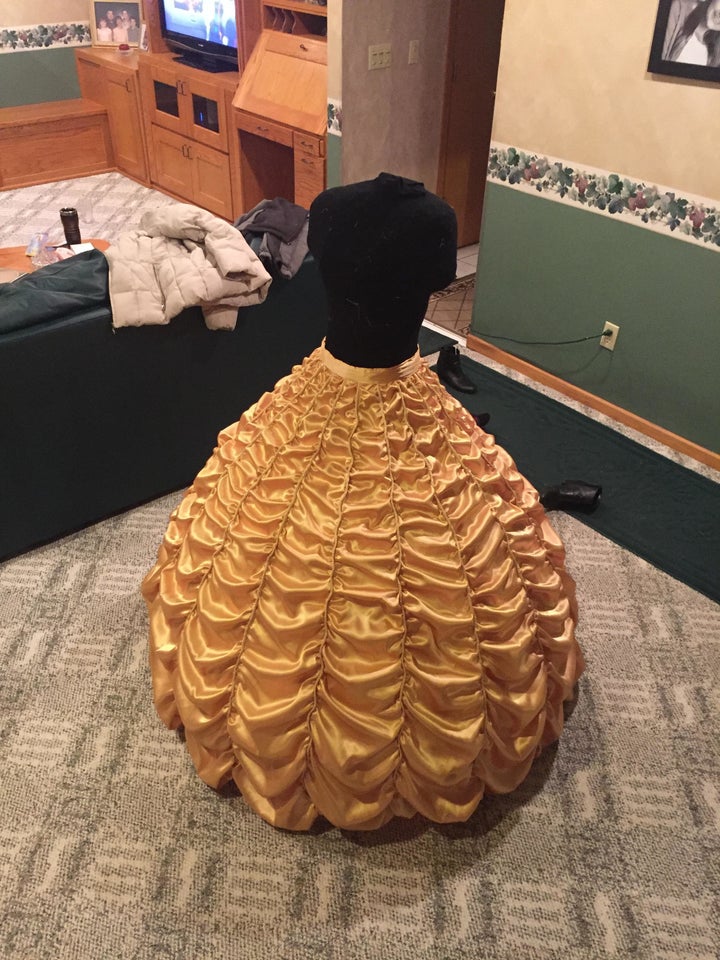 Joel began sewing the dress in October and finally finished last weekend, an hour before Cara arrived for a visit from Wisconsin (the two are living in separate states for now and take turns visiting each other every other weekend). Over winter break, he sometimes spent up to 14 hours a day on the dress.
"[It was] a lot of trial and error," he said. "I ended up making three corsets before I got one I liked."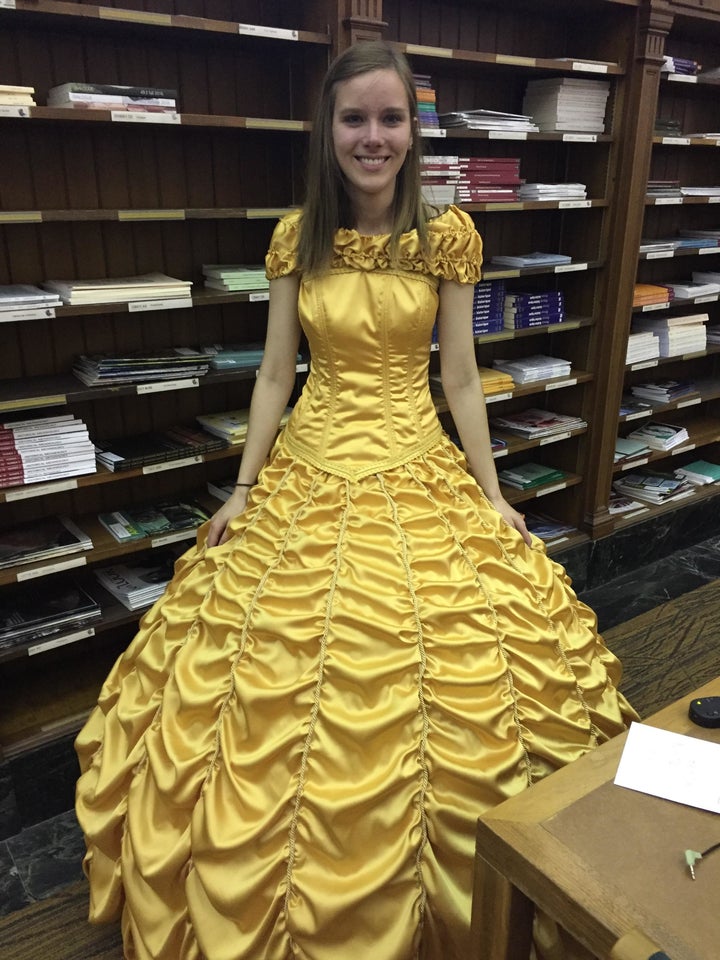 On the day of the proposal, while the couple was walking around the library looking at books, Joel's sister Leah put the gown on a dress form and set it up in an adjacent room. It was time for the big reveal.
"When I opened the door to the side room, she saw the dress and, as you might expect, burst into tears," Joel told HuffPost. "After I helped her get it on, I told her to wait for the music to start."
That's when "Tale As Old As Time" began to play and the couple shared a beautiful dance in the periodical room among the journals and magazines.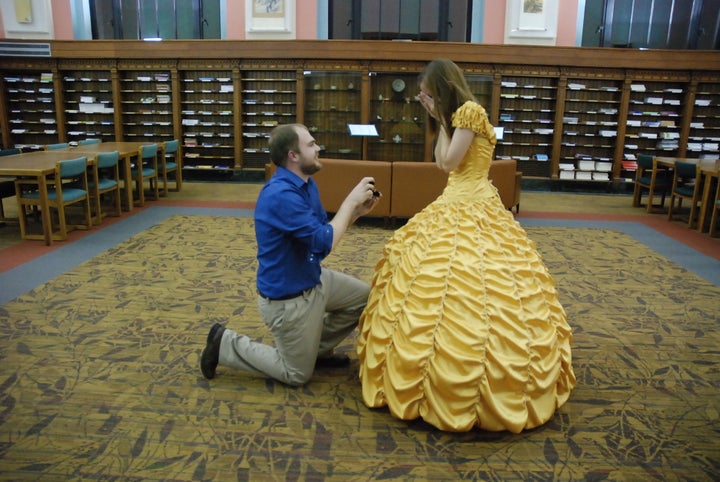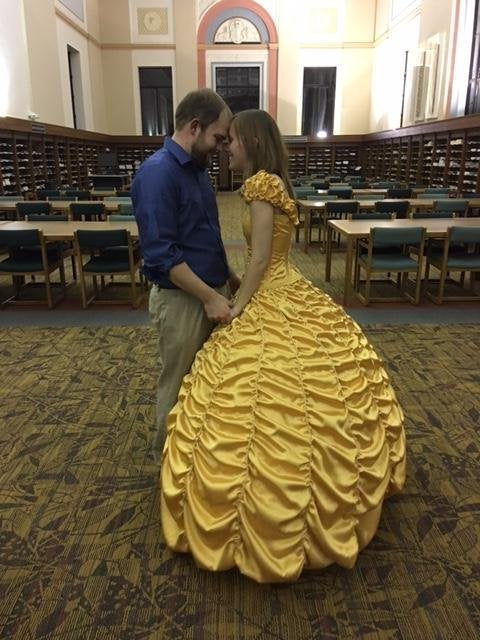 The couple first met at a wedding when they were both members of the bridal party.
Below, more photos from the fairytale proposal: