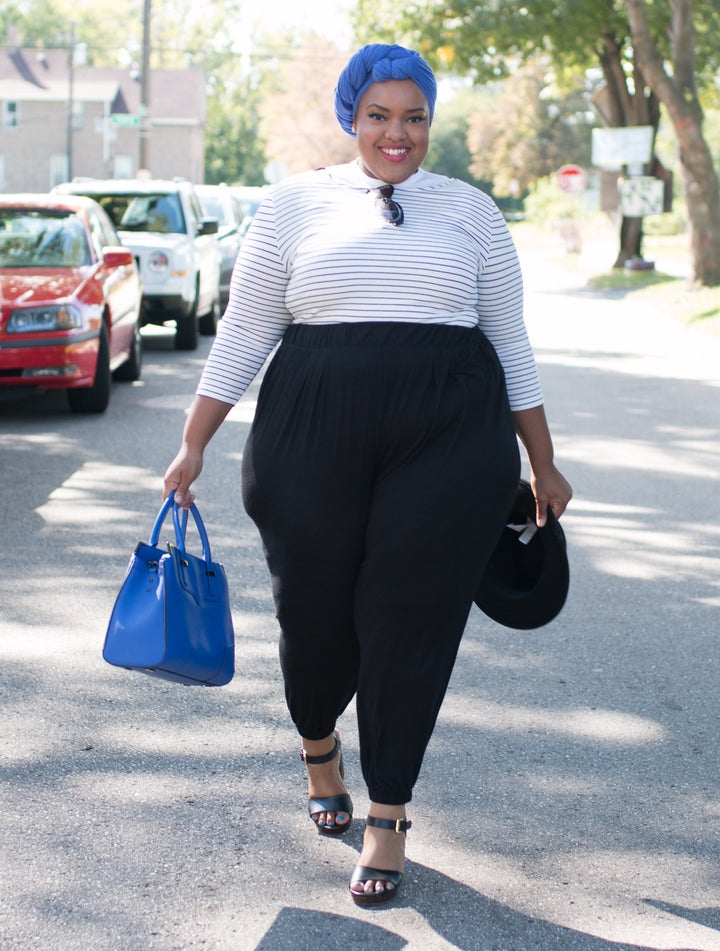 I first came across Leah Vernon while I was looking for submissions for a body centric anthology I've been working on called My Body, My Words. I was so impressed with Leah's strength and body positive message that I invited her on the blog to share the love.
Leah Vernon is a Detroit local and freelance writer. When she isn't working on posts for her body positive style blog, eating good food, or modeling, she has her head in a good book. Check Leah V. out at www.beautyandthemuse.net and follow her on Instagram @Lvernon2000
Leah Vernon (LV): Musings of a Fat, Black Muslim is an experimental spin-off of my other blog, Beauty and the Muse. I wanted it to be more personal. More stories about me before I became comfortable being me: a fat, black girl who happens to be Muslim in America. Although, I'm still trying to figure out what to do with it. But my 'muse' for both blogs have been the evolution of self. Myself, in particular, and how my insecurities, my triumphs, failures, and body image correlates with the space surrounding me and others.
LK: What does it mean to be body positive? Is the term limited to weight, only? How do you write in a way that's body positive?
LV: Body positive has always meant being comfortable in the skin you're in at this very moment, whether it's a small weight or a heavy weight. Not the body you had when you were a teen and not the body you could have if you put down the doughnut. It's very much about accepting the now and experiencing life how you see fit. It's the ability to choose whether or not you want the body you have now and not allowing others to dictate how you view it. Body positive doesn't mean being unhappy, being obese, or being skinny. It means that you get to choose. If you feel better losing twenty pounds, then by all means, do it. If you're happy and content being a size 26, then do you. Being body positive is being the best version of you, and doing it unapologetically.
How do I write in a way that's body positive? I write in a non-judgmental fashion. There's really no other secret.
LK: Is there a body positive theme in your novel Impure?
LV: Interesting question. In anything I write, there is always a mirror of my own realities. I live life, every day, as a plus-size woman who belongs to several underrepresented groups. Impure is all about that. Now whether it's a coherent theme or not, I'm not sure. But, bodies of all shapes and sizes are sprinkled around inside the pages.
LK: I love that you stay true to yourself. How do you inspire others to stay true to themselves? And can you talk about a time when you weren't true to yourself and how you dealt with that through the arts?
LV: Why thank you. I try to be as true as possible when writing and creating, but of course, I have those moments where it's not appropriate or too painful to be thoroughly truthful. For the most part, I share, create stories that I believe will elicit emotions which bring about strength and conversation in a non-judgmental fashion. It's like talking to a crazy friend. And sometimes, it's not even intentional. It's just so real that readers, or admirers of my work are like wow, I need to be real with myself, too. It just feels better that way. When your genuine, other people are inspired to do the same.
There are many times when I wasn't true to myself, personally and artistically speaking. Those aren't very good memories for me because I lost myself trying to appease others. That's when the arts came into play, it was a way for me to rebel against the ugliness, the repressed disconnect I'd been feeling. One example was with my ex-husband, he tried so hard to stuff me into box of what he thought a wife, a woman should be. I started trying to stifle myself to meet his requirements, but I was losing myself in the process. I was unhappy, and that was not an option for me. So, I dealt with it by recognizing that suppression isn't love, and that I had to explore me. Art, expression, and I are a packaged deal. You either appreciate it or you don't.
LK: If you could write a letter to your body, what would the first line be?
LV: Don't believe what the media says is beautiful…
Related
Popular in the Community