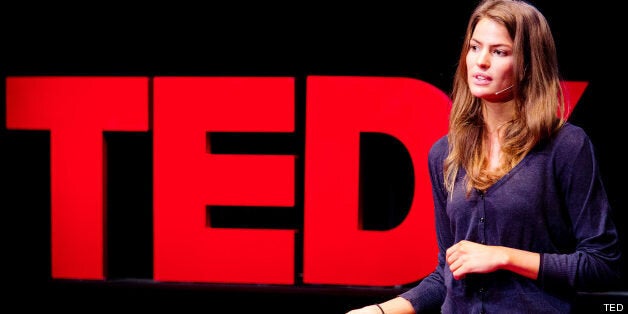 TED and The Huffington Post are excited to bring you TEDWeekends, a curated weekend program that introduces a powerful "idea worth spreading" every Friday, anchored in an exceptional TEDTalk. This week's TEDTalk is accompanied by an original blog post from the featured speaker, along with new op-eds, thoughts and responses from the HuffPost community. Watch the talk above, read the blog post and tell us your thoughts below. Become part of the conversation!
__________________________________________
Women are not crazy for wanting to have a discussion about body image. And the conversation isn't as superficial as the one Dove keeps encouraging us to have. It is a conversation about sexism and racism. It is a conversation about the real reason we try to shrink our waists and whiten our teeth (and sometimes even our skin). Most of the time we don't do those things to make ourselves happy, we do them for someone else. I think we should start talking about that.
The easiest place to see discrimination is our incomes. Modeling is one of the few professions where women actually out-earn men. And across all jobs, studies have found that more attractive women earn more. A woman's value is too often skin-deep. In 2004 a study found that resumes with very African-American-sounding names were 50 percent less likely to get called for an initial interview. And racial bias in salaries is overwhelming. While white women make an average of 78 cents for every man's dollar, for African-American women that number drops to 62 cents, and for Hispanic women to 54 cents.
Unfortunately, the industry with the most potential to change this reality is also a site where women have little access. In the media, where we can powerfully perpetuate as well as undermine damaging stereotypes, both coverage and employment are hard to come by (The OpEd Project).
Most of the time we don't do those things to make ourselves happy, we do them for someone else. I think we should start talking about that. -- Cameron Russell
Physical appearance plays an enormous role in who gets seen. When women and other marginalized groups do get access to the media, they often have to fit into a narrow definition of what the people in charge are looking for. Women, for example, are more likely to be portrayed as victims when they get news coverage, and are more likely to be depicted wearing sexy clothing when they are cast in Hollywood's leading roles.
I've experienced this first hand. During the last couple months of press around my TEDx talk, when I've suggested that TV producers include more women in discussions around access to media, they wanted to see headshots. (Not bios, or clips, or anything a sane person curating a panel would ask for.) And while last year women wrote just 20 percent of all op-eds, over the last month I have been invited to contribute more op-eds than I have time to write. Many an editor has made it clear why I've been invited to contribute. "We sought you out because of how you look," one put bluntly.
Women are often worried about how they look and that's not superficial. We know that our appearance has nothing to do with how smart, creative, or hardworking we are, but it plays powerfully into what society decides we are worth. There are healthy ways to have this dialogue. A good place to start is inviting those who are marginalized and discriminated against into the conversation more often.
If you'd like to contribute your perspective please visit INTERRUPTMAG.com. Our next issue is all about body image.
This story appears in Issue 49 of our weekly iPad magazine, Huffington, in the iTunes App store, available Friday, May 17.
Ideas are not set in stone. When exposed to thoughtful people, they morph and adapt into their most potent form. TEDWeekends will highlight some of today's most intriguing ideas and allow them to develop in real time through your voice! Tweet #TEDWeekends to share your perspective or email tedweekends@huffingtonpost.com to learn about future weekend's ideas to contribute as a writer.

Related
Popular in the Community