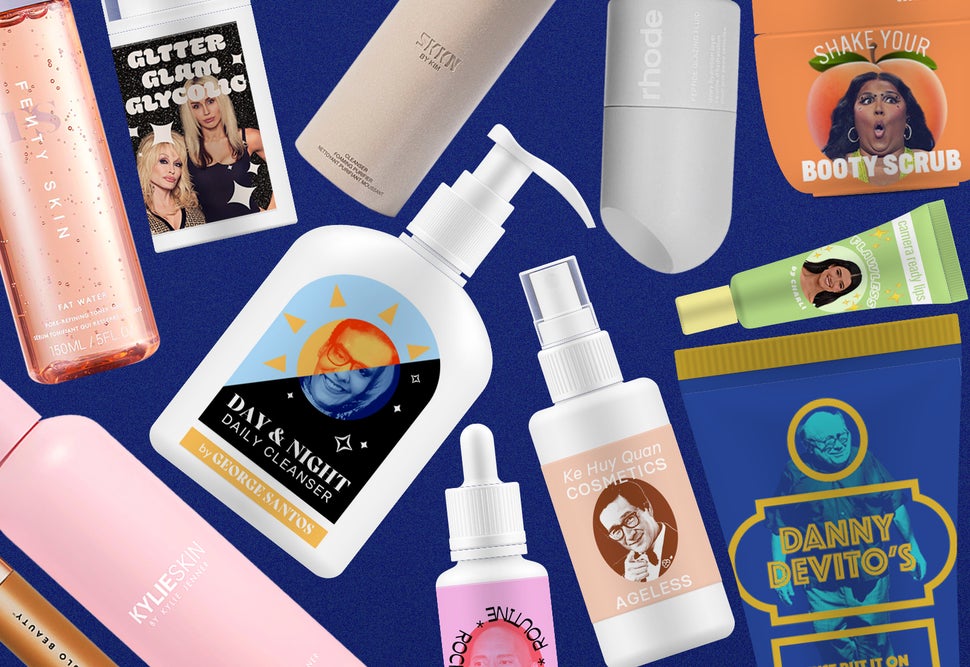 The number of celebrities leveraging their star power in the skin care and beauty industry has exploded in recent years. If your favorite celebrity doesn't already have their own beauty brand or skin care line, chances are they are considering one or have a line in the works and due on our shelves any day now.
And from the inception to the delivery, the rollout of a celebrity-fronted brand has certain hallmarks. For instance, expect a shot of the celebrity dressed in protective equipment and gliding through a lab with a look of intensity to suggest they know what is going on with the manufacturing side of the operation.
The branding will be sleek and minimal, with marketing buzzwords like "ethical," "sustainable packaging" or a declaration of "inclusivity." And a top dermatologist or esthetician will give their stamp of approval to the grand claims.
Over 50 celebrities and influencers have launched beauty and skin care brands in the last three years alone, according to research by Bloomberg. With the exception of a few, most have offered consumers nothing innovative when it comes to the beauty industry, and their existence is in direct conflict with any message of sustainability. Yet they seem to keep coming.
Good old-fashioned capitalism is a straightforward explanation for the proliferation of celebrity beauty brands — the need to constantly commodify oneself to make money and extend the fame cycle is now more pressing than ever. And it's simply not enough for someone to just be a brand ambassador; they now must be CEO, too.
"I think celebrities have realized they could have a bigger piece of the pie if they controlled the brand themselves rather than being the face of another brand," Jessica DeFino, an anti-product beauty culture critic, told me.
The legacy of celebrity beauty brands is one that can be traced as far back as 1994, when Somali-American supermodel Iman launched her cosmetics line, eponymously named IMAN, to address a glaring gap in the industry faced by Black and brown consumers including herself.
Fast forward more than 20 years, those same principles would be at the forefront of a new celeb line fronted by one of the world's most accomplished stars, Robyn "Rihanna" Fenty, when Fenty Beauty was introduced to the world. The Fenty empire has turned founder Rihanna into a billionaire.
Right out of the gate, the collection launched an inclusive campaign with 40 shades of foundation. True to the trendsetter that Rihanna is, Fenty's success can be credited with spearheading a new cohort of ambitious celebrity-turned-beauty entrepreneurs hoping to create the same impact.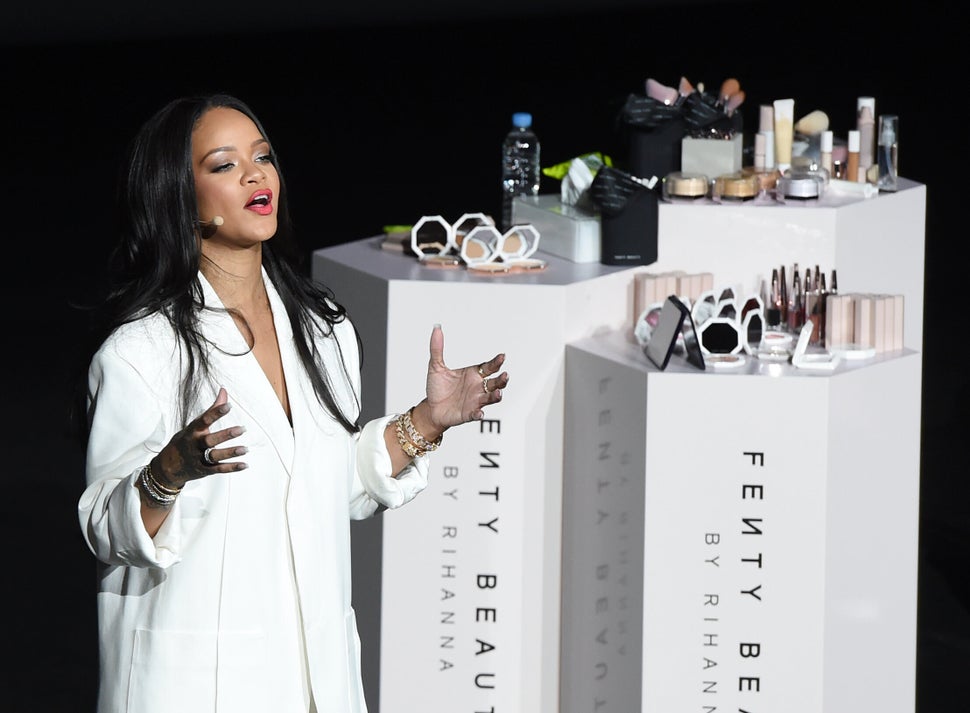 The global beauty industry is reported to be worth $532 billion, with the U.S. ― the world's largest beauty market ― worth approximately $97.3 billion in 2021, according to Statista. "We're seeing year-on-year growth with no signs of slowing, specifically in skin care," said DeFino. So it makes sense that celebs would want to cash in.
Multihyphenate Jennifer Lopez built a fragrance empire spanning two decades. Still, her timeless beauty and signature glow get people googling and speculating about what procedures she may or may not have done. The 53-year-old celebrated the launch of her brand JLo Beauty last year after what it says were 100 rounds of product development to create a range that was "luxurious but accessible."
"For years, the number one question I've been asked is about my skin, and so I felt almost an obligation to share what I've learned," Lopez said in a statement on the brand's page. "It's taken 20 years to realize this dream because I knew that when we launched, it had to be amazing because it has my name on it."
Gone are the days when a teenage superstar would get the call-up to be the ambassador for a brand like Neutrogena or Proactiv ― instead, stars like "Stranger Things" actor Millie Bobby Brown are increasingly launching their own lines, with a legion of fans or followers ready to pay up for the cheapest entry point to their favorite stars.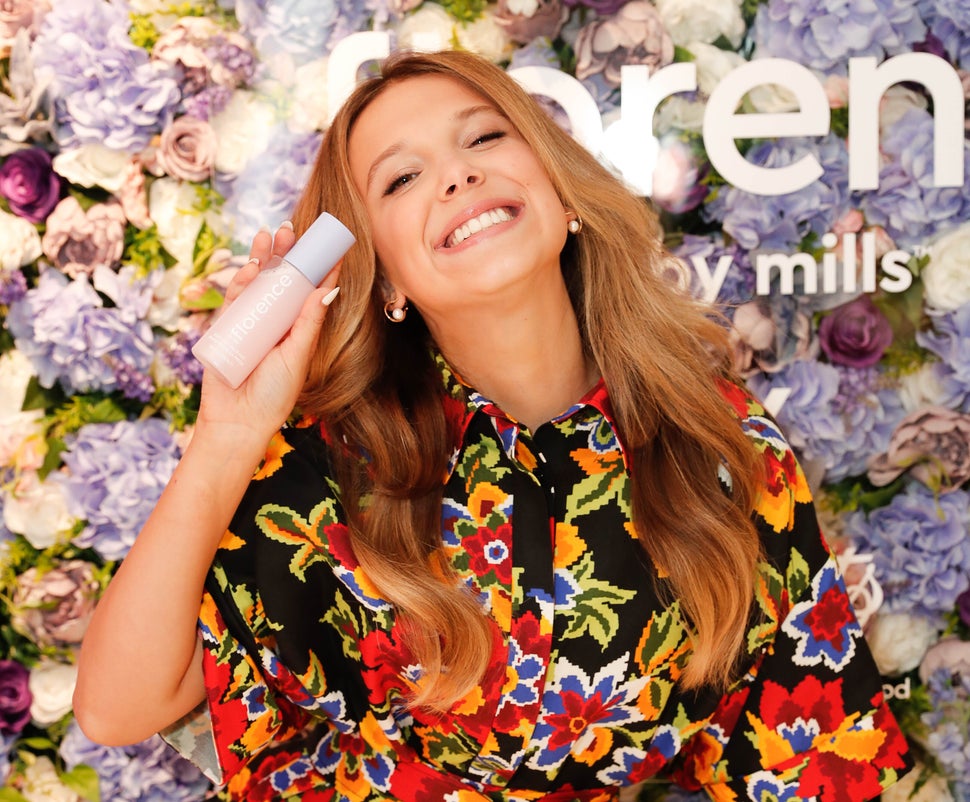 The barrier to entry has also lowered significantly thanks to social media. "Back in the day, if you wanted to launch a skin care brand, you had to get the buy-in of TV stations and magazine editors and all these different things," said Charlotte Palermino, beauty industry insider and co-founder of Dieux Skin. "Now, celebrities have their own platforms."
The pivot from celebrity fragrances, so you can smell like a famous person, to celebrity skin care, so you can look like them, is a "no-brainer, especially in the world of Instagram and Tiktok," said Palermino.
Packaging and selling aspiration, like J.Lo's infamous glow or Ariana Grande's dreamy perfumes, have proven lucrative and an extension of star power into consumer products.
"Maybe it's weird to say, but I think they do believe a lot of their own bullshit," said DeFino. "We have to realize celebrities are just as brainwashed by beauty culture as the rest of us. Maybe even more so because their literal livelihood depends on how beautiful they are; the stakes are really high."
But sometimes the formula isn't always straightforward; take Vanessa Hudgens, for instance, who recently relaunched her 2021 brand Know Beauty.
"We had been trying to get customers acquainted with the brand for a while, but it just wasn't translating like we thought it would. After a year, we knew we needed to switch gears and try something different," Hudgens told WWD.
Hudgens reintroduced the brand in March 2023 with a partnership with Amazon and just one product on offer: a Glacial Bay Clay Mask, retailing for $35.
"Trying to take over an entire skincare line is a bit ambitious, so I instead decided to focus on something specific that could easily be slotted into a skincare routine — something we can be known for," Hudgens said.
Whether Hudgens has the star power to drive sales is yet to be determined. Skin care enthusiasts have already begun to voice their skepticism in the popular subreddit group BeautyGuruChatter, which has over 1 million members.
"Outside of Rare Beauty and Fenty… celebrity brands just give me the ick and all seem like a money grab. Over it," wrote one commentator.
"I feel like she's not popular enough for this to be successful," wrote another.
While celebrities have yet to take over the skin care industry completely, they have certainly disrupted it, concedes New York-based esthetician and influencer Tiara Willis. But Willis is critical of the lack of innovation from celebrities entering the skin care space.
"The skin care industry is already oversaturated and overwhelming for consumers, and the massive spike in celebrity skin care launches doesn't help," she said, "Celebrity skin care brands tend to launch similar products that are not innovative to the industry."
Willis also notes that it isn't uncommon to encounter clients who are more enticed to "gamble with celebrity skin care solely because of the name behind it, which can inhibit their results."
But just because a brand is celebrity-led doesn't mean it's bullshit in a bottle — that is one thing all critics can agree upon. Willis is a fan of SKN by LH from socialite and influencer Lori Harvey, along with Humanrace by award-winning producer Pharrell, who has often been lauded for his youthful appearance.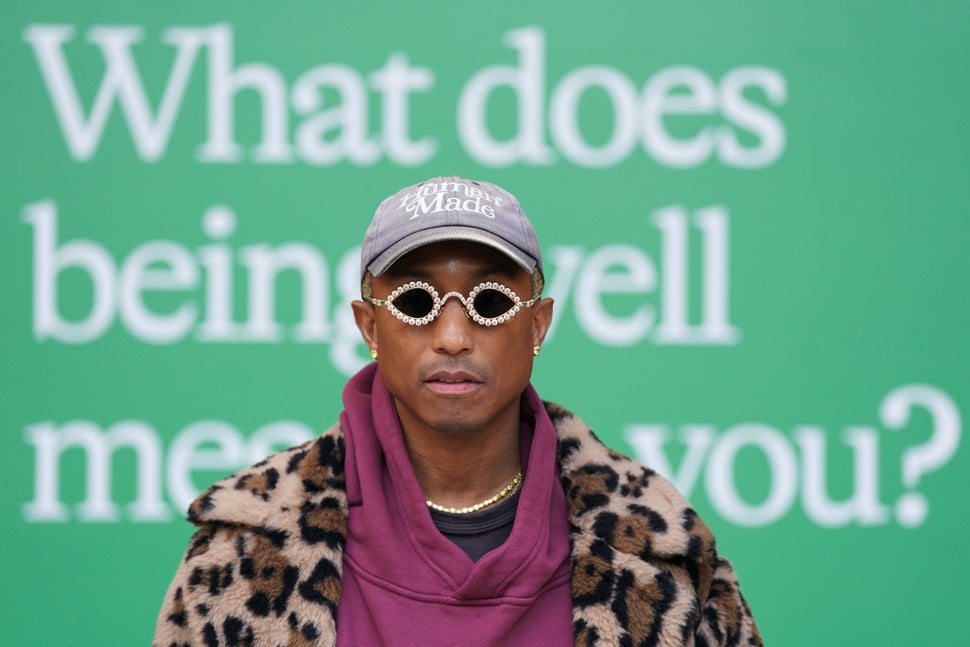 "All skin care brands, celebrity or not, are created by chemists who understand formulas and the science of skin," Willis said.
"There are a ton of shitty brands that exist, and there are a ton of shitty celebrity beauty brands that exist. I don't think that's a uniquely celebrity-adjacent phenomenon," added DeFino.
As with several brands launched in the last few years, the support of beauty incubators has done the heavy lifting when creating an actual product for celebrities. Kendo brands, for instance, are the "small but mighty force" behind brands such as Fenty Skin by Rihanna, KVD and Ole Henriksen.
But the reality is that their support and involvement can only spread so far, something that is of concern to Dieux Skin CEO Palermino.
"I would worry that investors only want to invest in brands that are backed by a face," she said.
Willis echoed Palermino's concerns over the limited opportunities for emerging skin care creators, particularly those who cater to minority communities and are looking for significant investment to level up their operation in an industry "lacking in representation."
Black brands make up only 2.5% of revenue in the beauty industry, according to a report published by marketing consultant firm McKinsey & Company. Yet Black consumers are responsible for 11.1% of total beauty spending.
The battle for acknowledgment extends into physical stores as well, where Palermino says retailers have created more space for celebrity brands and no longer offer the average consumer a "discovery" experience to be introduced to lesser-known brands that are offering creative solutions to unique skin care concerns.
DeFino considers celebrity beauty brands a "completely unnecessary" addition to an already saturated market, but their enduring popularity is a matter of supply and demand.
"I think we as consumers have a lot of responsibility, and we have more power than we think. These brands don't exist if people aren't buying them," said DeFino, who is cautious about directing blame exclusively at consumers and our consumption patterns.
Palermino hopes for brand owners that more celebrities will be open to taking a backseat and putting their money behind brands instead of centering themselves, such as Dua Lipa's role as a shareholder in London-based hair care brand Dizziak.
Celebrities who are interested in diversifying their brands are set for a more formidable challenge than those who moved into the industry early, if forecasters are correct about the changing tides.
In an age of de-influencing ― and with consumers becoming better versed in the science of skin care and products ― what will separate a brand from prospectively being the next Fenty or a flop will be authenticity above all else.
Ade Onibada is a reporter for BuzzFeed News and is based in London.
Related