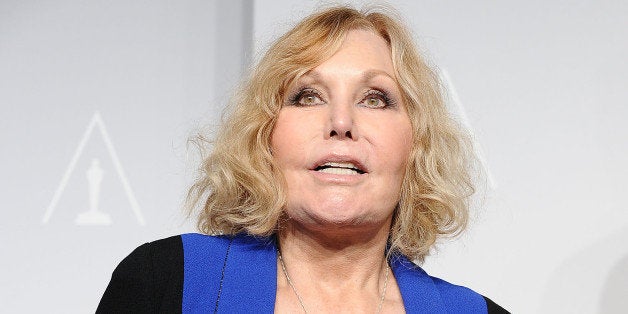 It's been unseasonably cold in New York; unseasonably warm in Los Angeles and, frankly, unseasonably hot in the world of women publicly criticizing other women... a state that is particularly disturbing in light of International Women's Day (IWD), which recognizes the global, social conquests -- and challenges -- of women.
1. "Recline, don't 'Lean In' (Why I hate Sheryl Sandberg)." This post by Georgetown professor Rosa Brooks been shared more than 14,000 times and sparked much debate. The author may hate Sheryl Sandberg, but I'll be honest, I'm not a big fan of the article... particularly the title. In the post, Brooks attempts to explain the source of her hatred: "It's not because she's so rich, or because she's the COO of Facebook, or because she has gleaming, meticulously coiffed hair..."
Question: WHY ARE WE STILL TALKING ABOUT HAIR? In today's world, shouldn't we be able to declare our healthy disagreement without reaching for the ceramic hair straightener? Without debating the merits of Sandberg's work, it's important to remember that we should be arguing against actions, not images. Talking about spreading hatred for hair or otherwise can be both damaging and demeaning.
2. The public Twitter-bashing of 81-year-old Kim Novak's physical appearance as she graced the stage at the Academy Awards. With tweets like this coming from the likes of Donald Trump: "Kim should sue her plastic surgeon!". Did we really need countless other women chiming in?
"I'm assuming Kim Novak was representing the movie 'Mask,'" said "Chelsea Lately" writer Fortune Feimster.
A powerful post by film critic Farran Nehme reminds us of the reality:
"So let's just say you are an 81-year-old star whose last movie was in 1991... and you go to the Oscars, so nervous you clutch your fellow presenter's hand. And the next day, you wake up to a bunch of cheap goddamn shots about your face."
It's no secret that society both encourages and stigmatizes cosmetic surgery for women. People have a lot of different opinions on this -- maybe we should stop encouraging; maybe we should stop stigmatizing. Either way, perhaps we can agree that laughing at Novak in this case is particularly awful.
In honor of International Women's Day, which was celebrated this past weekend, let's agree to work with -- not against -- each other. Let's agree to lift each other up when others are knocking us down. Let's challenge each other's ideas, not our appearance.
As women, we have so much to celebrate. We run companies and countries. More girls can now go to school around the world than ever before, and in some places, just being able to legally drive a car is a real and recent win. Let's remember that we, as women and as a society, owe that to each other.
REAL LIFE. REAL NEWS. REAL VOICES.
Help us tell more of the stories that matter from voices that too often remain unheard.