Let's be real, 2016 was filled with so many magical black girl beauty moments. From music videos to magazine covers, black women rocked them all.
On Thursday's episode of the "BV Breakdown" ― HuffPost Black Voices' bi-weekly show devoted to all things black culture ― Essence's fashion and beauty director Julee Wilson joined as a guest to reflect on a few of her favorite show-stopping looks.
This list is by no means comprehensive (we'd be here all day if it were) but to give you a glimpse, here are five of Wilson's most memorable black beauty moments from this year:
1. Solange's "A Seat At The Table" Album Cover
Solange released her third studio album in September and blessed us with an incredible cover image to go with it. The artist's bold brows, barely-there makeup and multicolored duckbill hair clips fit the unapologetic tone of her album perfectly, and even inspired a wave of Solange Halloween costumes.
"This will forever be an iconic image. I think that she has just really pushed the envelope stylistically with her music, but also [with her] fashion and beauty," Wilson said. "This 'Seat At The Table' album was such a beautiful homage to black women and I love that she went this very creative, abstract route for her album cover."
2. Any Of Alicia Keys' "No Makeup" Looks
Alicia Keys set off a major beauty movement when she announced her commitment to go makeup-free. While her choice to relinquish her makeup routine sparked both cheers and criticism, Keys looks as beautiful as ever with her sans-makeup look.
"Everyone was talking about it when Alicia Keys wrote that 'Lenny Letter' essay about forgoing makeup. I think it was really powerful," said Wilson. "I wear makeup. I'm wearing makeup right now. I think my makeup is on fleek ... but I think it's just a beautiful stance for a woman, any where, any how, to say, 'I'm just going to let you see me for me.'"
3. Gabby Douglas' Bold Lipstick At The Olympics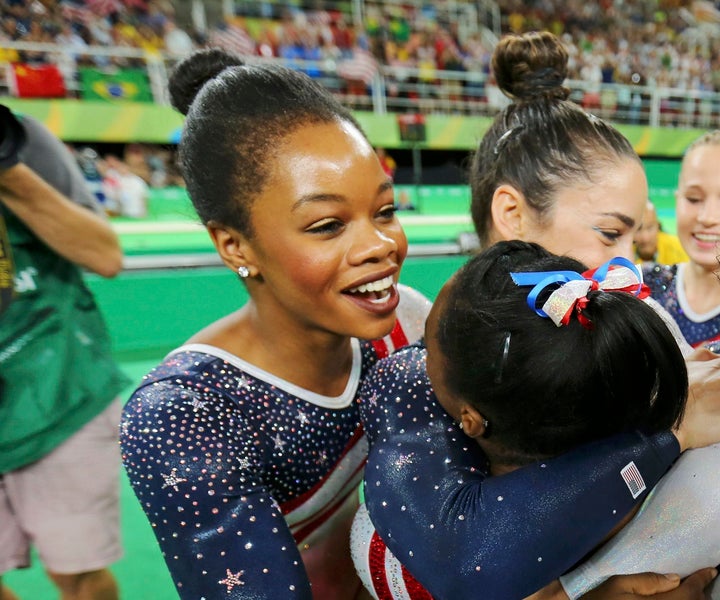 Gabby Douglas won an Olympic gold medal with her "Final Five" teammates in Rio this year, "but she also gets a gold medal for this makeup look," Wilson said. Douglas' crimson lipstick caught our eye the moment that she stepped up to start her routine.
"Some people tried to come for her hair again, but she wasn't playing those games," Wilson said. "I love that she really brushed the haters off this year and I think she stepped into this womanhood. I feel like that lipstick was really a moment to be like, 'I'm grown. Don't come for me. I'm a badass athlete. I'm a gold medal Olympian."
4. Lupita Nyong'o's Towering Met Gala Hair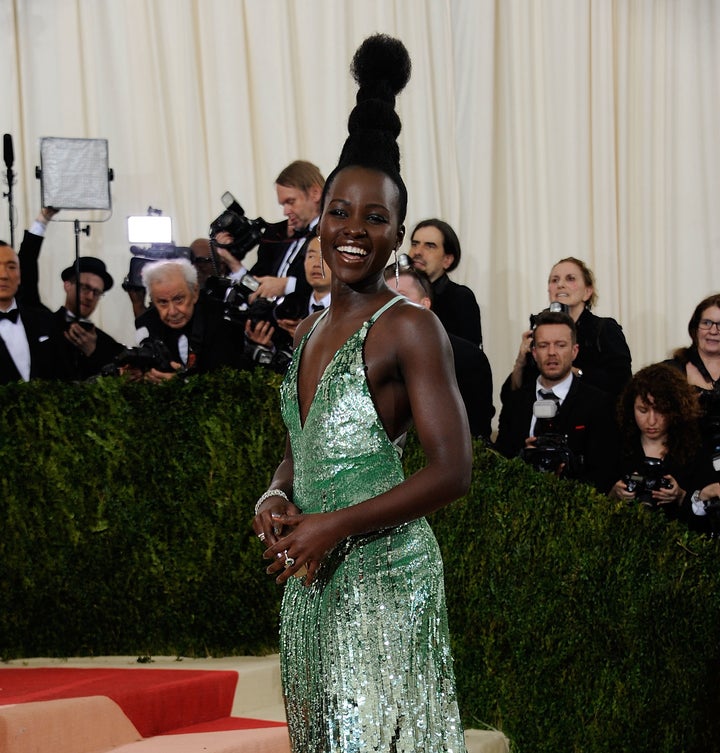 Actress Lupita Nyong'o abandoned her signature close-cropped cut and opted to take her hair to new heights at this year's Met Gala. While Vogue compared the look to Aubrey Hepburn, Nyong'o and her hairstylist Vernon Francois actually drew inspiration for the 'do from Nina Simone and African traditions.
"They just have such an amazing partnership and they came up with this beautiful hairstyle, which is a homage to lots of different hairstyles from the past," Wilson said of Nyong'o and Francois' friendship. "Nina Simone had a hairstyle like this... I think it was beautiful that [Nyong'o] chose to do it on the biggest red carpet for fashion."
5. Sasha Obama's Standout Cornrow Braids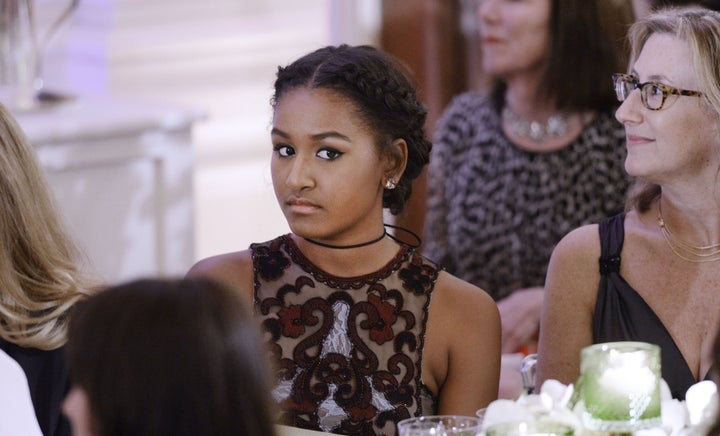 The White House's Canadian state dinner was filled with all sorts of stunning looks, but Sasha Obama's braids, which she paired with winged eyeliner and a choker, stole the show.
"I feel like everyone was doing those two cornrow braids, dutch braids, and she just did it in such a chic, beautiful, new way," Wilson said. "It's also a great nod to black hair and braids... You know she could have gone for the sleek cut, but I love that she did this."
Popular in the Community