The claim: Adding a pop of bright blue to your eyes will make them appear bigger and brighter. Sounds great and all, but not all of us want to rock technicolor lashes 24/7. Rather than completely covering my lashes in bright blue for this Beauty Mythbuster, I wanted to see if adding just a hint of blue color along the base of the lashes really made a difference as a more subtle take on the mascara hack. Read on to discover my findings.
As someone who looks tired 100% of the time, I jumped at the opportunity to put this approach to the test. I can use allll the eye brightening I can get. While I always reach for my trusty colored eyeliner (purple is bae for me and my green eyes), I wasn't sure how the bright blue hue would look. Beyond opening up the eyes, this tiny pop of blue is a beginner-friendly way to get on board with the blue eye makeup trend that emerged at NYFW last year. Basically, it was hard for me to find a reason NOT to be excited to put this beauty mythbuster to the test.

STEP 1: PRIME YOUR LASHES
Since we'll need a strong color payoff to put this myth to the test, priming the lashes is an important first step. A white primer like L'Oreal Double Extend Lash Extension Effect Mascara ($10) is the perfect base for this eye-opening experiment, because it allows the bright blue color to really stick to your lashes. You'll get a much more impactful look using a primer than if you try this look on bare lashes. Trust!

STEP 2: PAINT YOUR LASHES
Now for the fun part: Carefully apply a blue liquid eyeliner (we used Wet n Wild MegaLiner Liquid Eyeliner [$3] in Indigo Blue and it worked great) to the base of your upper eyelashes. Make sure they get a healthy coat of the blue, but be careful not to overdo it or they might get goopy. Wait a few minutes to let it dry.

STEP 3: APPLY BLACK MASCARA TO THE TIPS
After you've let your colored lashes dry, apply a regular black mascara from the middle of your lashes to the tips. You want to leave just a small portion of your lashes blue (as close to the lash line as possible) so there's a subtle pop of color. The majority of your eyelashes should be black, so layer on your go-to mascara until you feel you have a balance of color peeking out of the black at the base of the lashes.

WOULD WE ACTUALLY DO THIS IRL?
Yes -- definitely! I like how my lashes looked noticeably different but didn't scream BLUE after applying the black mascara. They were just kicked up a notch from their everyday black uniform. I definitely think this trick makes my eyes look bigger, and I noticed that the whites of my eyes looked particularly bright against my lashline. Who knew that a $3 drugstore eyeliner could totally transform your peepers?!
Obsessed with beauty hacks like this one? Check out brit.co for more tips, tricks and beauty inspo.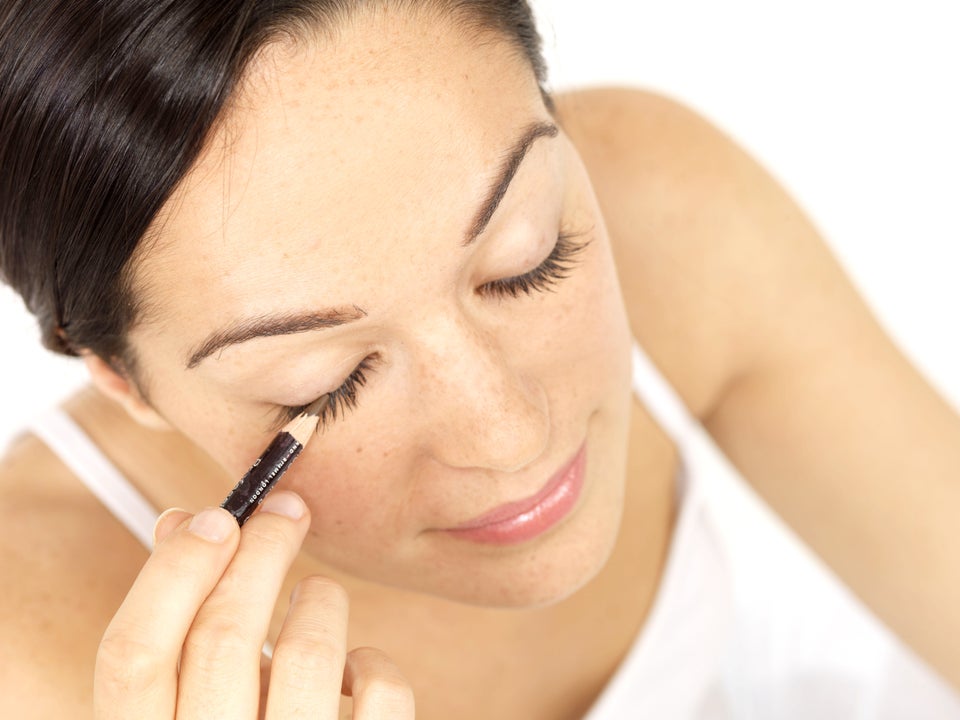 50 Awesome Beauty Tips
Related