 When we think of trophy wives we immediately see an image of a rich old white man with a beautiful young woman on his arm. Not so in Latin America.
Trophy wives take on a completely different meaning. In Mexico and Colombia, beauty queens are now the trophy wife of choice for the dons of the competing drug cartels. In some of the most violent regions of the Americas, beauty queens have become the ultimate prize for drug traffickers. The practice started in Colombia in the 1970s. Martha Lucia Echeverry, Miss Colombia 1974, was the mistress of Miguel Rodriguez Orejuela, the head of the violent Cali cartel. Echeverry is considered the first known 'narco woman.'
This tradition has continued in Colombia and more recently in Mexico, a major center for transshipment of cocaine to the United States and Europe. Maria Susana "Suzy" Flores, the 20-year-old Sinaloa, Mexico beauty queen who was brutally murdered last November in a gun battle, also succumbed to the siren call of money and luxury when she chose to date "El Cholo," Orso Ivan Gastelum Avila, a feared hit man who worked for the Sinaloa cartel. In Suzy's case, however, it was not money that drove her to this dangerous liaison. She came from a family with alleged ties to the drug business that had actually groomed her for a future as a beauty queen.
As evidenced by Suzy Flores, Sinaloa is not only a featured capital of the drug wars. It is also the breeding ground for Mexican beauty queens. The Miss Mexico title has been won seven times by the leggy femmes of that state. And as one Mexican academic, Nery Cordova, commented in a book on narco-culture in Sinaloa, "Do you want beauty queens who are not involved in the state's dominant industry?"
For many others who come from more economically humble pedigrees than Flores, the lure of riches far outweighs the risks associated with hooking up with legendary narco-killers.
The tragedy of narco beauty queens in Latin America
Consider Colombian top model Sandra Munoz. She started poor and homeless, but as a teen had a relationship with Bogota cartel's leader Luis Reynaldo Murcia, aka Dr. Martel. While Murcia financed her early career, it was her relationship with Nelson Julian Cabrera that really helped catapult the blonde beauty to fame. But when Cabrera and his brother were assassinated in 1999, Munoz was left with a young child. Nevertheless, her striking figure pushed her back into modeling, moving her ahead in fame and fortune, in no small part due to her torrid relationships with narcos.
Women who hang out with drug lords often meet a tragic fate: an early death either by gunfire in violent shoot-outs related to territorial gang wars, or by soldiers used to fight narco-trafficking. Many of these trophy wives and girlfriends are used as human shields to protect their trafficker beaus when the police on soldiers come after them.
This is Flores' unfortunate story in Sinaloa. It has been heard again and again in Colombia as well.
Lilian Lozano, a beauty queen and model, was murdered in 2009 in a mafia vendetta against her boyfriend, Fabio Vargas, the brother of Valle del Cauca narco Leonidas Vargas. No one is really safe.
Narco beauty queens are also involved in human trafficking and cocaine transshipment. In Colombia, with more than one thousand different beauty competitions, almost all of these have been infiltrated by the drug cartels, according to a recent press report.
Among the most notorious was Maribel Gutierrez Tinoco, the 1990 Miss Colombia. Her boyfriend, Jairo "El Mico" Duran, north coast cartel member, boasted buying her the title as a birthday present. She went on to compete in the Miss Universe competition, but never won that title. When Tinoco gave up her Miss Colombia title to marry Duran, he had the Cathedral of Baranquilla air-conditioned so their wedding guests would not suffer through the heat. He was killed in a shoot-out in 1992 and Tinoco retreated from public life. Today she lives in Miami, with her physician husband and two daughters. She is among the lucky ones who was able to reinvent her life. Not as many were as fortunate.
Natalie Ackermann, Miss Atlantico 2000 (born in Colombia but representing Germany in the Miss Universe pageant), had better "luck." Her boyfriend, Wilber Varela, aka Jabon, helped her become a Miss Universe contestant in 2006.
Finally, Sandra Murcia, known as Miss Coca, was married to Valle Cartel boss, Efrain Hernandez. The stunning model traveled to Paris pretending to be a Miss Universe competitor in order to rub shoulders with influential Europeans who could help her husband's cocaine business in Europe.
Beauty queens are among the collateral exports that come with the cocaine trade. Colombian and Venezuelan competition winners are being "imported" to Mexico to serve as novias, or girlfriends, for narcos and drug dealers.
According to reports, Juliana Sossa, the winner of the 2008 Colombian beauty pageant, was a victim of this trade when she was hooked up with Jorge Balderas Garza, aka "El JJ," a drug gang leader. But in Sossa's case, her own use of Facebook is what led Mexican authorities to her arrest along with her drug lord boyfriend. Garza, it turned out, was also accused of the attempted murder Paraguayan soccer star Salvador Cabanas, who was shot in the head in Mexico City in January 2010.
Some of these beauties who are married to the mob actually enable other criminal activities. Angie Sanclemente, Colombia's Miss Coffee 2000, was married to Mexican drug lord, "El Monstruo." She was arrested in Argentina where she managed a human trafficking arrangement that ferried young women who served as drug mules to ship cocaine to Europe via Mexico. At her trial in Buenos Aires she denied recruiting mules, alleging that her only "sin" had been to have fallen in love with the wrong man.
In a world where 35 percent of all women experience some form of violence against them during their lifetime, according to a recent report by the World Health Organization, why would beautiful women — winners of national beauty pageants — be willing victims of their boyfriends and lovers?
What distinguishes these women from other victims of violence is that they are often cut down not by their partners but by other competing gangs, or by the police.
Women who enable traffickers to operate cannot be considered naive. Beyond the glamour and the money, beautiful women who willingly seek out relationships with drug lords are often seeking attention. Their association with well-known criminals lifts them beyond humble beginnings to being willing trophies for some of the most violent men on the planet.
These women are not always victims. They are perpetrators of crimes that include kidnapping, torture and even murder. But their names, in countries like Colombia or Mexico, become the subject of daily conversation; their violent deaths or criminal activities rising to the level of folklore. These beauty queens are perfect foils for their significant others. The immediate tangible gains such as a life of luxury and fast cash are often miscalculations in the long run. More often than not, a beauty queen who decides to stick with a narco-trafficker can expect an uncertain future — or even more likely, a shorter lifespan.
Johanna Mendelson Forman is a Senior Associate at the Center for Strategic and International Studies and a Scholar-in-Residence at the American University, Washington, D.C.
Before You Go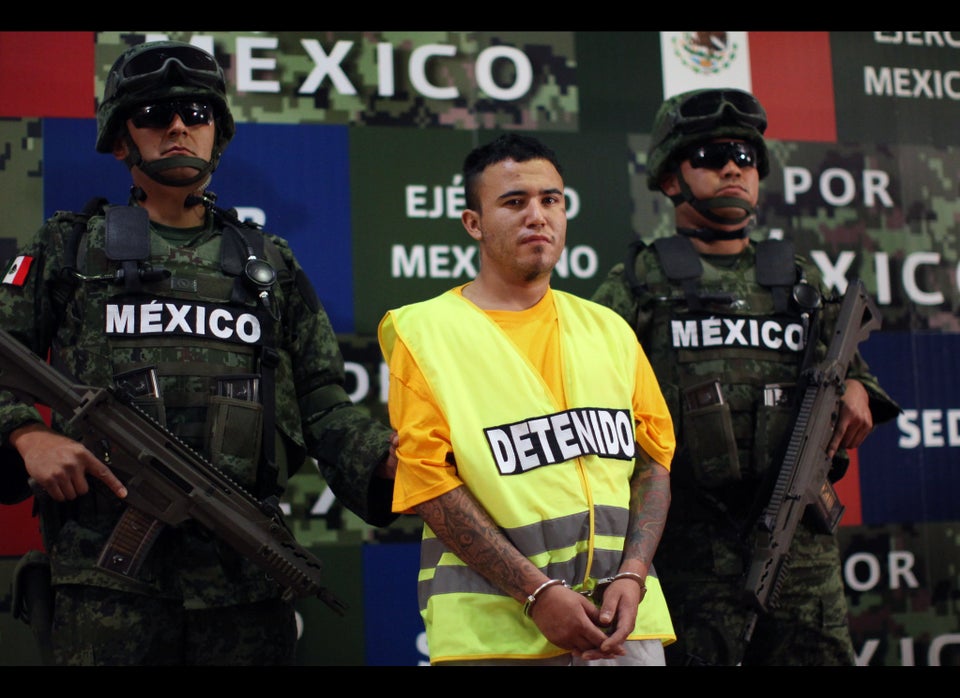 Mexico's Drug Cartels
Popular in the Community