From My Inbox This Morning:
I do not feel beautiful. Everything about your work makes me feel understood and less alone -- except for your appearance. Do you wake up looking like that?
Yes. Yes, I do. I am so sorry to tell you that natural beauty has always been my cross to bear. Below are two pictures for your examination. One is my headshot -- which was taken after two hours of "hair and make-up," 30 minutes of arranging perfect lighting, and what I can only imagine was 49 hours of photo-shop. The other picture was taken this morning, right after I opened your email. Since the extremely subtle and nuanced differences between the photos are certain to make it quite difficult for you to determine which is which, I will tell you that the one on the LEFT is from this morning.
For now, the armor I wear comes in the form of cosmetic bottles from a department store. Since the armor I used to wear came in the form of vodka bottles from the ABC store, I call this progress. One day, the only armor I'll need between me and the world will be a cup of tea and a smile. That day is not today, but it's coming. I'm extremely patient with myself, so I can wait.
And even so...EVEN THOUGH I wake up looking like that first picture everyday, I would insist to you that I AM beautiful and I'm becoming more beautiful every day. Beautiful means "full of beauty." Since I am almost 40 now -- God, I love saying that -- I finally know what beauty is. To me, beauty is the beach near my house, puttering around my kitchen, the laughter of a good friend, my dogs' stinky fur, Amma's inability to say the letter R, Tish's sensitive heart, Chase's darkening summer skin against his ultra white teeth, Craig playing hide and seek by himself, the steeple of my beloved church, a hot chai tea, and the banyan trees in my front yard. Today I will FILL UP WITH THIS BEAUTY. I will SEE this beauty and really NOTICE IT and smell it and hear it and roll around in it and soak it all up. I will allow all of this beauty to become a part of me -- to BECOME ME -- and by the end of the day I will be so freaking beautiful from the inside out that folks will stop and stare, probably.
If you do not feel beautiful then FILL UP, Precious Sister.
And if that doesn't work, I'll send over hair and make-up. Freaking magicians.
One more thing, friend. Just in case you're too tired to search for your own beauty today, you can borrow some of mine. This is our banyan tree holding our Amma. She's on her wope swing, having a weally wonderful time.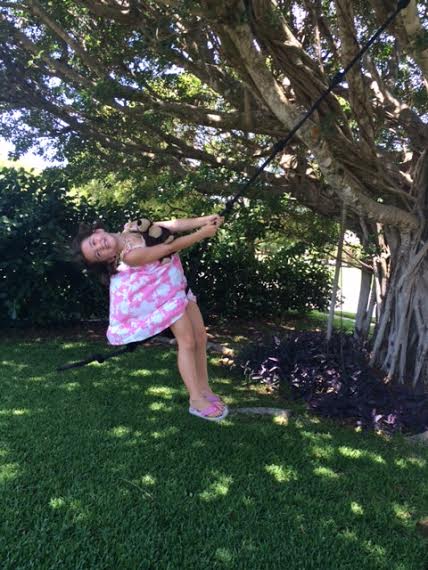 Popular in the Community