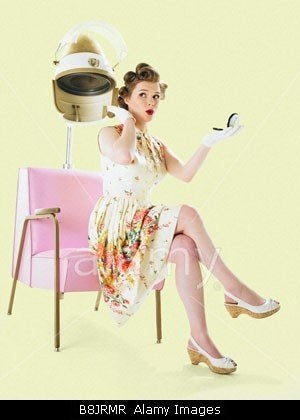 As I near the end of my twenties, it's only natural to look back and reflect on what I've learned in this decade of my life. I'm getting much better at not sweating the small stuff, my priorities in life are shifting and I know the value of work-life balance and a good night's sleep. But I've also had the opportunity to be around some amazing women on the beauty scene in New York and they have taught me essential, game-changing beauty tricks that I will take with me into my thirties and beyond. Here are five of my favorites:
Get a professional blow dryer
If you had asked me a few years ago if I would ever spend $170 on a hair dryer, I would have laughed in your face. I didn't like to spend a lot on beauty supplies and was satisfied with my $30 hair dryer from CVS. Nonetheless, I always wondered why I couldn't get even close to a salon-quality blowout at home. I probably asked my stylist (who also happens to be one of my best friends in the world) a hundred times what I was doing wrong and every time she would patiently tell me I needed to ditch that hair dryer and get a professional one. Eventually, I caved and ordered the same dryer she uses at the salon: TwinTurbo 3500 Ceramic and Ionic Hair Dryer. It was hands down the best beauty investment I ever made. Not only did it cut my drying time nearly in half, my hair is smoother, shinier and I'm able to create more volume. And while a salon-quality blowout is never going to happen in my bathroom, I'm able to get a significantly better result. Every now and then, I have the occasion to use inferior hair dyers again (at the gym or when traveling) and I shudder at the reminder that this used to be all I knew.
Always use a heat-styling protector
My hair puts up with a lot between the never-ending cycle of highlights, glazes and daily styling. Everyone knows regular deep conditioning is essential, but what I didn't know was the supreme importance of a using a heat-styling protectant. Whether you use blow dryer, flat iron, curling iron or all three, you need a protective coating on your strands to help your hair cope with all that heat - especially if you also color it. I use Ciment Thermique by Kerastase and just a couple of drops of Ojon Damage Reverse Instant Restorative Hair Serum (which not only protects and nourishes, it also helps with frizz, adds shine and smells delicious). My hair is healthier and styling is easier.
Dry shampoo to extend blowouts
As aforementioned, between the coloring and styling, I put my hair through the ringer. It tends to be on the dry and thirsty end of the spectrum. However, just one day after shampooing my scalp gets oily. This makes my dark blond roots really stand out, my hair feels dirty and gross and all I want is to wash it. So it's rather unfortunate that all of the stylists and beauty experts in my life have told me I shouldn't wash my hair every day. Over-shampooing will dry out your hair and those natural oils produced by your body are actually really beneficial and should be embraced (i.e. make sure you brush your hair regularly so the oils can travel from your scalp through to your ends). So what is a girl to do? Meet dry shampoo. It comes in various forms, but my favorite is Klorane's Gentle Dry Shampoo with Oat Milk. It sprays oil-absorbing corn and rice starch into your hair, adding texture and freshening your look for at least a second and sometimes third day without washing. Not all dry shampoos are created equal; it may take you some time to find one that works best for you. And don't worry, you are still allowed to shower every day, just get yourself a good shower cap.
Keep makeup-removing cleansing cloths in your nightstand
Morning raccoon eyes, anyone? We all know we aren't supposed to sleep in our makeup. Our pores need time to breathe and our pillowcases aren't crazy about foundation either. Nevertheless, there are times when all of us just can't muster the strength to wash our faces at night. Simple solution: Keep a pack of makeup-removing cleansing cloths in your nightstand. You don't even have to open your eyes, just reach over and wipe that dirt, oil and makeup from your face and sweet dreams! While nothing beats a thorough cleansing (see below), the future you who falls into bed after a night out on the town or a long trip with a face full of makeup will thank you for it. My favorite is Garnier's Refreshing Remover Cleansing Towelettes.
Oil isn't always the enemy
I've been valiantly fighting for clear skin since my early teens -- and I'll be the first to admit that when I was helping to edit beauty expert and celebrity hair stylist Eva Scrivo's book a few years ago and she told me to use oil on my face as a makeup removing cleanser, I wanted to throw up. I could feel the pimples forming under my skin just at the thought. However, as Eva writes in Eva Scrivo on Beauty: "Oil and water don't mix, so lathering your face for a few seconds with a soapy product literally is not going to cut it... Because oil breaks down oil, the most effective way to emulsify makeup is with an oil or cream. Think of this first step as breaking down the product that clogs pores and leads to blemishes. For many women still struggling with breakouts in their thirties and forties, this could be culprit."
After overcoming my initial aversion to this concept, I've tried a variety of oil-based cleansers and moisturizers and my skin actually has improved! One of my favorites is Josie Maran's Argan Cleansing Oil. Once I'm sure the makeup is all gone, I'll often follow up with a more targeted skin-clearing cleansing product (like Clearasil's Ultra Daily Face Wash). And while I don't like to apply an oil-based moisturizer in the morning, I do use one at night. I love Suki's Pure Facial Moisture - Balancing.