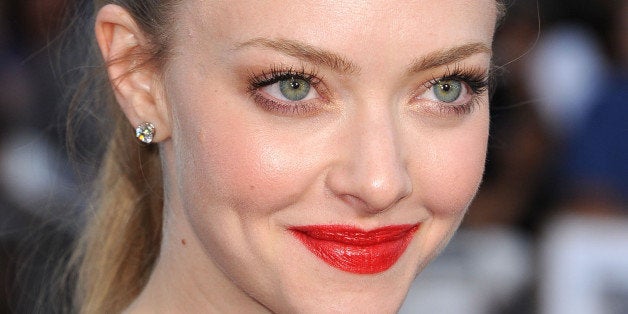 Amanda Seyfried doesn't have a problem shedding her movie star existence.
I go home to the house I share with my sister," she says. "The minute I walked in the door, my sister said, 'Hey, Amanda. There are dishes in the sink that are growing plants, and do your laundry.' Then I heard, 'By the way, your dog just ate half a bag of kitty liter. Will you please clean up the dog vomit?'
"We do get testy with each other -- and I love it," says the friendly Seyfried, who grew up in Allentown, Pennsylvania. She began to model at 11 and then did a stint on the soap opera All My Children. Seyfried made her screen debut in 2004 in the hit Mean Girls.
Her beauty tips are simple: "I only wash my hair every few days," she says. "I use Kevin Murphy Fresh Hair dry shampoo in between if I feel oily." Among her favorite shampoos include Bumble and Bumble's Crème de Coco shampoo and conditioner. Another favorite product is her concealer stick from Cle de Peau. "It's not greasy and does the job," she says, mentioning she also loves Cle de Peau's Gentle Cleansing Foam and their SPF 23. Her makeup go-to products include a Shiseido eyelash curler. As for diet tips, she says that a great snack is "crisp rice from Trader Joe's with unsweetened almond milk."
She takes stardom in stride after hits like Mama Mia and Les Miserables. Seyfried is rarely in the tabloids. Her personal life doesn't make headlines, which is the way she likes it. "I think the most important thing in a relationship is to be heard," she says. "The guy should make you feel beautiful and important. I tell girls if you don't feel that way then just go hang out with your girlfriends."
She says it's not that tough to fit a private life into her work life. "I'm not that overwhelmed," she insists. "The only thing that's hard is talking about myself so much, which just seems ridiculous to me. It's a little bit too much of me, but it's part of the job." To get away from the job, she likes to strum her guitar or pick up some knitting needles. "By the time a film wraps, I have everyone on the set knitting," she jokes.
At home in LA, the normal life continues in the wake of her stardom. Seyfried says it keeps her sane and from becoming some spoiled diva. "It's beautiful," she muses. "I'll joke with my sister and tell her, 'Hey, I'm a film star.' Her response is always the same. She will say, 'That's nice, Amanda. Now go clean up after the cat.'"
Related