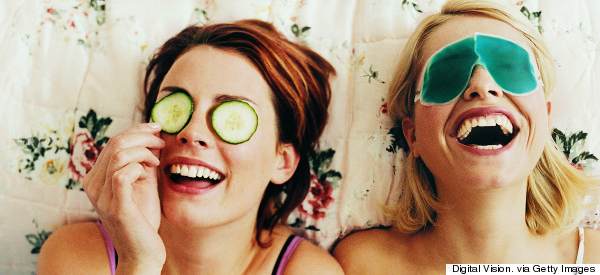 I'm going to try to persuade you why you should love the beauty product that you thought that you hated. Facial oils tend to be regarded with suspicion ("Won't they make me breakout?") or disdain ("This can't be a real anti-ager."). These reactions are not only unwarranted but they prevent you from understanding one of skincare's best kept secrets. In fact, I predict that facial (and body oils) will The Next Big Thing in beauty.
Facial oils are far from the poor relations of serums. They actually have some real advantages over our creamy potions and lotions. Here, I'll explain why, highlight some different approaches and dispel some myths.
Myth: Oils cause breakouts
Fear of oils is widespread. They are deemed to make us fat and spotty. People think that facial oils or any potion with oil in it will make them break out. Stripping oils away is thought to prevent clogged pores, breakouts, and shiny zones.
Truth: Healthy fats and oils prevent skin damage and breakouts
Nuts, seeds, and olives provide oils that can actually help us to lose weight and keep it off -- these good oils are called Omegas (or fatty acids). The same apparent paradox goes for our skin. Skin needs its natural oils to keep lubricated and protected). If we strip the oil away, the skin will produce more oil to compensate. The resulting imbalances cause breakouts. Encouraging a healthy oil environment can help to repair damage and give your skin the moisturizing and hydrating support it needs.
Fear of shine is one of the most common concerns with facial oils. The assumption is that only dry skins can tolerate oils and that anyone with combination or oily skin will look greasy enough to butter toast.
Truth:Facial oil is not oily
A good facial oil should sink right into the skin and not leave the surface looking for feeling oily. The secret is in the base oils. Avoid mineral oils at all costs. Look out for base oils (eg the first one to three that appear on the ingredients list) such as jojoba, meadowfoam, argan, apricot, or almond. Far from greasy, a good oil complex is the surest way to get dewy skin.
Myth: Oils are not efficient anti-agers
Even if you accept oils can be nice and perhaps beneficial, it is tempting to see them as the poor relation to creams crammed with antioxidant extracts, powerful peptides and other anti-agers.
Truth: Facial oils are chemical free antioxidant powerhouses
Let's start with some fundamentals. The best thing about facial oils is that they are not water-based. Water-based formulations (which means most creams and serums) require synthetic preservatives, stabilizers, absorbency enhancers and things that make a cream a cream. Oils don't need any of these, so what you will get is pure unadulterated botanical oils to which additional actives can be added to provide a bounty of nutrients, fatty acids, antioxidants or free radical scavengers.
What's more, oils can be true multitaskers that can be used all over the face, eyes, body and even hair and nails. Here are some examples of the different and creative approaches that good formulators can take to facial oil making:
The Fatty Acid Facial Oil
The Multitasking Facial Oil
Red Flower Kinmoxei Wild Lime Silk Oil is an exotic and tropical orchard of flower and fruit oils. It is so versatile, you'll take it on every trip as it does more than triple duty as a face oil, supplement to body lotions (even those hotel samples will be transformed to something hydrating), hair tamer and even toner (due to the presence of citrus oils).
Rice bran oil is the base and this oil is regarded as cholesterol lowering, skin lightening and an antioxidant. Other oils are chosen not only for their fragrance, but their nutritional value, such as vitamin C-rich yuzu and monoi oil, which is gardenia infused coconut oil and supposedly a great source of vitamin E and ferulic acid. Monoi oil is especially good at restoring health and shine to hair.
Your Best Face Private Reserve Antioxidant Oil. Darrell Owens, the founder and chief formulator of Your Best Face tells of having an "epiphany" when creating Private Reserve. He suddenly realized that an oil-based product allowed him to leave out all the extraneous non-actives that inevitably go into a water-based serum or cream. Instead, he could focus on a simple base of meadowfoam oil to which he added generous concentrations of his favorite antioxidants. The result is an unadulterated way to allow your skin to experience vitamin E and the free radical scavengers, spin trap (phenyl butyl nitrone) and Lipochroman-6 (dimethylmethoxy chro manol).