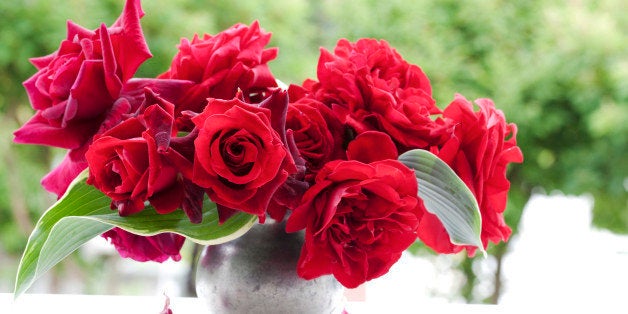 When our children were younger, my husband and I had date night on Sundays. If I was feeling emotional and didn't know why, I would take a drawing pad and colorful pens with me to dinner. In the restaurant, I would draw stick figures to express myself to my husband. I'm joyful about X, upset about Y, conflicted about A, B and C and so on. To his credit, he listened and smiled while I drew. This is when I first learned that I could say a lot with stick figures.
These days, I'm still using drawings to process emotions and counsel myself. Recently, when I sat down with pen in hand, I found that I was writing notes to myself about beauty. My stick figures were giving me messages about the importance of seeing and cherishing beauty in the world.
By beauty I mean the physical, "holy smokes can you really believe that a moon rise can be that seriously sacred and serene?" I also mean the beauty of human interactions. I was at an outdoor free yoga class on Saturday to celebrate the summer solstice and I watched a mother and her 4-year-old son practicing yoga together. He copied every move she made. When he laughed, she smiled -- the mom was upside down, the son was upside down, but the world was right side up.
Beauty can be tiny, specific interactions and as wide ranging as sounds: tastes, touches, a thought, a prayer, a silence, a gong, a gesture, an action. Beauty is everywhere, and here's what I've decided based on the messages my stick figures have been offering me: I don't ask myself often enough to notice beauty and soak it in.
It seems I'm good at going over and over in my mind when someone has hurt my feelings. (I have drawings to prove it. With the stroke of a pen, I can draw piles of cow pies on the offending party's head.) I am also capable of not being able to draw. Some news hits me like an 18-wheeler and I'm left flattened at how horrible humans can be to each other. "Retreat! Retreat!" my inner intercom system says.
But when I do crawl out from wherever it is I go, and I start to draw, the pictures tell me what it is I must do. I'd like to share some of these drawings with you.
First note to self: When horrible things happen in the world, I want to block my ears and cover my eyes, but the best thing I can do is to go out into the world and be kind. Any act of kindness is beautiful.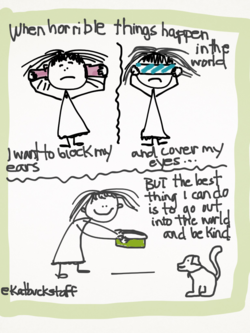 Second note to self: Sometimes I miss the beauty of a moment because I'm listening to brain noise: sorrow, fear and worry. Note to self: Pay attention. Beauty is everywhere.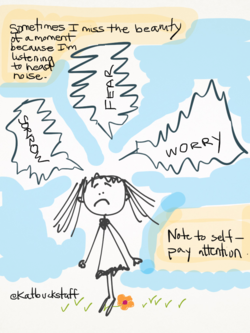 Third note to self: Try really, really hard NOT to step on beauty. Beauty matters.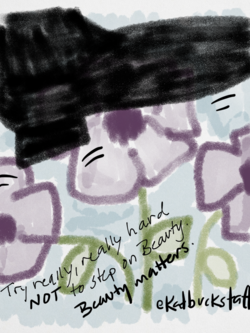 Fourth note to self: When my heart breaks, it's best to fill the broken places with beauty.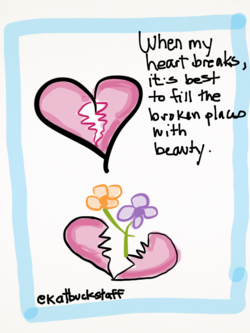 Fifth note to self: Let the simple beauty of a flower make your day.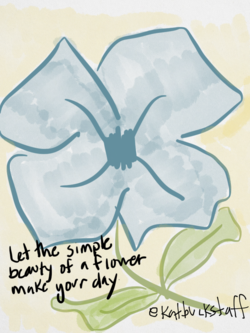 Sixth note to self: Some days it's important to hold onto beauty with all that you've got.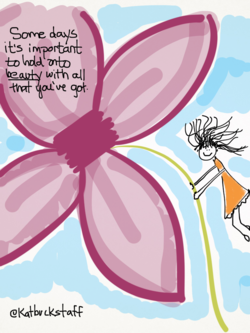 Seventh note to self: Life's goal: Let go and smile.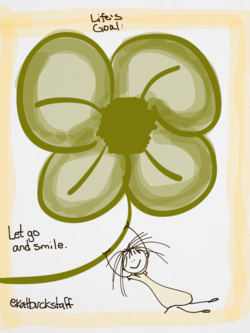 I included the last picture, because every smile is beautiful and easy to share with anyone at any time.
I'd love to hear from you on what beauty fills your soul.