All Michael Cavanaugh wanted to do was spend a nice day kayaking on a creek in upstate New York.
But his day was ruined when an angry beaver attacked him and knocked him into the water.
Cavanaugh was kayaking on Irondequoit Creek in Monroe County on June 10 when the incident happened, according to witness Nate Reynolds, who runs the BayCreek Paddling Center.
Although Cavanaugh was able to get to his feet and approach the dock, the beaver did not let go -- even when Reynolds hit the creature with a paddle several times.
"The paddle broke and the beaver let go," Reynolds told the station. "He kind of disappeared for a few seconds but came back up so I hit him again."
Reynolds eventually killed the angry beaver and the paddling center was closed until animal control found its carcass to test it for rabies. Tests have not come back yet, but the center has since reopened.
Despite the terrifying encounter, Cavanaugh said he's doing well in a statement to WHAM-TV.
"In general I feel like you do after having surgery. My body is focusing on healing the wounds. I've slept quite a bit. Though the event was scary I haven't felt much in the way of traumatic emotional reactions which I'm thankful for. As a matter of fact I feel a lot of gratitude to God. First, that my injuries were not worse. Second, that the beaver did not attack [a fellow kayaker] Terri who would have been severely hurt as she was a great distance from the dock. Third, that I was surrounded by so many helpful people."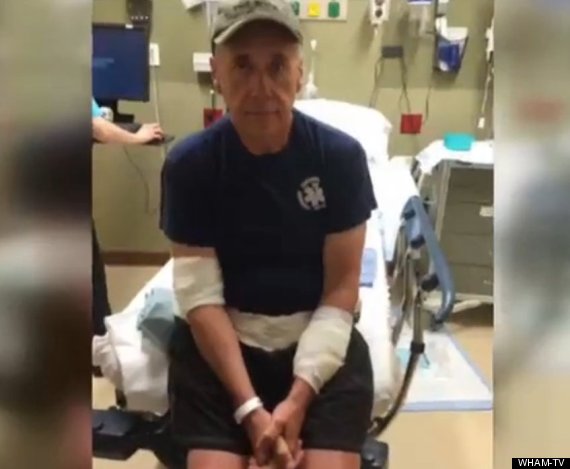 REAL LIFE. REAL NEWS. REAL VOICES.
Help us tell more of the stories that matter from voices that too often remain unheard.
BEFORE YOU GO
PHOTO GALLERY
Animals In The News