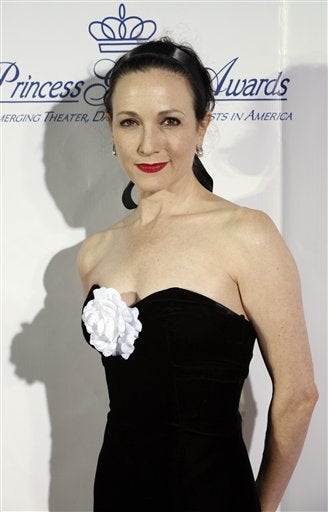 Andrea Marcovicci and Bebe Neuwirth are currently waging successful campaigns in the unending battle over cabaret technique. They represent those who say that what's important for performers appearing in intimate rooms is not that the voice be considered first and foremost but that appreciation of a lyric is equally as important as -- if not more important than -- vocal reproduction and projection.
The opposing warriors are, of course, the ones who insist the voice is uppermost, that if the singer's vocal delivery isn't pitch-perfect, the singer is automatically disqualified from serious consideration. For these adherents, lyrics are meaningful, of course, but sometimes only as a pleasant afterthought.
It so happens that this commentator holds with the former group and therefore heartily recommends Marcovicci's "No Strings," now at the Oak Room at the Algonquin, and Neuwirth's "Stories with Piano #3," now at Feinstein's at Loews Regency. Both singers are actors first (Neuwirth may be a dancer first, but never mind). Both entertainers use their voices as vehicles for their emoting and for singing out on behalf of great lyrics and lyricists.
Marcovicci insists her new show -- which marks 25 years in the elongated shoebox space she works better than anyone -- is about travel and that the "No Strings" title refers to cutting free from the possessions tying us to our homes. She establishes the topic by opening with "Sail Away," which the songwriter Noel Coward did constantly, and to some avail. He wrote Private Lives over a weekend on a tramp steamer.
So yes, Marcovicci is honoring traveling, but as she continues through a set of skillfully chosen numbers, she makes it increasingly clear she's not only discussing physical travel but mental travel as well. And that involves a heavy dose of nostalgia -- time travel backwards. Aside from a Tom Toce ditty, "The Night I Fell in Love With Paris," in which the narrator mentions hearing U2 playing in the City of Light, Marcovicci's material repeatedly invokes traveling to a more urbane past. As the wonderful new Enid Futterman-Michael Cohen "Back at the Algonquin" valentine puts it, "It is always 1930, at the latest '34."
If Marcovicci is going to sing all (or is it most of?) the "These Foolish Things" words -- which include "the smile of Garbo" and "the Ile de France with all the gulls around it," she's not thinking of today or even yesterday. She's thinking of yesteryear. If she's singing Herman Hupfeld's "As Time Goes By," she's singing of times long gone by. For the truest nostalgia partisans, she's even found "I Don't Know," a revue ditty that Gertrude Lawrence (another mesmerizer whose voice wasn't her strongest suit) introduced in 1919.
As for Marcovicci's singing, which some years is better than others: This year is good, sweet, much more than serviceable. Perhaps it's because Marcovicci, always loose when kidding the ringsiders, is particularly loose, particularly light-hearted this season. Maybe it's because where in previous years she's hewed to a theme about which she's wanted to be amusingly informative, this frame -- with Shelly Markham at the piano, as usual, and Jered Egan on bass -- she has no strings trying her to such an endeavor. She's traveling light and is, subsequently, revitalized and revitalizing.
As if in response to Marcovicci, Neuwirth is traveling heavy. Obviously by coincidence and not in collusion with her colleague, she also sings "As Time Goes By." It's her kick-off piece, but rather than introducing the beloved standard to foreshadow a free flow of nostalgia, she quickly announces that her "Stories with Piano #3" title is meant to be taken literally. She will be telling stories. She'll examine the songs she's chosen for the power with which their characters recount their experiences.
These aren't necessarily happy-go-lucky types, either. Quite the opposite. Neuwirth is drawn to people who at best can be described as chiaroscuro. She sings three Kurt Weill threnodies -- one with Alan Jay Lerner's lyrics that take a tough realist look at marriage ("Susan's Dream') and two with Bertolt Brecht's lyrics. She gives "Bilbao Song" a cheerful edge but for its perverse toast to life's seamy side; in "Surabaya Johnny" she portrays to the life a disgusted jilted lover. Neuwirth also has a persuasive thing for Weill-influenced Tom Waits, getting gritty on both his "Invitation to the Blues" and "Shiver Me Timbers," neither of which registers as typical supper-club fare
It has to be said that Neuwirth -- who accompanies a few of the songs with the sort of port de bras that distinguished her seductive "All That Jazz" in the Chicago revival -- has a vibrato so pronounced it threatens to put cracks in the walls. Yet, in one instance, the vibrato is not only something listeners have to excuse, it's an absolute plus. On Stephen Sondheim's "Another Hundred People" -- during which new Manhattan arrivals get off planes, trains and buses every blasted day -- the prospects are so cumulatively unbearable to the woman Neuwirth is summoning that the vibrato becomes synonymous with mounting terror.
Like the always fashionably gowned Marcovicci, Neuwirth is stylish in a short maroon-and-black cocktail dress. With its bow at the waist, it says 'Intimate room," even as -- while Scott Cady plays the piano -- it effectively pushes cabaret boundaries back to where they were when they were delineating Weimar Republic kabarett.
Popular in the Community