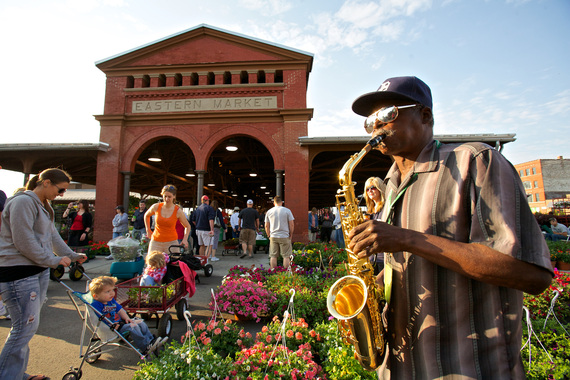 I suspect the reactions I received when telling people I was moving to Detroit were similar to those one might receive after announcing a plan to move to Yemen or to give up practicing law in order to farm tarantulas. Most were skeptical; some were interested; several were downright incredulous. After three months here, my husband and I know we made the right decision.
I grew up in West Michigan with all the standard Michigan pride. I drank pop (Rock 'n Rye, of course), used my hand as a map, and have always known how to pronounce Mackinac, Charlevoix, and Ypsilanti. At 18, I took off to Tulane University - and pre-Katrina New Orleans - to see the "real" world. Twelve years and eight states later, it was time to come home. Choosing Michigan was easy. Choosing Michigan was obvious. Choosing Detroit took more thought. Several factors went into our choice, but ultimately it was a gut decision. Detroit felt right for us.
Others, clearly, did not understand. I would point to the historically and culturally unique precipice on which Detroit currently sits, the amazing innovation and opportunities available here, and even the proximity to Ontario (where I was born and where many of my relatives reside). Ultimately, though, the skeptical remained unconvinced - and maybe, subconsciously, I was too.
We did not move to Detroit for any one perfect opportunity - we chose the place before either of us found our career paths here. We felt like we could do good things here, and we came to see where life would take us.
So I never had a good answer to "Why Detroit?" before we moved. But now, three months in, I think I do:
"Because Eastern Market, that's why."
Full disclosure: I now work for Eastern Market. And disclaimer: That is not why I'm writing this post. (Ok, not entirely why).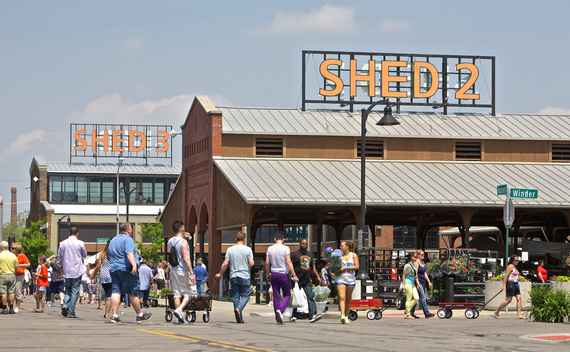 Spanning 5 city blocks, the non-profit Eastern Market Corporation, or EMC, (not to be confused with the Eastern Market District, the neighborhood that houses the Market) is the largest historic public market in the United States. For over 100 years, Eastern Market has connected small farms with customers from metro Detroit looking for fresh, local produce. And that is enough to make Eastern Market a great place, but a look behind the scenes reveals that Eastern Market is something truly incredible.
Eastern Market is so much more than the Saturday and Tuesday Farmer's Markets that serve as its public face. The vision of EMC is "to create the most inclusive, resilient, and robust regional food hub in the United States," and the work being done to surpass that vision is truly inspiring to this new Detroiter.
EMC's work in greater Detroit spans from food access programs that strengthen the 15+ community markets around Detroit and bring pop-up Farm Stands to underserved areas, to work with Government and Public institutions to convert annual food purchases to local, fresh, and minimally processed items. They have established an incubator process for food entrepreneurs to support them through the development and production pipeline. The Detroit Kitchen Connect program coordinates licensed professional kitchens for entrepreneurs who could not otherwise access such resources. These are a mere sampling of EMC's many programs and initiatives.
[caption id="attachment_1004" align="aligncenter" width="300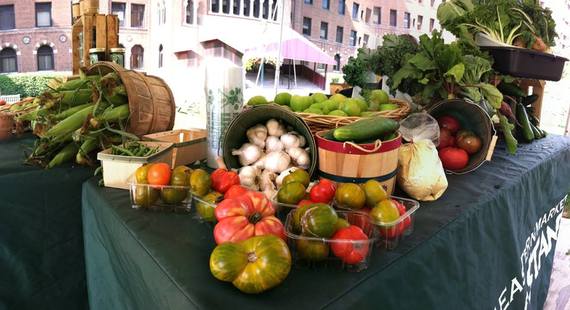 One of several pop-up Farm Stands bringing fresh produce to underserved areas.[/caption]
Eastern Market's mission statement proclaims "We leverage Eastern Market's dynamic history, manage operations, develop programs, build facilities, and provide critical infrastructure to: Strengthen the Eastern Market District; Fortify the food sector as a pillar of regional economic growth; and Improve access to healthy, green, affordable, and fair food choices in Detroit and throughout Southeast Michigan." And they mean it.
One look at Eastern Market's Strategic Plan reveals the truth behind its words. This goes far beyond a farmer's market. When EMC President Dan Carmody references a "regional food hub," he envisions the entire scope of food production being localized to the southeast Michigan region (with parts of Ontario and Ohio) and centralized in the 43 acre Eastern Market District. By embracing not only farmers and fresh produce but also food production, processing, and packaging, the potential for job creation grows exponentially and encompasses the widest possible variety of skill levels - from entry level labor to high-tech engineering and corporate management.
[caption id="attachment_1004" align="aligncenter" width="300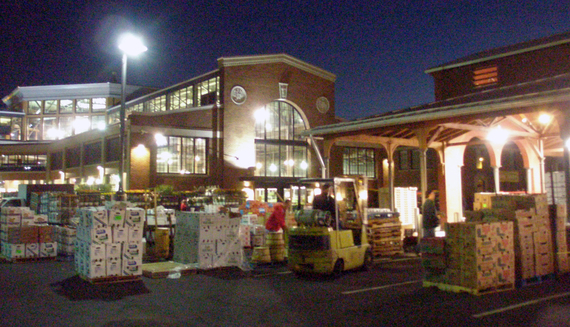 Eastern Market also hosts a massive wholesale market for local restaurants and grocers from midnight to 6am weekdays.[/caption]
It has been estimated that if 25% of Detroit's food could be sourced locally it would generate nearly 5,000 jobs, create $20 million in new local taxes, and $125 million in new household income (based on information from Micheal Schuman of the Balle Institute). That is what a regional food hub could mean for Detroit, and Eastern Market is making it happen.
EMC further recognizes the need to be intentional in developing the full potential of the Market and Market district by carefully integrating non-food businesses into the mix. By activating EMC spaces with non-food resources and events at times when the farmers are not present and the district may be otherwise dormant, the district becomes a more complete and fully vibrant neighborhood without undermining its food-centric character.
In the spring, EMC will launch its new Sunday Market, a "Stuff Market" counterpoint to Saturday's food Market. Visitors to Eastern Market on Sundays will experience the best in local products and merchandise. Artisans, craftspeople, makers, inventors, collectors, and more will fill the Sheds, becoming Detroit's newest shopping mall alternative and center for locally made goods.
During the Detroit Design Festival in September, Eastern Market added a new night market concept, the Third Thursdays series. These fun focused events bring out the best in local food trucks, merchants, and artisans interspersed with lively activities. In recognition of Homelessness and Hunger Awareness Week, the Third Thursday in November, the 21, will feature a Soup and Chili Throw-Down between several restaurants from the Eastern Market District to benefit COTS, the Coalition on Temporary Shelter. For $5, patrons can purchase a ticket to sample the soups and chilis and vote on their favorite. Those who bring items from this list to donate to COTS will receive a free taste and vote ticket.
In addition to the Throw-Down, Fowling and Playworks will be running games. The College for Creative Studies will be running a pop-up studio offering professional portraits for a fraction of the typical cost. D:Hive will be leading walking tours of the Eastern Market District. The list of fun opportunities at Third Thursdays grows every day, as Eastern Market grows into a model mixed-use, food-centric neighborhood.
That is a lot of growth coming from a single organization. And while EMC's mission is unique in Detroit, the amount of good, the energy, and the vibrant development are not. Eastern Market is a microcosm of all that Detroit revitalization has to offer. It is community and business together. It is the past, present, and future alive and thriving in one place. Stroll through the Market on a Saturday and you will see every part of Detroit, every race, ethnicity, and social class, every level of business from new to historic, trendy to classic. Eastern Market is where Detroit comes together and where we become Detroit.
And that is just the greens on the beet, so to speak. There is so much more below the surface.
I've been uncovering more to love about Detroit every day. I love running down the Dequinder Cut and up the River Front. I love the view on Woodward as I head downtown. I have 15 new favorite restaurants and have experienced the frenetic enthusiasm of Lion's tailgating and the Tigers in the playoffs. I love the pervasive feeling of potential mingled with determination. I love the attitude of this place.
And I love the real of Detroit. Because there is no pretending Detroit doesn't have problems. There is no false face of Detroit. There is sadness here, and there has been trouble, and we know it. There is homelessness and hunger, crime and struggle every day. Many of the problems you find in all major cities seem magnified here. But the will to overcome is magnified, too. Detroiters are facing the issues of this city head on. So when I work in or pass through blighted neighborhoods, I do feel the sadness but I do not feel despair.
I have lived and worked up and down the eastern US from Manhattan to New Orleans, and in my first three months here in Detroit I have seen more innovation and creation than anywhere else; more everyday people doing extraordinary things than anywhere else. There is a feeling of newness and regeneration in Detroit that I have never felt from another place. And Eastern Market is one of several loud, colorful, and ever-strengthening bursts of evolution buzzing in this city.
So when people scrunch up their noses and ask, "why Detroit?" I just smile and put on my teacher face.
"Because Eastern Market, that's why."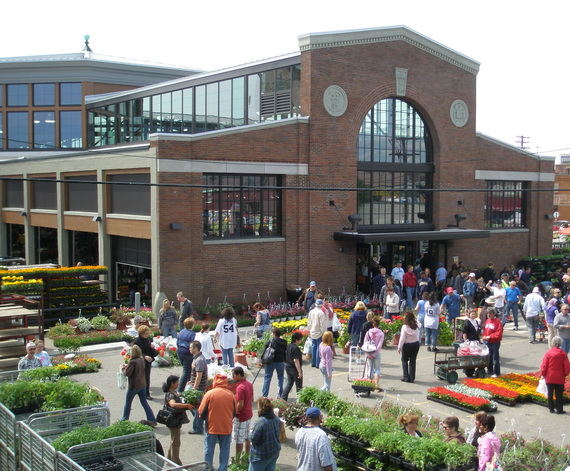 All images courtesy of Eastern Market Corporation.
Popular in the Community