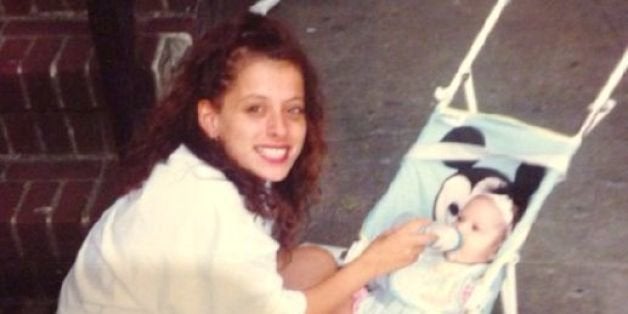 I really have no idea what I was thinking, having a baby alone, at the age of 19, with no job lined up in the near future -- but I decided to do it anyway. I just hoped it would all work out, because this beautiful little human being needed me, and I needed her in order to become a responsible adult, even if I was practically still a child myself.
Just knowing that this baby depended on me to live was enough drive to get me going in the right direction for both of us. And I certainly needed some direction, because growing up in poverty in the Bronx in the 1970s was not easy. For starters, I was born to a drug-addicted mother and a father who was a workaholic -- perhaps so he didn't have to deal with the problems at hand. Needless to say, I really didn't have much to go off of in the parenting department. The best advice I gave myself was just to do the complete opposite of what my parents did for me, and luckily, it worked.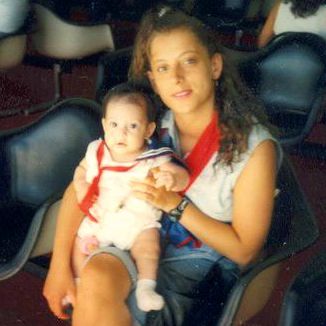 My daughter and me in 1990
Three months after I had my daughter, I was lucky enough to land a job in advertising through my best friend. I was terrified, but I knew I had to do this to make a home for us. My socioeconomic background (and the teen mom status and high school level of education that came with it) was always lingering in the back of my mind, making me feel very inadequate among my coworkers. However, it also made me work even harder to keep up with them and to learn and grow as much as I possibly could. I needed my daughter to be proud of me. I needed her to see that it was going to be OK even though it was only me and her. Despite being so young, I knew I needed to be a good role model and break the cycle of hardship and poverty that surrounded me. And so, despite the odds, I just did it.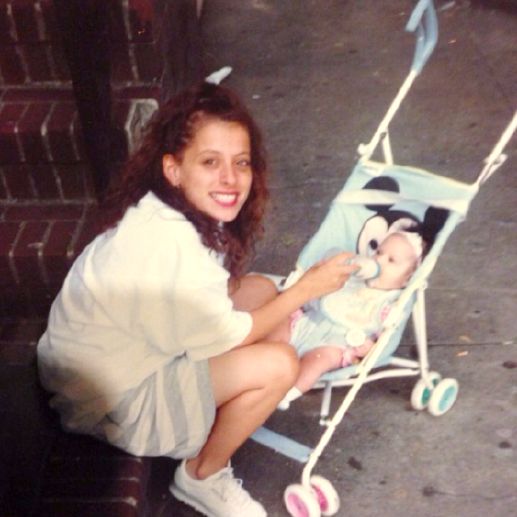 While I was raising my daughter and trying to make ends meet, my one job turned into three. In my 20s, I was an advertising admin during the day, a bartending "shot girl" on Friday and Saturday nights and a bakery associate on Sundays, and I was still able to make it to every soccer game. Bartending, in particular, was a way to make the most money in the shortest amount of time, while still allowing me to spend time with my daughter. From tips alone, in one night, I would make enough money to cover an entire month of my daughter's school tuition -- and ultimately, I had the whole year paid off in eight weeks' time. It was very rewarding to be doing all of this on my own; it made me feel like we were going to make it, even though we were still alone. It also made me impress upon my daughter the importance of hard work and independence.
Now, 25 years since my daughter was born, it's pretty amazing to reflect on how a person is able to do whatever they need to do to survive and not even realize it. As a single, teen mother I was essentially in survival mode and simply had to keep going. Only now that my daughter is an adult can I really sit back and marvel at my accomplishments, at our accomplishments. Being so young with a baby was not easy, but it was extremely rewarding to watch us grow and learn things together and about one another. While our initial circumstances of being broke and alone were not ideal, these factors are what made my daughter hardworking, independent and humble -- exactly what I had always wanted in a child, and exactly what I had to become to raise her.
Because I was a broke, single, teen mom, my daughter was not.
Because I was a broke, single, teen mom, my daughter knows unconditional love.
Because I was a broke, single, teen mom, my daughter became the very first person in my family to graduate college and break a seemingly endless cycle of poverty and hardship.
I would do it all over again if I knew this was the final outcome.