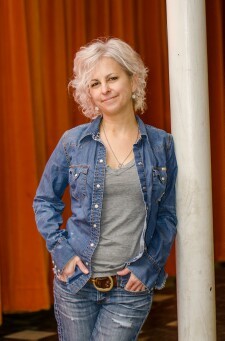 Kate DiCamillo has a knack for building captivating stories around spirited, unforgettable characters, such as the tenacious Despereaux Tilling and the lovably corpulent Mercy Watson. The title character of DiCamillo's new book, Raymie Nightingale, emerges as yet another memorable personality, this one inspired by DiCamillo herself as a young girl. In this somewhat-autobiographical story, three young competitors in a local pageant overcome their differences and become friends, learning about themselves and about life in the process. "Raymie's story is entirely made up," says DiCamillo in her introduction to the book. "Raymie's story is the absolutely true story of my heart."
Like Raymie, DiCamillo grew up in Florida with a single mom. "My father left when I was six years old," DiCamillo says. "And that, leaving was something I wrestled with a lot as a kid." She admits that there's a lot of herself lurking within her latest protagonist. "Raymie and I are very much alike in that we are introverted worriers, big readers, perpetually planning, always terrified, and always hopeful," DiCamillo says. "And like Raymie, I was lucky enough to have good friends, true friends."
According to DiCamillo, when she began writing Raymie Nightingale, she didn't set out to revisit the world of her 10-year-old self. "The truth is that I didn't intend to write about my childhood," she says. "I got the idea for the Little Miss Central Florida Tire contest and I thought, 'Oh ... wouldn't it be funny to have a totally inept kid entering that ridiculous-sounding contest and mucking things up?' I thought it would be a slapstick kind of thing."
Instead, DiCamillo delivers a poignant portrayal of a little girl who believes that if she tries hard enough, she can take first place in a second-rate contest and somehow lure her father back to her family. "Pretty soon I figured out why Raymie wanted to win that contest, and the story became something different, more thoughtful," DiCamillo says.
DiCamillo first considered becoming a writer while studying English at the University of Florida. "It took me a long, long time after that, 10 years, to actually start writing," she says. Over the course of that decade, DiCamillo worked at Circus World, Disney World, a greenhouse, and even at a campground calling out BINGO letters and numbers. "Those jobs gave me a lot," she says. "They taught me about people. They taught me about work."
The writing came only after DiCamillo made a drastic move from balmy Florida to blustery Minnesota. "I was stuck," she explains. "It was what I refer to as a 'pre-mid-life crisis.' I needed a change--a drastic change." The change of scenery worked. She found a job, and the inspiration she was looking for on the third floor of a book warehouse. It was the floor where all the children's books were stored.
Being around children's books all the time, combined with her homesickness for the Sunshine State and her frustration at her new apartment's strict no-dog policy formed a creative trifecta for DiCamillo, who was finally ready to write. "One night before I fell asleep, I heard a girl's voice with a Southern accent say, 'I have a dog named Winn-Dixie,'" she says. "And when I got up the next morning, the voice was still there, talking. I listened, and I wrote it down."
Her debut book, Because of Winn-Dixie, was a bestseller and she hasn't stopped writing since. Many of her books feature animals as main characters, vestiges of the veterinarian career DiCamillo once considered. "I quickly figured out that I didn't have the stomach or the heart for the job," she says. Instead of caring for animals, DiCamillo is content to write about them. "I think that sometimes we open our hearts a little more easily to animals than we do to each other," she says.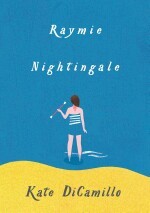 Whether she's writing about animals or humans, one constant theme of DiCamillo's writing is hope. She describes herself as "eternally hopeful," much like Raymie Nightingale. DiCamillo says writing for or about children comes naturally to her. Somehow she's been able to maintain that childhood spark despite all of the trappings of adulthood. "I think there is a part of me that is still eight years old," she says. "The kid in me has never gone away."
Having written picture books, chapter books, and novels for both adults and young readers, DiCamillo says her approach to writing for adults doesn't vary much from her approach to writing for children. "I find that when I write for children, I am more hopeful, less cynical," she says. "I don't use different words, or a different sentence structure. I just hope more."
DiCamillo is one of only a handful of authors who have won two Newbery Medals--one for The Tale of Despereaux and the second for Flora and Ulysses: The Illuminated Adventures. Twelve of her books have been New York Times bestsellers and two have been made into movies with two more currently in the works. Later this year, fans will get another book in her popular Deckawoo Drive series. "It's a story about Baby Lincoln," says DiCamillo. "She goes on a journey. Without Eugenia."
Among all of the awards and accolades she has received, being named the National Ambassador for Young People's Literature for 2014-2015 by representatives of the Library of Congress is at the top of her list. DiCamillo says she saw the position as an opportunity to promote everything she loves about books. "I just wanted to go out there and remind people of the joy and privilege of reading," she says. "I wanted to remind them that stories are a way to connect to the world, to each other, and to ourselves." DiCamillo says she was happy to have a platform to share her personal belief that reading is the key to lifelong happiness and success. "If you read, the world is your oyster," she says. "It truly is. Reading makes everything possible."
Photo by Catherine Smith Photography. Article by Melissa Fales, Story Monsters Ink magazine. www.StoryMonsters.com
REAL LIFE. REAL NEWS. REAL VOICES.
Help us tell more of the stories that matter from voices that too often remain unheard.