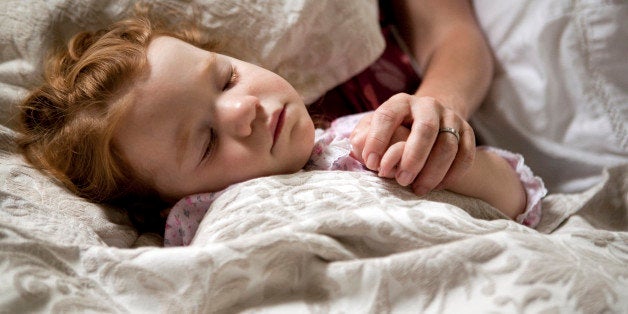 March 5th, 2016. I made sure to take note of the date as I rocked my baby girl back to sleep that night. It's the first time she has woken up at night in months. She hardly even cried, yet I found myself nearly running to her room to hold her the minute I heard her sweet voice cry out "Mama." I scooped her up in my arms and rocked her until her body became limp against mine. As I sat in her moonlit room, I couldn't help but to wonder if this was the last time she would fall asleep in my arms. She hadn't needed me this way in so long, and the possibility that she may never need me in this exact way again loomed in every crease of my heart. All I could do was whisper:
Please, let me remember this. I don't want to forget how this feels. I don't want to forget how she smells and how soft her skin feels against mine. Please let me remember this very moment. But please God, don't let this be the last time I rock my baby to sleep.
Because the truth is, I don't remember the last time I rocked my boys to sleep. I don't remember what their sweet baby skin felt like, and I don't remember when they needed me last to fall back asleep. Somehow the years have passed and they do it all on their own. Each night as I go in to give them one last kiss goodnight, I look at their little faces fast asleep and wonder what their last thought was before they drifted off to dream.
To be totally honest, the last few days have been rough. My daughter seemed to cry longer and louder than usual. It has felt as though my youngest son was on a mission to complain the entire day and my oldest son never seems to hear me. The dishes just keep reappearing, and I swear the laundry breeds overnight. I have been more tired than usual and have been at my wit's end multiple times. When bedtime came for the kids, I was practically tossing them in bed, so excited to not have to take care of anyone for a little while. To just have a few minutes of not being needed.

Sometimes it's so hard to always be needed.
Yet the minute I heard my baby girls voice in the middle of the night I needed to be with her. I wanted to be with her, and I wanted that moment to last a lifetime. That's the weird thing about motherhood no one really tells you before becoming a mom. No one told me that one minute I would cry so desperate to have a few minutes alone and the next minute I would cry at the thought of not being needed. Everyone just says "you're going to miss this" and often times, as they are offering that token of advice, it's in the moments I need to hear anything but that. More times than not, in that very minute, I am feeling like I am failing as a mom somehow and that is definitely a feeling I will not miss. I am also a firm believer in living fully in the moment so that I won't have regrets later, but what I never really took note of was that one day, without any notice at all... my little ones wouldn't be so little anymore. One day they won't need me to rock them to sleep, and one day they won't need me to zip their coat or hold their hand as they cross the street. One day it just ends, and you never know when that last time will be. It's just gone. That's what I wish someone would have told me. I know it may seem obvious, but for some reason when you are in the midst of this season of motherhood, you forget that, until one day you look up and realize it's already gone.
So friends, this isn't a post to tell you "you're going to miss this" because the truth is, you may not miss everything about these stages. You may not miss those sleepless nights; you probably will never miss those dirty diapers. You may never give the fact that you are no longer needed to help your little one on the potty another thought and you certainly won't miss the tantrums in the middle of Target. But what you will find is that one night, you are rocking your not-so-baby boy or girl to sleep and it might very well be your last time. And those, my friends, are the moments to savor. Those are the moments I hope you hang on to for a little longer than you might have in the past. Those are the times I pray you engrave into your heart to look back on for the years to come. Because one day it will be the last time, but your memory of that precious time will last a lifetime.