I didn't know what to anticipate from my conversation with Ricky Reed (aka Eric Frederic) and anything I could have thought of wouldn't have mattered. Our encounter defied expectations.
Ricky Reed is a music producer, composer, instrumentalist, and the front man for the music collective/band, Wallpaper. He has produced for Pitbull, Jessie J, Jason Derulo, and Mary Lambert...but he's much more than that. Ricky Reed is a kaleidoscope of talent and personality: ever shifting and always evolving, a peculiar mix of hippie meets hip-hop rolled in ratchet skater swag. He certainly doesn't fit in any tidy cultural boxes.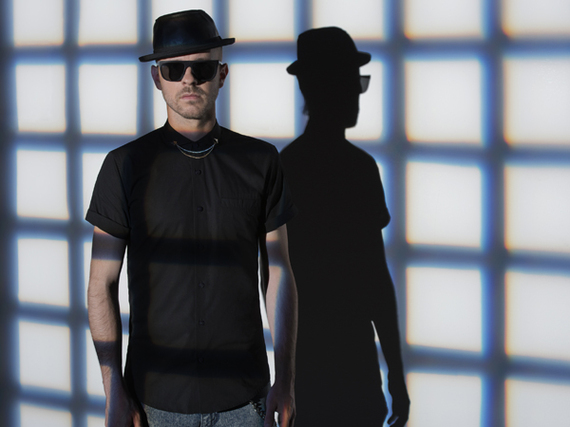 Five years ago Ricky Reed didn't even know what his idea of life looked like. Everything changed in his career after he produced the hit single "Talk Dirty to Me" by Jason Derulo. The success of this song was the turning point for his career. As he tells it, he never imagined that he would be pricing for other people. "Talk Dirty" was the turning point in his career.
"It gave me a real voice," he drawled casually.
As one of the most sought after instrumentalists in music today, Reed is currently producing Robin Thicke's next album and fielding opportunities to collaborate with some of the biggest artists in current hip hop and pop music. Our conversation steered towards the sources of his inspiration, and when I mentioned that I was (part) Ghanaian, the casual tone in his voice gave way to something more spirited and vivacious. It was though the memory of Ghana touched a live wire in him.
"I studied the Ghanaian drums and bongo drumming," he said. This is the reason why on his song, with Wallpaper, "Frk Scn" features a peculiar Ghanaian rhythm, specific to the Ewe ethnic group. There is are distinctive patterns in Ewe drumming style that produce a characteristic sound. Reed beat those out by hand.
I asked him about his own projects, since it is rare that such a creative force would completely abandon his own work in order to produce for other artists. My suspicions were affirmed. Reed is currently in the studio working on his latest album with Wallpaper.
His tone was mellow, but forceful...passionate. "I really enjoy the creative freedom that I get when I produce my own projects."
There are things he's able to in music and instrumentation that producing for others doesn't allow him. He has the freedom to explore with a blend of sounds that on the face don't make sense, but connect with a visceral part of humanity.
Who is this listener of this "raw" music? Mostly the house party circuit...young suburban kids; hipsters, music lovers, people who love to have a good time, and pretty much anyone. Reed determines how the music will be arranged stylistically by going find the people who want to listen to the music. His methods for finding his audience are almost rudimentary, but effective, obviously.
A lot has changed for Ricky Reed in five years. He's stated that he is in a very good place. Although I sat 6,000 miles away in another hemisphere, I could almost hear the smile in his voice and see the reflective look in his eyes.
"I'm in a better place than he was five years ago," he emphasized, "personally and creatively."
There is love that is transcendent in every groove, nook and cranny, and this shows through his songwriting and the music he makes. Talk Dirty gave him a voice, but it was just the beginning Ricky Reed and Wallpaper have plenty more to say.
Calling all HuffPost superfans!
Sign up for membership to become a founding member and help shape HuffPost's next chapter