She can hear the giggles from down the hall.
She already knows what is coming as it has become a bit of a tradition since she they were old enough to walk.
Her three children will stumble through her bedroom doors full of smiles and unable to contain their giggles. Her oldest will be holding the tray of scrambled eggs, burnt toast and fruit their dad helped them to prepare. Her middle child will be holding the cards they drew at school this week for her. And her youngest will be holding dew covered flowers they picked from her own garden first thing this morning.
"I tried to contain them as long as I could," her husband says apologetically.
"I wouldn't trade this early wake up call for anything," she replies through a yawn she allows only him to see.
Six years ago she only dreamed of this day. In the midst of infertility treatments and having lost two babies before she finally held her first son in her arms, Mother's Day was a day she dreaded with everything of her heart, soul and being.
A day full of grief and loss and anger, only leaving her wondering when it would finally be her turn, she struggled to hold herself together. She would cry in church year after year as mothers like her were never mentioned or even a glint in anyone's eye. She would struggle with knowing her mother and mother-in-law deserved a great day, and yet she just wanted someone, anyone, to acknowledge her on it too.
"What do you want to do today mommy?" her husband asks as all the kids settle into a morning cuddle in their king sized bed.
She could really use a day off in all honesty. The job of a stay at home mom of three children under the age of 6 is never ending, all consuming, forever rewarding but completely exhausting.
But, she knew better. She would spend this day with the children she fought so hard and paid so much to get here. She would soak in every giggle, cuddle, whine, tear and mess.
Because she is a mother of all mothers.
A mother who has lost and yearned more than anyone ever should have too, a mother who has the honor to parent only some of her children here on earth.
She is a mother, a mother to many.
Every year this is a dream scenario for me. Every year this day is a reminder of what may have been but never will be.
Mother's Day is difficult for those of us who have lost children far too soon, some even before they could be known or draw a breath of this earth's fresh air. It is difficult for those who are longing still and want nothing more than the chance to hold their child in their arms.
Throughout this week let us #honorallmoms. Thank you to Sarah Philpott of All-American Mom for starting this movement. I am thankful for her voice, her remembrance of mothers like me and the power of community.
Happy Mother's Day to all the moms.
May you know you are seen and loved by your children near and far.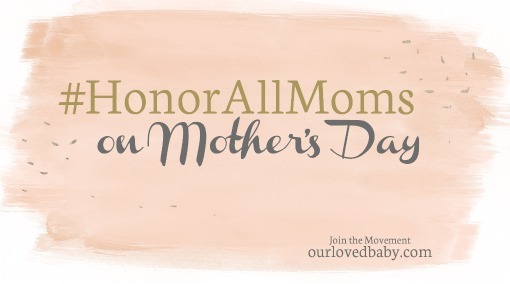 Related