Ever since that "It's Coming Home" ad first began airing on television earlier this year …
In fact, so many people have poured into this theme park, eager to once again experience this " … spectacular-festival-pageant-of-nighttime-magic-and-imagination-in-thousands-of-sparking-lights-and-ElectroSyntheMagic-musical-sounds," that – back in early March -- Disneyland was forced to create a brand-new policy to address how Guests could go about viewing its parades.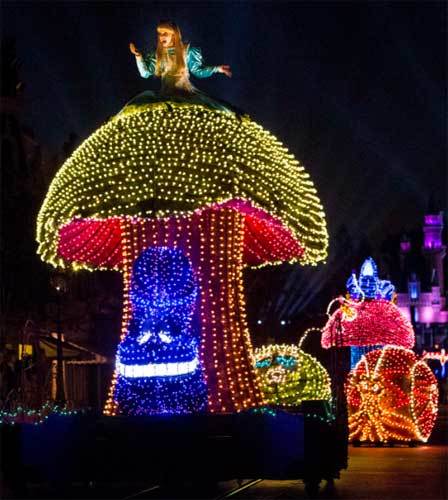 To explain: The theme park had previously allowed people to claim a viewing spot in advance along Main Street, U.S.A. by spreading a blanket or tarp out along the sidewalk. The only problem was – what with the enormous popularity of the return of the Main Street Electrical Parade – Guests were now claiming spots hours ahead of time. Which – what with all of the blankets & tarps that were now spread out along the sidewalks in this part of that theme park by mid-afternoon – was making it extremely difficult to traverse Main Street, U.S.A. Which is the main entrance / exit corridor for Disneyland Park.
So for public safety reasons (as well as to sort of level the playing field for those Guests who were arriving at this theme park later in the day), Disneyland Resort officials announced that visitors would no longer be allowed to reserve spots hours ahead of time that they could then use to view this theme park's nighttime parades or firework displays from. Effective March 2, 2017, Guests would now have to wait 'til Cast Members had actually set up the ropes & stanchions along Disneyland's parade route (which then delineate what exactly the boundaries of this theme park's official viewing areas are) before they can then claim a viewing spot.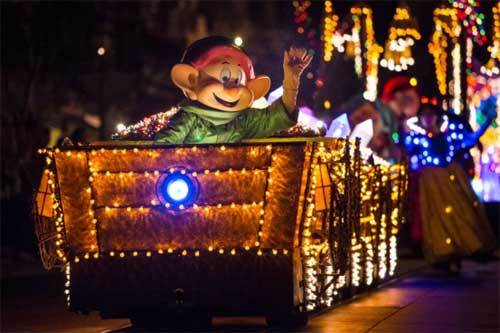 But even with this new no-reserving-viewing-spots-hours-in-advance policy in place, there have been so many people pouring into Disneyland Park over the past few weeks -- eager to experience the Main Street Electrical Parade before its limited-time engagement at the Happiest Place on Earth ended on June 18th -- that Mouse House managers have decided that " … the show must glow on." Meaning that the Disneyland Resort has just extended this nighttime entertainment's limited-time engagement through August 20th.
Mind you, for those of us who remember what happened back in 1996, Disney's decision to extend the MSEP's run wasn't all that surprising.

In the Spring of that year, Disneyland officials announced that the Main Street Electrical Parade was about to enter its "Farewell Season." Meaning that – after its final public presentation on October 15, 1996 and then an annual-passholder-only presentation on October 17th – this much beloved nighttime entertainment would be " … glowing away forever."
Well, so many people made the trip down to Anaheim that year to catch the Main Street Electrical Parade before it ended its 24-year run at that theme park that Disneyland officials were then forced to extend the Main Street Electrical Parade's "Farewell Season" by six weeks.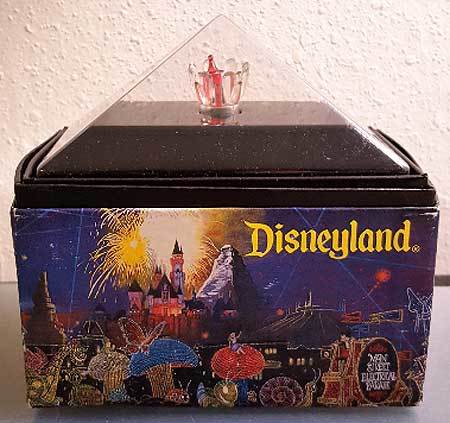 And when the night of November 25th finally arrived, the Happiest Place on Earth was something of a misnomer. Given that there were tens of thousands of people in tears all along the parade route as they watched a chunk of their childhood make what was supposed to have been its very last run through that theme park (And given that Disneyland Park then sold off thousands of light bulbs that had supposedly been harvested off of MSEP floats to benefit various Orange County charities … Well, back then it seemed pretty definitive that this nighttime entertainment would never be coming back).
Of course, November 25th was the very last day that the Main Street Electrical Parade could run through Disneyland Park back in 1996. Given that – on November 28th of that same year – the Happiest Place on Earth was then slated to become the Merriest Place on Earth. What with the Disney Family Christmas Celebration kicking off at that Resort's hotels and the Christmas Fantasy parade about to begin its annual run through that theme park.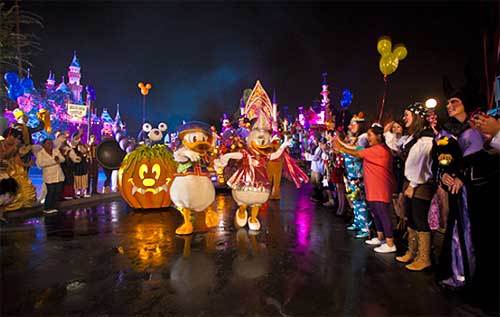 Which brings us to that just-announced-yesterday extension of this limited-time engagement of the Main Street Electrical Parade at Disneyland Park. Given that Halloween Time at the Disneyland Resort typically gets underway in early September (the 2016 edition of this resort-wide seasonal celebration actually started on September 9th of last year), it wouldn't be all that wise to assume that Mouse House managers will be able to extend the MSEP's limited-time engagement yet again past August 20th. Especially when you take into consideration that – as part of its "Mickey's Halloween Party" hard ticket event – the Frightfully Fun Parade (which features dozens of Disney Villains) is scheduled to roll through Disneyland Park. Which means that there really wouldn't be enough staff or time available to present the Main Street Electrical Parade as well.
So long story short: If you had previously wanted to see the MSEP back in the theme park where it originally debuted some 45 years ago (on June 17, 1972 to be exact) but weren't planning on doing so because of its previously-announced June 18, 2017 end date … Well then you should definitely take advantage of this extension of its limited-time engagement.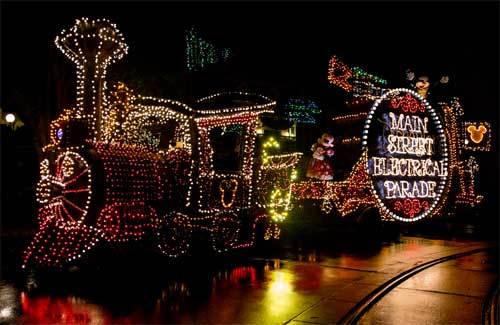 Because once August 20th passes, who knows? Maybe this time around, the Disneyland version of the Main Street Electrical Parade really will be " … glowing away forever."
Popular in the Community