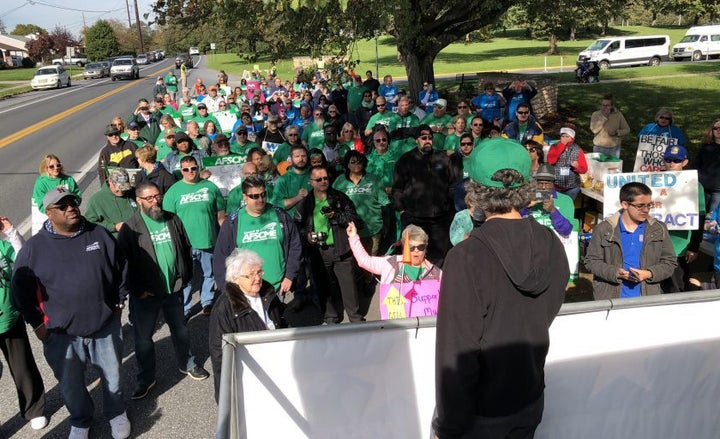 It's not easy for workers to stand up to powerful bosses in our country today. Too often, the deck is stacked against them. But when healthcare workers and the people they take care of join together on the picket line, you know something extraordinary is going on. That's exactly what is happening at Cedar Haven nursing home, where residents are joining nurses, nursing assistants, and support staff and making a powerful statement about dignity for all.
For years, the residents and staff of the Lebanon, Pennsylvania nursing home have enjoyed a respectful and loving relationship with each other. Cedar Haven is a skilled nursing facility with a five-star rating for quality of care. Until 2014, it was owned and run by Lebanon County.
But then the county sold Cedar Haven to Chas Blalack and Stone Barn Holdings, and it's been downhill ever since, for the residents as well as the staff. This fall, Blalack imposed a cruel, one-sided contract on the workers, increasing the cost of their own health insurance. He radically reduced their time off to care for themselves and their families when they are ill.
The staff of Cedar Haven are care takers, whether for the facility's residents, their own children or their aging parents. The vast majority of the 300 employees are women, many of them single mothers. Blalack's unilateral decision to increase their health care costs is a mark of disrespect to the people who provide top notch care to the residents of Cedar Haven. After Blalack refused to negotiate, they took the only action they could: they went on strike.
When I joined the strikers on the picket line last week, several residents were on hand, showing their support. So was Elizabeth Wentling, whose father lives at Cedar Haven. "The people who work here care for him and they care about him. But they also make sure he smiles and they make him laugh," she said. "They work harder than anyone I know at a job that is both physically and emotionally exhausting."
She had a clear and powerful message for Chas Blalack and Stone Barn Holdings: The people who care for her father "are not just line items on your financial report. They are human beings, and my dad's well-being depends on your giving them a fair contract. Please do the right thing."
The staff of Cedar Haven don't do the work they do to get rich. They do it because caring for others is their passion. And just like the residents they care for every day, they deserve respect. For the sake of the residents they love, they should be able to take time off when they're ill. They should not be forced to choose between taking care of a sick child and not getting paid. They should not be treated as nothing more than a source of profits by an owner who cares only about the bottom line instead of the people who live and work in his facility.
The workers of Cedar Haven are waging a struggle to provide the best possible care for the people they love. And their struggle for dignity and respect should matter to all of us.
Related
Popular in the Community