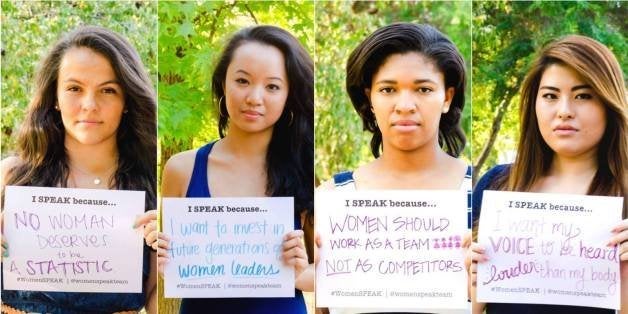 After the devastating events and outcomes of the Isla Vista killings, something beautiful unearthed itself. In the midst of confusion and anger felt by Elliot Rodger's misogyny and violence was the hashtag trend #YesAllWomen.
#YesAllWomen gained the attention of nearly every media outlet through a growing collection of posts that retold the stories and everyday encounters of misogyny and violence against women. Within four days of its use, #YesAllWomen was tweeted 1.2 million times, crying for a "discussion that needed to be held" regarding the susceptibility to violence and harassment that women collectively face on a daily basis.
Yet, a little over one month later, the hashtag -- and more importantly, the open discussion on gender violence that accompanied it -- was nowhere to be found.
Undoubtedly the current media coverage continued to ignite conversation among those at the dinner table for a short while. And this conversation was likely one that was rarely ever held before. Yet, as #YesAllWomen became buried in news of yet another political scandal and another offensive comment by Bieber, the important and much-needed conversations sparked by #YesAllWomen failed to last.
With daunting statistics purporting that 1 in 6 American women will be a victim of rape in her lifetime, where is the continual discussion about harassment, violence and sexism that many women face on a continual basis? And even beyond the web, where is the demand for reform addressing gender violence beyond a virtual screen? Will discussion and action addressing gender violence simply come and go, just like the topics that ebb and flow on Twitter's Top Trends?
I speak as a woman because I want future generations of young women before me to encounter a better reality than I had growing up. And I don't want to just tweet about it -- I want to do something about it. As a millennial, I worry that the hashtag is becoming not only the preferred form of social protest, but the only form of social activism and social justice of our generation.
Instead of giving into fluctuating Twitter trends and short attention spans, I have made it an imperative to make sure my words follow up with action.
I am one of the founders of Women SPEAK, a leadership and mentorship program that empowers young women to cultivate positive body image, deconstruct gender media stereotypes, establish healthy relationships, and realize their leadership within their communities. We hold a yearlong web-based mentoring program and discussion-based leadership conferences for high school students.
Reuniting every summer after high school, three other high school friends and I realized that many of the offensive and uncomfortable encounters we faced as university women intertwined with misconceptions of our gender, race, class and/or socioeconomic status. A short party dress was an assumed sexual invitation. Taking a class in the Women Studies department was seen as useless for our future. Being one of few women of color at an architecture firm continues to be a daily encounter.
We were shocked. We felt helpless. And we wish we had known how to better handle these situations before we came to the "real world" of college.
We at Women SPEAK know that the various realities of being a woman in today's society are unfortunate, enraging, and unacceptable. Yet, we also believe that it's simply not enough to complain or protest through a virtual screen. Through our programming, we believe in the power of open discussion, mentorship, education, and early intervention for young women in preparation for the encounter of an undoubtedly difficult world.
By educating young women on how to encounter and change their realities, we can create better opportunities not only for them but with them.
We are not and will never be just a hashtag trend.
The inaugural Women SPEAK Girls' Leadership Summit for high school students will be on Thursday, July 31 at St. Lucy's Priory High School in Glendora, CA. All high school students are invited. Registration forms can be found on our website womenspeakteam.tumblr.com.
Calling all HuffPost superfans!
Sign up for membership to become a founding member and help shape HuffPost's next chapter