This is the second installment in a series that elevates the work of up-and-coming queer individuals working in the fashion world. Check back at HuffPost Gay Voices regularly to learn more about some of the designers of tomorrow and the way their work in fashion intersects with their queer identity.
Becca McCharen is a queer fashion designer living and working in New York City whose designs have been worn by Beyoncé, Madonna, Nicki Minaj, Grimes and Tyra Banks -- powerful women who have served as inspiration for the work she produces. Sold under the label Chromat, McCharen's work draws heavily from her background in architecture and urban design, creating what she has termed "structural experiments for the human body." Read the interview below to learn more.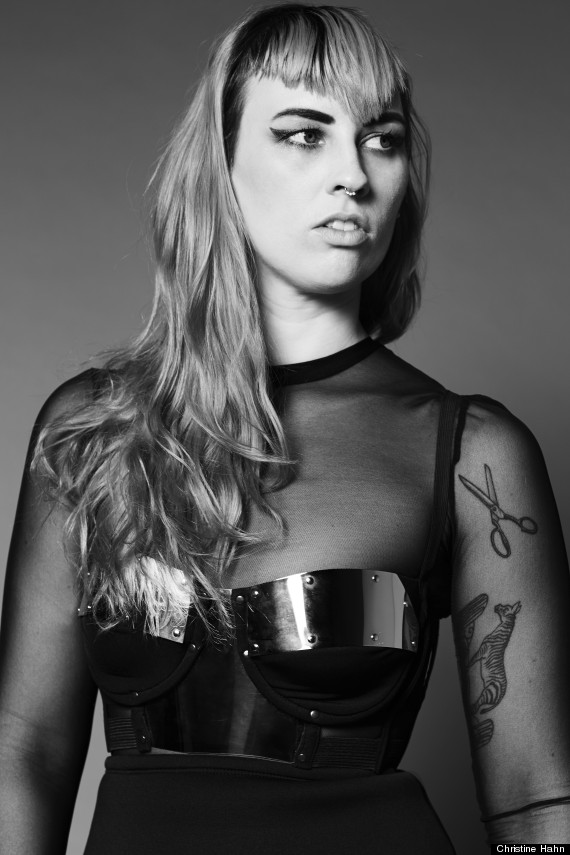 The Huffington Post: What has your journey as a queer fashion designer entailed?
Becca McCharen: I studied architecture at the University of Virginia and my college job was a seamstress in the drama department costume shop. After graduating I moved to Portland, Oregon and worked for architects, joining the Peace Corps in El Salvador and working on the redevelopment master plan of Lynchburg, Virginia -- where I'm from. Throughout all of those architecture and urban planning jobs, fashion was a fun thing I did in my off-time. I like the scale and timeline of fashion vs. architecture and urban design -- it's more immediate.
Four years ago, I moved to NYC and started doing Chromat full time.
How does your background in architecture inform Chromat and your designs?
The scaffolding-like structures we create at Chromat build on my architectural design foundation. We treat the body the same as an architect treats the building site -- looking for context lines, experimenting with new materials and working on defining silhouettes. Chromat is swim, lingerie and harness structures that build on the body and built for strong, powerful women. The woman we design for is unafraid, intelligent and interested in standing out.
What does it mean to you to be a queer designer? How does your queer identity intersect with your work?
Being queer means existing outside of the mainstream, creating your own path and embracing diversity in gender, sexuality, race, body size, etc. -- everything that makes us individuals. Within Chromat, this celebration of diversity shows up in our model casting, as well as our choice of who we work with. For example, choosing not to work with all straight, white male photographers because there are so many of them and they appear to dominate the fashion photography field. Additionally, through the messages we choose to evoke through our clothing.
Where have your designs appeared?
We've worked with Beyonce, Madonna, Nicki Minaj, Twigs, Iggy Azealia, Azealia Banks, Haim, Ellie Goulding, Grimes, Rita Ora, Natalia Kills, Tyra Banks, Maluca... basically all our Chromat muses!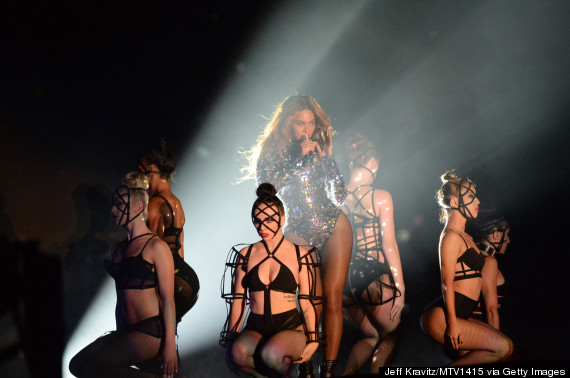 What's next for Chromat?
Chromat is currently producing our SS15 Formula 15 collection to be available in stores in March 2015. The SS15 collection of swimwear and apparel employed 3D-Printing and sensor technology was inspired by the conceptual process artist Sol Lewitt. We just shot the campaign fashion film this past weekend with the experimental dance duo FlucT and I'm really excited about it!
Chromat is also designing the new AW15 lingerie collection to debut at NYFW in February 2015. We're working with new technology in exciting ways -- I can't wait to reveal all!
At HuffPost we've seen an emergence of clothing lines that cater to queer and trans bodies whose needs aren't met by traditional designers. Do you think we'll see more of this in the future? What does this say about the future of fashion?
I love the how queer and trans bodies have been gaining visibility within fashion -- it's overdue and needed. It's up to designers to design for different bodies, to cast different bodies in their runway shows and their ad campaigns; it's a domino effect starting with the designer. Chromat has cast several amazing trans women, androgynous women, queer women and men in our runway shows and I hope to see more designers doing the same. It's exciting to be at the beginning of trends and knowing we have had the power to change both styles and minds.
Want to see more from McCharen and Chromat? Head here to check out the Chromat website. Missed the previous installments in this series? Check out the slideshow below.
PHOTO GALLERY
FABRICATIONS
Calling all HuffPost superfans!
Sign up for membership to become a founding member and help shape HuffPost's next chapter