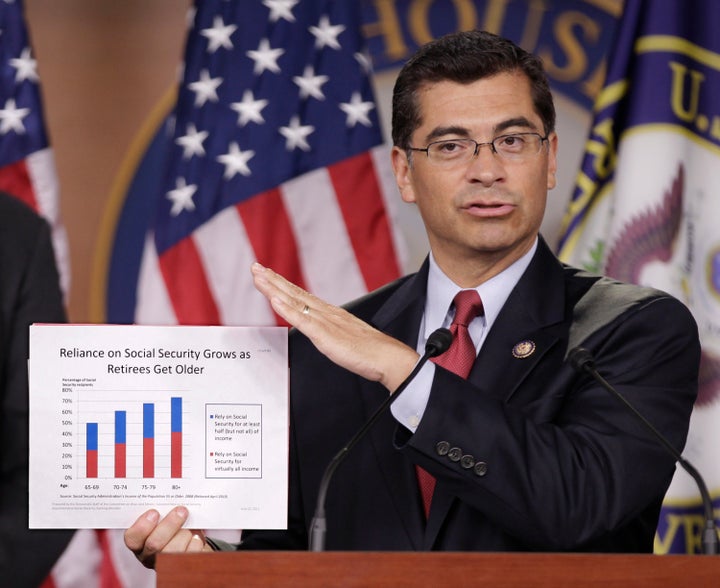 WASHINGTON -- A pair of congressmen representing districts far from Washington -- including one member of the new debt-cutting 'Super Congress' -- have claimed on mortgage documents that their principal residences are not in their home districts, but in well-off neighborhoods in the D.C. suburbs.
California Democratic Rep. Xavier Becerra, who was named earlier this month as a member of the 12-person supercommittee tasked with slashing the government's debt by $1.5 trillion over 10 years, and his wife, prominent doctor Carolina Reyes, bought a 2,700-square-foot home in Chevy Chase, Md., in August, 2009, for $1 million. Since then, they have shaved $4,050.73 off their property tax bill by declaring it their principal residence, according to county tax and real estate records.
Democratic Indiana Rep. Peter Visclosky, who took joint ownership in 2009 of a Takoma Park, Md., home with his wife, Joanne Royce, after they got married the year before, has made similar claims to cut his tax bill. Royce bought the property before they wed and two years ago transferred ownership to a trust for herself and Visclosky. The trust, under Visclosky's name, gets the tax bill.
According to the papers the couple filed, they listed the home as their principal residence, which has saved them $10,300 in property taxes since 2009.
Visclosky's office said it would look into the matter Tuesday, but did not offer an explanation.
In Becerra's case, the congressman signed two affidavits -- for himself and for Reyes as her "attorney in fact" -- declaring the home to be their principal residence.
A spokesman for Becerra, a rising star in the Democratic caucus, insisted the lawmaker's tax breaks were proper, arguing that they were not actually his, but his wife's and the previous owner's.
Almost half of the couple's tax savings -- $1,907.60 -- came from a so-called homestead tax credit that is granted to defray impacts on homeowners when assessments rise more than 10 percent. A Becerra aide said that credit carried over from the previous owner, and Becerra made sure not to apply for it himself.
"He is aware of it and made sure not to submit that application when they submitted their closing documents," an aide said.
The other credit is a $690 annual break that Montgomery County, Md., gives owners who occupy their homes. Becerra's office pointed The Huffington Post to tax officials who said Reyes could qualify as the principal resident.
Although it leaves Becerra in the odd position of claiming to live 2,700 miles away in Los Angeles while his wife and daughters live in Maryland, a county official said Becerra's interpretation was in bounds. Carolina Reyes registered to vote in Montgomery County in the spring of this year, and dropped her L.A. registration on Aug. 17, election officials said. HuffPost inquired about the tax issues on Aug. 12.
"As the Congressman had believed, and as representatives from the state of Maryland and Montgomery County have confirmed, he and his wife did what they were supposed to do when they purchased the house in Maryland, and they have paid the taxes that they were supposed to pay," said Becerra spokesman Greg Buss.
Several other members of Congress have claimed the same breaks only to be embarrassed later when they were revealed.

Rep. Eliot Engel (D-N.Y.) saved himself about $7,000 by claiming the homestead credit. And just a few months before Becerra bought his slate-shingled Maryland home, Democratic Rep. Pete Stark, another Californian, made headlines for same problem.

Neither Stark nor Engel made the same argument about their spouses, though Engel contested the removal of his tax break, and lost. Both Stark's and Engel's tax bills now specify that their Maryland homes are not principal residences.
Melanie Sloan, the head of Citizens for Responsibility and Ethics in Washington, said out-of-state representatives should not claim Maryland as a primary home.
"In order to be a congressman from a certain district, you have to live there," Sloan said. "This happens periodically, and then they say it was a mistake."

In Becerra's case, the papers he signed under penalty of perjury make explanation harder.
"It's a problem," Sloan said. "Any story that he didn't mean it, when you've got affidavits and signatures -- what, politicians don't read? Are they really going to say they're not responsible for what they signed?"

Sloan joked that Becerra could fix his problem by challenging Rep. Chris Van Hollen (D-Md.), another supercommittee member who represents the area where Becerra owns his home.
"I think he should consider that, although Mr. Van Hollen probably wouldn't like it," she quipped. "And that's going to be awkward over there on the Supercommittee. ... It's not good timing for Mr. Becerra to have the story written about him."
Support HuffPost
The Stakes Have Never Been Higher
Popular in the Community