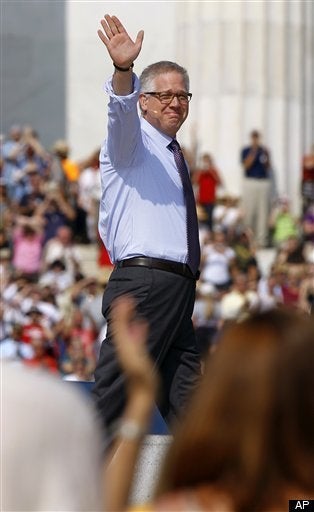 Just in case there is any lingering confusion in differentiating between Dr. Martin Luther King, Jr. and Fox News' Glenn Beck following Beck's impersonation of Dr. King at the Tea Party Jamboree last Saturday at the Lincoln Memorial, here's a hint: only one of them was asked to apologize after they mocked Asian Americans on the air for the "way they talk," while banging a gong and pranking a Chinese restaurant by pretending to speak Chinese. And it wasn't Dr. King.
Dr. King became a Baptist minister in 1954, at age 25, and the next year he spearheaded the Montgomery Bus Boycott and helped found the Southern Christian Leadership Conference, serving as its first president.
At the age of 34, King's leadership led to the 1963 March on Washington, where he gave his "I Have a Dream" speech, considered the defining moment of the U.S. Civil Rights Movement. The next year, at the age of 35, Dr. King became the youngest person to receive the Nobel Peace Prize, which acknowledged his efforts to end racial segregation and discrimination using civil disobedience and other non-violent direct actions.
At the time of his death on April 4, 1968, at the age of 39, Dr. King was working on efforts to end poverty and to stop the war in Vietnam. He was posthumously awarded the Presidential Medal of Freedom in 1977 and Congressional Gold Medal in 2004. Martin Luther King, Jr. Day became a national holiday in the United States in 1986.
Glenn Beck, on the other hand, was born in 1964, the year after Dr. King's "I Have a Dream" speech, and started in radio at the age of 13, in Everett, Washington.
Beck went on to work as a Top 40 disk jockey at radio stations around the country, from Provo, Utah, to Corpus Christi, Texas. In the mid-1980s, on radio station WRKA in Louisville, Kentucky, Beck's weekday show was called "Captain Beck and the A-Team," and featured off-color but non-political humor. Over the years, Beck became known for ridiculing his competitors on the air. In Louisville, he made fun of Terry Meiners, Beck's liberal competition on another station, for being overweight. Later, at the height of his success as a disk jockey in the mid-1980s, Beck hosted the "Morning Zoo" on "Y-95," KOY-FM in Phoenix. It was there that Beck called the then-wife of another local DJ, Bruce Kelly, on the air, to mock her recent miscarriage. According to Alexander Zaitchik, who wrote about the incident in 2009 for Salon, it "may rank as one of the cruelest bits in the history of morning radio":
A couple days after Kelly's wife, Terry, had a miscarriage, Beck called her live on the air and says, "We hear you had a miscarriage," remembers Brad Miller, a former Y95 DJ and Clear Channel programmer. "When Terry said, 'Yes,' Beck proceeded to joke about how Bruce [Kelly] apparently can't do anything right -- about he can't even have a baby."
Glenn Beck "Morning Zoo" ad and interview with Bill O'Reilly
Later, in New Haven, Connecticut in 1995, Beck's antics took on a decidedly racial tone. At radio station WKCI-FM, Beck was asked to apologize after he ridiculed Asian Americans on the air, including calling and mocking a local Chinese restaurant by pretending to be speaking Chinese, and then making fun of an Asian caller who called to complain about it on the air, all while Beck repeatedly banged a gong. According to Hartford Courant staff writer Stacy Wong, in an October 20, 1995 article:
"Radio station WKCI FM will broadcast a formal apology to listeners for a gag broadcast in August that made fun of Chinese Americans. Here is an excerpt.

'The following is an apology to our listeners for a regrettable series of broadcasts that began on Aug. 3, 1995 and persisted for several days. This is Faith Zila, vice president and general manager, Clear Channel Radio Inc., KC101 FM. In an attempt to be funny, the Glenn and Pat show staged a series of broadcasts that made fun at how foreign born Chinese people speak English. Specifically, the program entailed Alf Papineau pretending fluency in Chinese during a phone call to a Chinese restaurant. To compound things, Glenn, Pat and Alf ridiculed Zhihan Ton, a Chinese American who called the show to complain the next day. Upon reflection, KC101 now understands that the bullying use of stereotypes stepped over the line of acceptable comedy, and that it was fundamentally unfair of Glenn, Pat and Alf to mistreat Mr. Tong, and especially unfair to utilize the gong sound effects. For this we are truly sorry and apologize to all our listeners and especially to the Asian community.' "
According to the Courant article, the listener's complaints of racism against Beck attracted the attention of local human rights organizations, who formed the "Connecticut Asian American Coalition Against KC101 Racism." Later, the station manager reportedly read the apology on the air, and the station promised to hold cultural sensitivity training for station employees, including Glenn Beck.