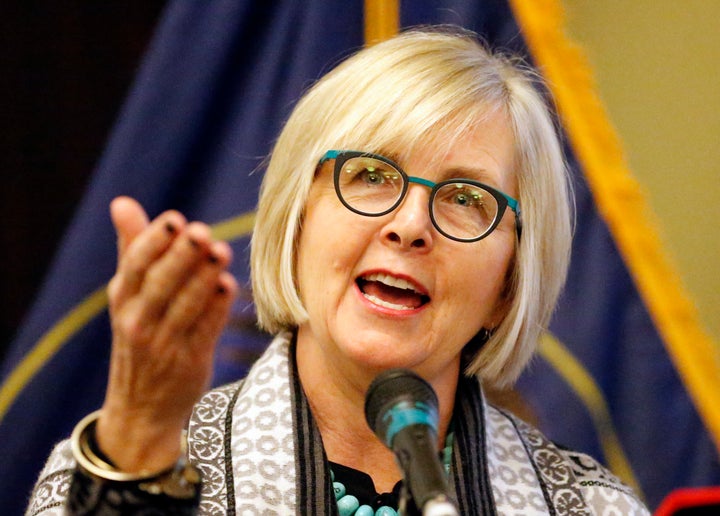 Former state legislator Becky Edwards finished narrowly behind congressional staffer and Utah GOP delegate pick Celeste Maloy. Maloy was endorsed by Republican Rep. Chris Stewart, whose resignation to care for his sick wife set into motion the Sept. 5 special election for Utah's reliably conservative 2nd Congressional District. She now advances to the Nov. 21 general election against Democrat state Sen. Kathleen Riebe.
But she faced blowback for refusing to debate her opponents and for not supporting Trump, and couldn't muster the support of delegates at the state GOP convention against Maloy, a former legal counsel in Stewart's congressional office. Unofficial results reveal that Edwards did best in and around Salt Lake City, while Maloy earned much of her support in the rural swath of the district extending to Utah's southwestern border.
Maloy faced a lawsuit to keep her off the ballot due to her inconsistent voting record, though a judge ruled in her favor, allowing her to proceed in the race.
Low-turnout special elections are generally poor predictors of broader electoral trends, such as whether the GOP electorate will reject Trump after his four criminal indictments. Polls of the presidential primary field suggest that's not the case.
Support for Trump is especially strong in the GOP-controlled lower chamber, which has some of the former president's fiercest allies on the Hill. House Speaker Kevin McCarthy (R-Calif.) struggles to keep the various factions of his unwieldy caucus on the same page, especially as the right-wing amps up its calls for impeachment. It's unclear whether Maloy has voted for Trump — she did not vote in Utah in 2020 — and sidestepped questions about who she supports for president in 2024.
Edwards, who mounted an unsuccessful primary against hard-line conservative Sen. Mike Lee in 2022, has urged Republicans not to vote for Trump, currently the front-runner for the GOP presidential nomination. Edwards also said that Trump deserved to be impeached for the Jan. 6, 2021, riot at the U.S. Capitol, a position that made a pariah out of any Republican who dared to break with the former president. All but two House Republicans who voted in 2021 to impeach Trump lost their seats or declined to run the next year.
Stewart announced in May that he was stepping down after a decade in Congress. His district is one of four safe Republican seats in Utah, a deep-red state where Republicans have nonetheless embraced Trump critic, Mitt Romney, the state's junior senator, and Evan McMullin, a third-party candidate who managed to peel away significant support from Trump in the 2016 presidential race.
CORRECTION: This story has been amended to reflect that Maloy was the GOP delegate pick in Utah, not Nevada.
Support HuffPost
The Stakes Have Never Been Higher
Popular in the Community