Becky Hammon continued to make history on Monday as she led the San Antonio Spurs to a NBA Las Vegas Summer League championship victory, becoming the first woman ever to do so.
Hammon earned another spot in the history books just two weeks ago when she became the first woman to serve as head coach of a NBA Summer League team. And that title is just an extension of her day job -- as an assistant coach on Gregg Popovich's team in San Antonio. Which, yes, when she was hired last August, she was named the first full-time female assistant NBA coach.
The Spurs dropped their first summer game to the Knicks, but managed to bounce back after that, Hammon said after the 93-90 win over the Phoenix Suns.
"It was a grind. They've been together about 17 days. They really started to kind of gel here these last two or three games," she said. "They listened, and they played really hard for me. So I'm just really [appreciative of] their attentiveness and alertness and their desire to win."
Becky Hammon celebrates after the Spurs' NBA Las Vegas Summer League championship victory. (AP)
If there's any debate remaining as to whether Hammon can provide insight into the men's game, allow this performance to silence all of that. Many of Hammon's players emphasized that they see her as a valuable voice on the bench.
"She gives another perspective on the sidelines for us. She see some things that we don't see," Danny Green told NBA TV in an interview during Monday night's game.
He continued, "She's obviously a player, everybody respects her, she's well-respected. She knows the game. She understands the game. She sees it from a point guard perspective, but a female perspective [too], which is very different for us. She's one of my favorites ... She's doing very well. I'm happy for her."
Becky Hammon and Jonathon Simmons hug after the team's win. (AP)
Similarly, Jonathon Simmons, who won the championship's MVP honors, said it has been "amazing" to have Hammon on the sidelines.
"She's a real cool coach and she's a player coach and that's what guys like my age -- we like that," Simmons said on NBA TV's "The Starters" after the game. "She's experienced, you can't take that away from her."
Simmons later spoke of the importance of Hammon's trailblazing role in the league.
"I'm just thankful that [Popovich] trusted me with the guys in that locker room, and that those guys trusted me back," Hammon told SI.
And, of course, like any NBA coach, the Spurs and Hammon celebrated accordingly.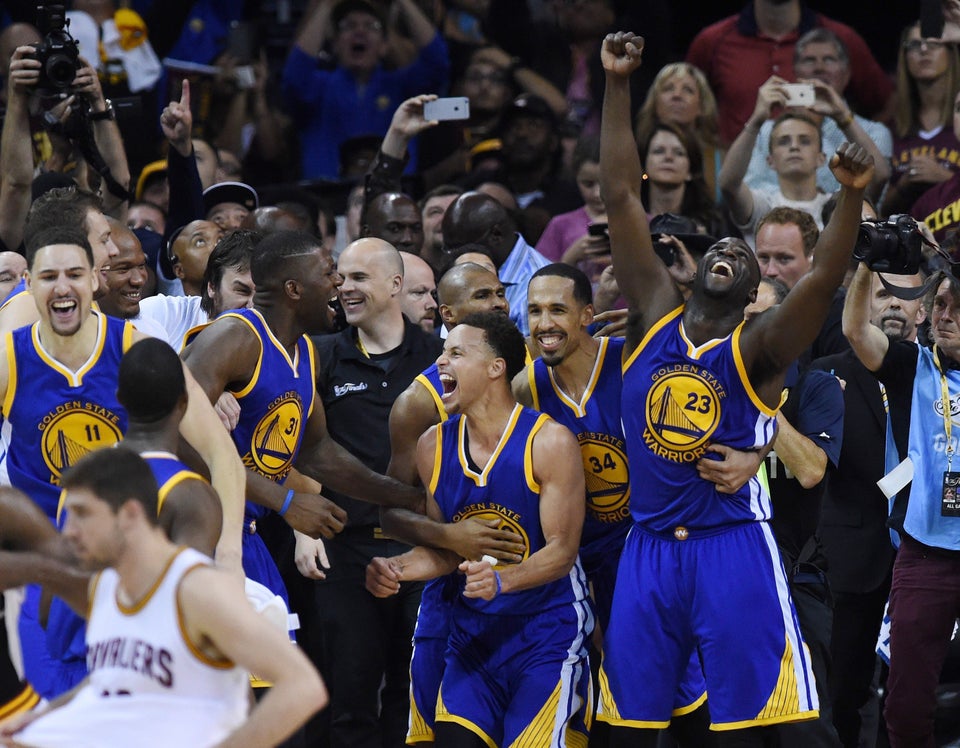 Some Cool 2015 NBA Finals Photos
Popular in the Community