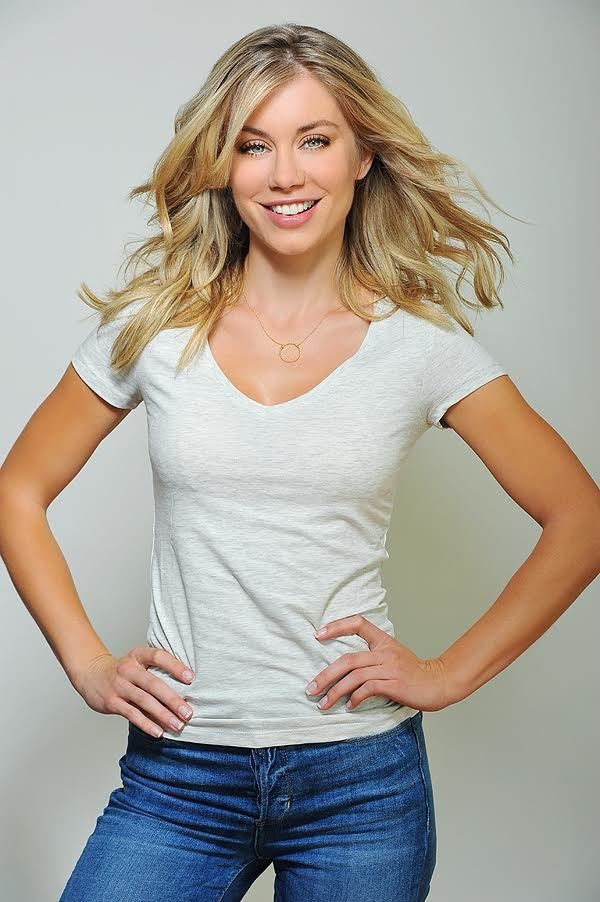 With a history course in Hollywood set to be a major television event now on FX as they continue their highly acclaimed series Feud: Bette And Joan, it's time to brush up on the creation of rock and roll- and CMT has just the ticket. Viewers who haven't watched the delightful new Sun Records yet absolutely need to get on it as the nostalgic series not only gives great insight to the early days of Johnny Cash, Jerry Lee Lewis, and Elvis, but it also offers up a slew of hot new stars in the leading roles- especially Jennifer Holland as queen of Sun Records; Becky Phillips!
As the woman behind the man of the powerful record company, Holland shows that Feud isn't the only series with a retro flair that is showing outstanding women empowerment. Far more than just a housewife or a mother of the time, Phillips was a strong working career woman who had a powerful voice on W.HER- the first all women radio network in the country, and she continued to work well into her marriage. And, showing that she is far more than just a pretty face, the dedicated actress behind the character has done mountains of research to do her character justice and bring her to light in the way she deserves, telling her story with depth and a nuanced illustration. The gifted talent is using elaborate oil paints rather than water colors as she paints the picture of her fascinating character, never short-changing her for all her intrigue, and she is never just along for the ride to tell the story of the man's trajectory. She breathes true life into Becky making sure that she is never just a B-character or throwaway "pretty girl," and that not only serves the actress well, but also Chad Michael Murray- who gets to play off her, as well as young women everywhere who get a quality role model to look up to.
And the best part is that Holland clearly is downright overjoyed doing it. When speaking, it immediately becomes obvious that the lovely starlet is thrilled to be a part of the CMT game-changer as she gushes about everything from her character, to the show, to her fellow cast-mates, to the crew, to the network she is on as she enthusiastically states that they really are all like a family. The sunny performer is even on cloud nine over their living arrangements and the set- as well as getting to play cornhole with the cast during barbecues on Sunday!
As Sun Records continues to become CMT's hottest new hit, the quickly rising star sat down for an interview about why she loves Sun Records- as well as playing Becky Phillips, what it's like working with her amazing cast, what she would love to do in the future, and more! Read below to see what Holland had to say!
"Sun Records" is incredible. The show is so well-done! What can you tell audiences about the series?
So, it's a coming of age story really about all of these people before they were successful and famous. It's about where they started and everything they had to do to get where they wanted to go. It's about people who come from nothing- poor, humble upbringings- and they're trying to make a life for themselves, which is really cool because people can really relate to that no matter what generation they come from. So, there's that aspect, but it's also really sexy. There are a lot of beautiful shots. Our DP; William Wages, created the most magnificent look for the show. And we had no idea while shooting what it would look like. We knew there was a lot of time spent on lighting, but we had no idea the finished product would be so beautiful. Once I saw it, I was very impressed. It's so original and beautiful. And there's so much great music. You watch the portions of the show when they cover the performances and it really gives you chills, that's how great the music is!
And what can you say about your character, Becky Phillips?
So, Becky is the wife of music producer Sam Phillips- the man who discovered all of these iconic artists, and she was really the strength and support system for this creative, bonkers, wacko guy. I think she really took care of him as he had some mental issues, and she stuck by him and helped him build this incredible empire that he built. She was really the woman behind the man. She's fun, and she's strong.
It's always interesting to be involved in what is a bit of a biopic. How did you go about researching your role of Becky Phillips?
For myself and Margaret Anne Florence who plays the other leading female on the show, we both searched far and wide for as much information that we could find on these women because even though they were really integral parts of the story and the lives of these men, no one was telling the story of women back then- you know? So, there's not enough information on them as one would hope, it's hard to find, so I started by reading Peter Guralnick's biography on Sam Phillips, and he talks about Becky a lot in there- which was really enlightening. And then there was some good information on Becky online because she had a great career in radio- she was a fierce career woman in the 1950's, she wasn't just a wife and mother to Sam and her kids, she started as a radio personality and that is how her and Sam originally met. He walked into the studio where she worked and they hit it off. I think she was quoted as saying that she went home to her parents and said she met the man she was going to marry. And after she got married she continued her career in radio, her and Sam started a radio station in Memphis called W.H.E.R- W.Her, it was the first all women radio network in the country, and by that I mean that 100% of the staff was female. And that was so progressive for the 1950's as it gave opportunities to women in this male driven career. There are some archived recordings of her too that I had also listened. We were also lucky that we shot in Memphis- which is great, because there was a chance that we could have wound up shooting in Shreveport Louisiana, but the directors and producers really fought for it to be shot on location in Memphis- and I'm really glad that they did. It was such a rich experience that we got to walk in the real footsteps of the real people. Even though we weren't making a documentary, and this was entirely a fictional story, we were still playing real people in history and there's a responsibility to those real figures to give them their due. So, we were very lucky to go to these places, and we even got to meet one of Becky and Sam's real life son's- Jerry Phillips, and he gave us a tour of Sam's studio in Memphis, and it was such an honor to pick his brain. He was there as a kid when Elvis would come over to the house and Becky would make him coffee! He knew all of these people and had a first person experience with them all- so, that was extremely helpful, and one of the coolest experiences I've ever had when preparing for a role. Normally, I'm doing very contemporary work and it's all fictional, so there's no one to go speak to, or talk to, but we had this very wonderful experience that was truly a dream.
CMT is really starting to offer tons of great original programming. Can you talk about being part of the CMT family, as well as working with your amazing cast; Chad Michael Murray, Kevin Fonteyne, Trevor Donavan, Keir O'Donnell, and Drake Milligan?
With pleasure. Being a part of the CMT family is wonderful, and a little less stuffy I think than other networks. They are very down to earth. We had Jayson Dinsmore from CMT on set a lot, and he was always supporting us. Everyone from the network is so excited and happy to have us aboard. Working with them has been a unique experience, for sure. And because they're really just kicking off their scripted programming, it really feels great to be a part of something new and wonderful that we get to share in this incredible journey they're starting on. There's some pressure in that, because I do want to really help kick that off for them and give them a great beginning to that portion of their network. As far as working with the cast? We were just so lucky! I hate to sound like everything is puppy dogs and rainbows! [Laughs] But, the truth is, you can go off and film something on location and get stuck with a bunch of people who have huge egos and don't care about anyone else, and are completely stuck in their own world, and that didn't happen for us. We got this enormous group of people who were really excited to be a part of this, and we became a family. We would get together and read lines before shooting. A lot of us stayed at this old hotel that was renovated into apartments, and it was really cool for so many reasons. The character that Keir plays, Dewey Phillips, actually broadcasted out of that hotel- so it was cool to be staying in this place where history happened. And we would all get together every Sunday and have a barbecue and play darts and cornhole! Memphis is so fun- it's like a small town and a city at the same time, and we got to take part in some of the local activities and get to know the local spots. Everyone was just so awesome. We all got along, and we were all just so lucky- the cast and crew was so cool. Chad is great. He's been around forever and he could easily have been horrendous with a huge ego, but he was just so happy to be creating this project with all of us. It was such a beautiful collaboration. And I've known Kevin for about ten years- we used to be in acting class together, so that was really cool!
And you've also already been on "American Horror Story," and your career is definitely on the rise! Who else would you love to work with, and what other roles would you love to play?
I've recently fell in love with Greta Gerwig- she is a fantastic actress and I would love to work with her someday. There are so many actors and actresses that I would love to work with. If I could work with one director, I would have to say Mike Mills. He had this film a couple of years ago called Beginners, and this year he had 20th Century Women. He's a writer/director and he makes these incredible slice of life films. He has such a unique vision and I would love to work with him- that would be dream. And I don't know if I have a dream role. I just love reading scripts and hearing about people and telling their stories. That's really ultimately it- I just want to tell stories.
And luckily for Mrs. Becky Phillips, Holland is very good at telling stories- so, it's safe to say that the tale of the famous empress of Sun Records is in very good hands.
Sun Records continues Thursday nights at 10/9c on CMT.
REAL LIFE. REAL NEWS. REAL VOICES.
Help us tell more of the stories that matter from voices that too often remain unheard.
This post was published on the now-closed HuffPost Contributor platform. Contributors control their own work and posted freely to our site. If you need to flag this entry as abusive,
send us an email
.