Have you ever seen a photo of a pet in need of a home and thought, "I wish I could help"? But maybe you work too much. Maybe you don't have the money. Maybe you don't how how he or she will get along with your current pet. At a point in time, I thought the exact same things, and often wished I could do more with what I had. I always donated money to non-profit rescues and organizations when I could afford it, but after months of seeing hundreds of perfectly lovable animals suffer, I started to research the different ways I could actively get involved in animal rescue. My research led me to various rescue organizations, and resulted in me becoming a foster mom of over 20 dogs and counting.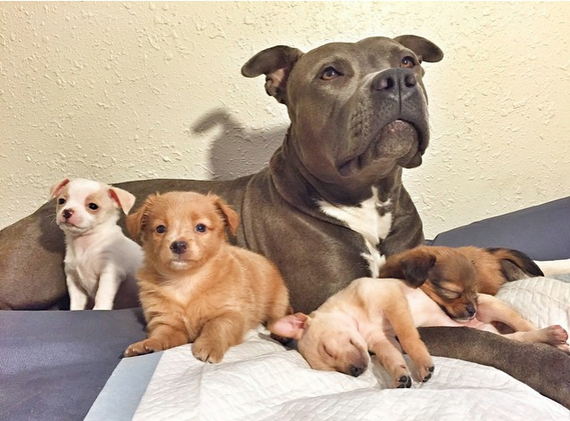 Pictured above: My last "foster fail", Angel the pit bull, with our latest litter of rescued chihuahua mixes.
There are so many animal lovers out there who aren't even aware of all the ways they can easily start getting involved in animal rescue. Whatever your passion or hobby is, there are likely ways to use it as a tool to help. Everything counts, everything matters. Do you like to paint in your free time? Ask your local rescue if they ever need a painter or artist for an event or project. Do you like to go hiking? Ask your local rescue or shelter about taking a dog out for a fun day trip. Have the weekend off? Go spend some time with the animals at your local shelter or rescue. You can even incorporate your career into your animal rescue passion. Speak with a non-profit rescue representative about donating to promote your business at an event, trading services (such as advertising) that will benefit the rescue, running specials or promos to raise money for a rescue, and the list can go on and on.

Pictured above: A donation of supplies to Fresno Bully Rescue from Urban Suburban Apparel, a charitable clothing company.
If you can't volunteer or donate monetarily, rescues can probably use any crates, towels, blankets, potty pads, mini kid pools, food, or any other supplies you may have left over that you don't need. The possibilities and different ways to help are endless. Though I donate, volunteer, and network, the most gratifying way I contribute is by being a foster parent.
If you're wondering what fostering is all about, and you want to see if it's something you could do, I suggest you do a quick Google search for animal rescues and shelters, and you should be able to find some in your area. More often than not, rescues are in absolute dire need of foster homes and help, so if you have questions or special circumstances, just express them to the coordinator(s), and I guarantee they will be more than happy to find a solution that works for everybody.
Generally speaking, a typical foster home will care for a pet until he or she is adopted into their fur-ever home. That means it could take 1 week, or it could take 6 months or more, depending on the case. If you really want to foster, but don't know if you can do it long-term, just talk to the rescue coordinators. There may be a pet who only needs a temporary home for a short period of time.
Foster homes are required to care for their foster pet, take them to vet appointments if need be, and prepare them for their fur-ever home. If you are renting, it is important to make sure that your landlord is okay with a pet in your home. Remember, a small home or apartment doesn't necessarily mean you can't be a foster- there are always smaller breeds and pets in need of temporary homing who require less space.
Most people are intimidated by fostering because of their fear of getting too attached, the expenses, or because they don't know if the newcomer will get along with their current pet. Fostering can be a rewarding, fulfilling, and palpable experience if you let it be. Each pet is unique and will have their own needs, so it's important that you ask a lot of questions and have open communication with the organization before making any commitments. Rescues need all the help they can get to continue saving more animals, so even if you aren't in the position to foster, there are likely other ways you can get involved. Just ask!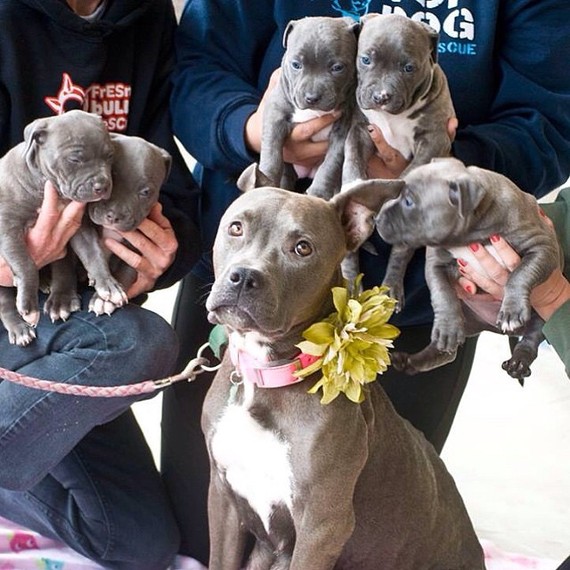 Rescued: Emaciated stray dog & her puppies. Because of a foster home and the incredible Fresno Bully Rescue, Angel had a safe place to nurture her newborns until they were all happily adopted.
If you already have a pet at home, take his or her personality and needs into account when considering fostering a new pet. For example, if you have an older pet who is a little more independent, you may want to steer away from a high-energy foster pet and look into the senior pets. Most rescues will allow you to bring your pet to do a meet and greet with a potential foster if necessary. Always consider your residing pet before adding a new one!
As for expenses, I can't speak for all rescues, but most will cover all of the foster pet's medical fees and vet visits. Some rescues will even provide you with a crate, food, and supplies. The adoption process all varies depending on who you foster with. My local Fresno Bully Rescue, whom I foster through often, thoroughly handles and reviews all the applicants. Then, I get to meet with the chosen family and finalize the adoption.
Carefully reviewing applications, performing home checks, and responding to interested adopters can be a tremendous amount of work and extremely time-consuming. Fresno Bully Rescue allows me to do my part in saving lives without me being completely overwhelmed. I always trust their judgment, and am consistently amazed at their ability to literally find the perfect fur-ever homes for my fosters. Most importantly, their sole intention is to get their dogs adopted into the absolute best home, and that's exactly what they do.
Alternatively, some fosters prefer to be at the forefront of the adoption process, which is completely understandable, as I have been that way with a couple of my fosters in the past. As mentioned before, who you are fostering with plays a big part in the overall procedure. I have fostered with several different organizations and each one is a little different from the next. The most important thing is to just ask questions when you have them and be open with the rescue so they can make any necessary adjustments, recommendations, or redirections.
When the day finally comes for your foster pet to be adopted into their fur-ever home, you will be sad, you will miss them, and you may even question yourself at first (especially for the long-term fosters). No matter how perfect the fur-ever home is, you can't escape those initial emotions that come naturally. However, when that first photo or video pops up of your former foster pet thriving and completing his or her new family, it suddenly all makes sense. If you already have a pet, or should I say "family member" because that's exactly what they are, you probably remember the exact moment they came into your life and the distinct feeling you had when you knew your family just got a little bigger and better. When you foster, you get to give someone else that same experience. You get to take part in something so special, and when your foster pet is adopted into a new home, it's like you get another branch in your family. I feel like a lot of people think that you just "let them go", but that's really not the case. At any point in time, I can call or text any of my previous foster pet's families and see what everyone is up to, and they can do the same with my family and I. We are all here for each other, and we all help one another. When you become a foster parent with a respectable non-profit animal rescue, you see firsthand how much can be accomplished when everybody is on the same page and team. You start meeting more and more people who share the same passion(s) as you, and you become inspired by them every single day.
Particular rescues and shelters also have bunnies, reptiles, birds, turtles, horses, rodents, and more animals that may be in need of a foster home as well!
To view my past and current foster dogs, click here.
To see daily updates of my fosters and pack click here.
Calling all HuffPost superfans!
Sign up for membership to become a founding member and help shape HuffPost's next chapter