It is ADAPTABILITY, and I believe that many women strive to add at least a little of this ability to their daily lives.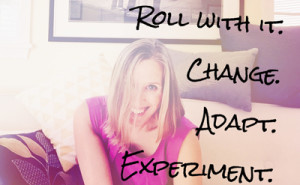 I'm celebrating the 10-year anniversary of Identity Magazine this very month -- January -- and throughout the year! I'm still in shock that it has been 10 years since I embarked upon the amazing journey as a business owner building Identity Magazine, my fempire. (Yes, it's in the Urban Dictionary!)
It was essentially during my 5th year as an entrepreneur that my life truly shifted. I had exited my full time, 9-to-5 career, rented an office, and picked up a bartending job on the weekends. I ran the magazine Monday through Friday and hired my first interns: It all felt so surreal.
After the first year that identity became "official," my boyfriend -- now my husband Rob -- proposed to me. I honestly had no clue that that was going to occur, and within a year of that momentous event I was living an hour away from my office, and bartending job -- and this is where adaptability comes into play.
Roll with it. Change. Adapt. Experiment.
With this change in residence, everyone on my staff would then work remotely because it made the most sense to save money and time by working from home. I recognize that having an office for a year was huge and a pivotal time for the magazine. I could have easily complained, or have been really sad or frustrated because it was short lived, but I knew then and even as I look back now that it happened in that order for a reason.
Since I can remember, I have been a pretty easygoing woman and I value that characteristic as well. I love that I stand up for what I believe or want when necessary, yet I'm game to vacation, eat out, or drive just about anywhere to visit my friends. I'm neither picky nor demanding in those regards.
Gleaned from my own experience and conversations with other women, following are 5 areas you can work on to help yourself become more adaptable to change.
1. Work on being open-minded. Being open-minded can apply to various aspects of our lives. My message here is to inspire you to try to listen to others more, try new activities, and if something isn't working out the way you want it to, to be open to the natural course of events and experiences. Trust with an open mind that the journey is in full swing, pay attention and embrace it as best as you can.
2. Work to become more flexible. Think about every part of your day, be it personally or within your career. Now, I know that deadlines are important and there are situations wherein flexibility is not an option. Even so, there are many other arenas where working on your flexibility can improve much in life (and when I say flexible I mean "giving or taking" a few yards of rope). For instance, I used to always be ready to go out before my friends. I would become extremely frustrated waiting for them, but later, I thought: What's the hurry? Why rush somebody? Think about the times you get to take your time and enjoy getting ready, or take your time driving, or take your time working on project, or take your time cleaning and dancing to music -- it's much more enjoyable and usually the end result is better.
3. Work to determine what's important. Often I catch myself getting frustrated or irritated, mainly because I prefer to be in control. Over the years I have gained control over my control. LOL. I talk to myself internally about what's really important in a given situation: one when I might, for instance, get angry, say hurtful things, scream... SO, I choose the "what's most important" angle. Pretty much every time I shrug my shoulders because in the end nobody is dying or getting hurt.
4. Work to become aware of worse case/best case scenarios. I often implement this approach in my life -- play out the potentials of a situation. It truly helps me to keep calm and open-minded. Give it a shot.
5. Ask for help. One of the key elements to becoming a little more adaptable is asking for help. Especially if a circumstance or even a thought or feeling isn't sitting right with you, ask for support or talk it through.
Every year we strive for forward shifts and growth within our personal and professional lives. Maybe this is the year that you can work on becoming a little more adaptable to change as you journey upward and onward.
*Originally posted on IdentityMagazine.net