I suppose I was in stage three of the five stages of grief -- bargaining -- but at the time I thought it was a surefire way to stave off divorce. I'd already gone through stage one by completely denying the affair for too long. Stage two -- anger -- well, that came to a boiling point when I confronted them both in the office parking lot. Definitely in the bargaining stage. I asked myself all the questions a woman in my position asks: Is she prettier than me? Younger? Does she laugh at his jokes? Does she wipe the electric toothbrush off after each use?
It has to be about sex. That's the most important thing to a man, right? Someone must have stepped in when I dropped the ball. I started forming a calendar in my head, counting on my fingers how often I had offered my husband sexual pleasure. How many times had I said I was too tired? What changed when the baby came? The numbers were dismal, and when I had provided sex, it wasn't anything spectacular. How could I let some other woman show me up like this? How could I have let some other candidate slip in and try and usurp my role? Technically, I had no proof they consummated their relationship; in fact, logistically it hadn't seemed possible -- but she was at least offering something he wanted that I was not. I realized the answer was right in front of me. I could beat this; I could become what he needed.
I felt like a warrior, the opposite of a quitter. There were those people who let their marriage become a cliche and a statistic, and then there was me, someone who had a plan for success. I was going to screw our relationship back together... pun intended. If I was going to do this, there could be no room for error this time -- I had to be the perfect object of his sexual appetite. I had to treat it like it was my job. I had to become his porn star.
Time was of the essence. He was staying two doors down at his buddy's some nights, he'd move out and probably file soon. I had to act fast.
First I had to stop eating, immediately. There's baby weight and then there's what you've become. Porn stars are tight bodied with large fake breasts. At least they were in the porn he was into. I couldn't pencil in surgery but I could at least slim down. Next, queue first ever bikini wax. Full Brazilian. What do you mean you do the back too? It has a back? Excruciating is not sufficient to describe the pain. I am certain, no woman has endured a more painful hair removal process than that. If they had, surely it would be on the evening news. Afterward, I returned to the office with a strange walk and promptly vomited in my tiny trash can and placed it back under my cubicle. Suck it up buttercup, porn stars do it on the regular and so can you.
Step 2: Attire and props.
My maternity jammies that were too comfy to part with weren't going to do. The nursing bras need to be burned. I needed the uniform and the tools. I packed up our nine-month-old and went a few miles south where the property values plummeted and pawn shops proliferated the scenery. There was the sex shop I always passed on my way home. I pulled in the lot and the baby cooed. I looked back in the mirror at his sweet little face. I'm sorry I'm exposing you to this, but you'll never know about this dark time. I'll win this thing for us, and I'll never let it slip again. I glanced up and noticed the stern warnings about showing ID and being 18. Can you bring a baby into an adult bookstore? Would they call children's services? This has to be a parenting low, but a marriage high. I am becoming what I need to become to save my marriage, and after all, you are supposed to put your marriage before your kids...right? I looked at the baby again. Is it possible for a baby to be judging you? Dang it. I needed toys, and edible objects and whips and handcuffs. I couldn't bring myself to enter. I left the bad part of town and ended up at the clothing store in the nice strip mall. I found a few pieces in the bridal lingerie section that were fancy enough -- the irony was not lost on me. Other adult novelty items would have to wait.
Step 3: Doing the deed... a lot.
Every time I saw him, I pounced. He was confused at first, but went along with it like a child reluctant to turn away free ice cream. After the first few days, other than the occasional, 'What's gotten into you?' he didn't say much about the change. The nights he slept at home I did everything in my power, everything that internet porn had showed me, to rock his world. I was a machine. My anger and resolve fueled every motion. When I awoke to the glow of his phone in the middle of the night, the familiar sounds of someone texting a home wrecker in secret, I jumped into porn star mode again. I surprised him at lunch, porn star mode while pulled into the crappy car wash. When he remarked why the dishes hadn't been done for a week, porn star mode right in front of the empty dishwasher. I performed more times in a month than I had in the entirety of our three year marriage. There were positions I should not have attempted given my lack of flexibility and tendency to get vertigo. There were phrases used in the heat of "passion" that were so trite, so foreign to me, so disingenuous, I had to fight my eyes from rolling. I lost a lot of sleep in between my daytime job, my new job in the bedroom, and the baby. It was exhausting and completely unenjoyable for me, but I was winning.
He started staying home every night. He was having lunch with me instead of her. I combated the soreness and the feeling of being physically used up with the unwavering commitment to the cause. I was beating her, I was beating the odds.
And yet, I was utterly disgusted with myself, with him, with the very walls of our condo.
It was my routine of going through his phone that officially ended my at-home porn career. Going through his texts had become a staple in our marriage, and there was no amount of guarding his phone or passwords that could keep me out for long. I snagged his phone and checked their texts, sure that I would see confirmation of my achievement. But there was no, "I made a mistake, this has to end. I love my wife and I want to keep our family together." There was no, '"You could never do for me what she does." Instead, before my eyes were hundreds of flirty texts, dozens of stories being shared. Deep thoughts and intimate secrets being exchanged. There was no, '"Oh by the way I'm still sleeping with my wife... like a ton." There was only, '"You're so amazing. Tell me more about yourself." He told her the same stories he had told to woo me. That story that made him seem adventurous. The one that made him seem sensitive. And he was so enthralled learning about her.
Feeling like a fool, I packed the baby in the car and we set off to return several articles of intimate apparel that still had tags. I chastised myself -- a once smart, confident woman -- for being so ridiculous. In the end, all I accomplished was distracting myself from what was really happening with a crazed useless quest, and providing my husband the best parting gift he never deserved. I won nothing, as there was never a competition nor a prize, but in my grief I failed to see that. I learned the hard way that it's almost never about sex. I had desperately bargained away my dignity in exchange for the chance to cling to a bad marriage. From that point on, if I was inclined to channel my inner porn star, I would do so for someone worthy, but most of all, I would do so for myself.
We're looking for new bloggers on HuffPost Divorce! Have an inspiring story about moving on post-split? Email your blog pitch to divorcestories@huffingtonpost.com.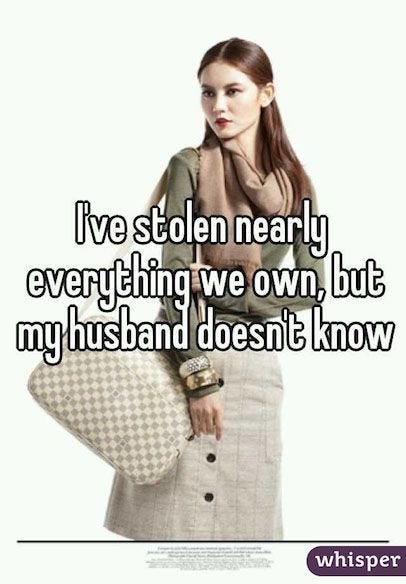 Secrets People Are Keeping From Their SO