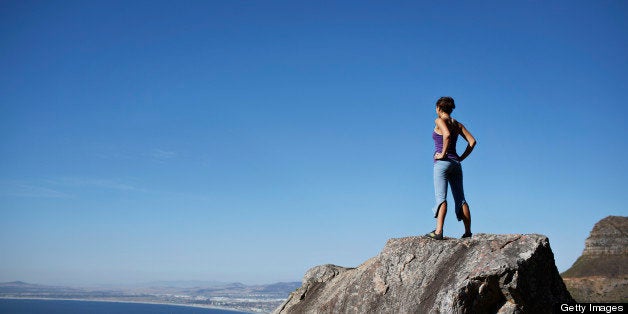 Seven years ago I wrote a book, On Becoming Fearless, celebrating moments of strength, courage and resilience in women and men on a range of subjects, from our bodies and our relationships to parenting and death. And last year HuffPost launched a series, Becoming Fearless, to tell even more stories of fearlessness as part of our larger effort to put the spotlight on what is working in our culture rather than just on what's dysfunctional. In doing so, we tapped into a rich vein of stories of people making a difference in ways that benefit not only themselves, but their communities and the world at large as well.
One of those stories is Jay Platt, who rebuilt himself "mentally, physically and spiritually" after being diagnosed with cancer -- a diagnosis that cost him his left eye, resulted in four brain tumors and cut short his career in the Marines. Drawing on his water survival training, he swam from Alcatraz to San Francisco -- with his wrists and ankles bound.
There's Reshma Saujani, founder of Girls Who Code, whose mission is to educate, inspire and equip under-served girls ages 13-18 with the skills and resources necessary to pursue careers in STEM.
And Susan Spencer-Wendel, a Florida journalist who tells of her decision, after wrestling with denial and suicide, to "live with joy" as she faces a future with Lou Gehrig's Disease.
There's Minnesota Vikings punter Chris Kluwe on the moral urgency of speaking out in support of the gay community.
And Cathy Youngblood, a hotel housekeeper running for office on the board of Hyatt Hotels, aiming to improve working conditions and give her peers -- "the thousands of hospitality workers you meet in the hallways, the restaurant, and the front desk" -- a voice on the executive board.
Taken individually, these stories inspire. Taken together, they testify to something larger: that in the face of multiple crises, people are responding with strength, courage and resilience. And they remind us that fearlessness is like a muscle -- the more you exercise it, the stronger it becomes.
To share your story of Becoming Fearless -- either your own or that of someone you know -- send a post (500-850 words), with your headshot and brief bio, to fearless@huffingtonpost.com.