For millions of us, this is the time when we resolve to change some aspect of our life.
Often it's the same resolution as past promises and time and again many of us fail to achieve our goal.
As we look ahead to a challenging economic outlook this new year, everywhere we turn we find companies poised to capitalize using the "green" marketing message, hoping to capture consumer's attention. Newspapers and network programs are devoting entire weeks to offering "green" tips and products. Even politicians are discovering their inner "green" and embracing eco-friendly policies.
The growing realization that we are living in an increasingly toxic world has also awakened consumers to the fact that we can't always trust government agencies to guarantee that the products we use every day are actually safe.
In the past, the presumption was that if it's on the store shelves, it must be safe. But in fact, nothing could be further from the truth. Need proof? Remember that cigarettes are sold in every grocery, drug and convenience store. So are toxic lead laced toys and plastic baby bottles containing bisphenol A. And let's not forget that mercury-containing flu shot.
And while mothers are striving to provide a cleaner, safer, "greener" environment for their kids, they often neglect the most critical aspect in protecting their children... taking care of themselves.
Living organically doesn't require a drastic overhaul and doesn't have to be complicated or expensive. In The Essential Green You!, I share simple, practical tips on how to green the way you take care of yourself. From the food you eat, the clothes you wear even the cosmetics and personal care products you use every day. It all begins on the inside.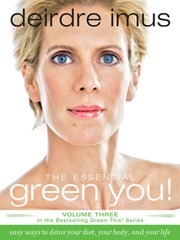 Let's start with food. Consider these statistics:
• Vegetarians have a 28 percent lower death from heart disease than meat eaters.
• The saturated fat and cholesterol from beef, pork, dairy foods, poultry and eggs cause about 63,000 fatal heart attacks each year.
• As many as 75 percent of women who eat fish more than twice a week possess blood levels of mercury, a known neurotoxin, that are seven times higher than women who don't eat fish at all.
• Women who eat red meat once a day have a 250 percent increased chance of getting colon cancer compared with women who eat it less than once a month.
• More than 60 percent of Americans are overweight, with at least 30 percent considered obese compared with an obesity rate of 6 percent among vegetarians and 2 percent among vegans.
Adopting a plant-based diet is the single most important thing you can do to improve your health and set a good example for your children. According to the Harvard School of Public Health, "eating plenty of fruits and vegetables can help you ward off heart disease and stroke, control blood pressure and cholesterol, prevent some types of cancer, avoid a painful intestinal ailment called diverticultiis, and guard against cataract and macular degeneration, two common causes of vision loss."
To help you get started, here are a few simple suggestions that will help you begin to green your way to a healthier diet. Remember, it is okay to start small.
• Green one meal a day -- Meatless Monday, swap that burger for a nice big mixed green salad.
• If you aren't ready to give up meat, choose grass-fed, USDA "certified organic" labeled meat, poultry and dairy.
• Eat your veggies -- Keep fresh veggies in the fridge and make them the snack of choice.
• Opt for a bag of crisp organic apples, or other fruit, instead of fat and calorie saturated chips.
• Choose whole-grain bread, pasta, and cereal over processed, refined grains.
• Avoid fish, especially if you are pregnant or of childbearing age.
Unfortunately, when we go shopping we can be overwhelmed with information and too often we find ourselves confused about what is really organic and best for us. Create an eco-shopping list before going to the grocery store and add one new product a month. Better yet, look for a local organic food market in your neighborhood.
Whatever your New Year's resolution, the most important commitment you can ever make is the one that you make to yourself. As many of us strive to make ours a healthier planet, making responsible green choices in our own life is one resolution that is easily achievable and can have a dramatic difference in your personal well-being and your lifestyle. Make 2009 the year you start on the path to becoming the essential green you.
More comprehensive tips on eco-shopping and healthy choices including a list of recommendations, recipes and resources can be found in Deirdre Imus' new book, The Essential Green You!, easy ways to detox your diet, your body, and your life, volume three, in the New York Times best-selling Green This! series.
Deirdre Imus, Founder, President, The Deirdre Imus Environmental Center for Pediatric Oncology at Hackensack University Medical Center, Co-founder, Co-Director of Imus Ranch, a working cattle ranch for kids with cancer.