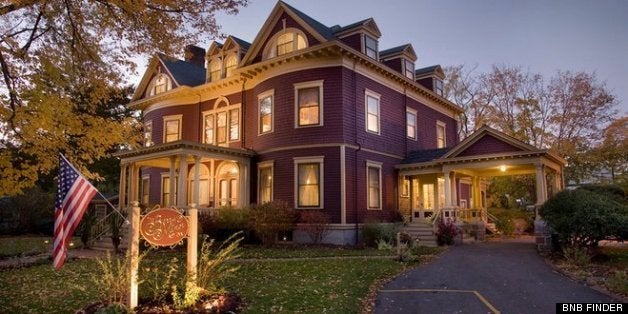 The historic lighthouses and quaint seaside villages of Maine's storied coastline have always drawn visitors far and wide. But now they have another reason for escaping to the region. Its plentiful farmers' markets, craft beer scene, innumerable eateries and ocean-to-table seafood are attracting travelers looking for a delicious foodie experience. And it extends to the Maine bed and breakfasts situated along the coast.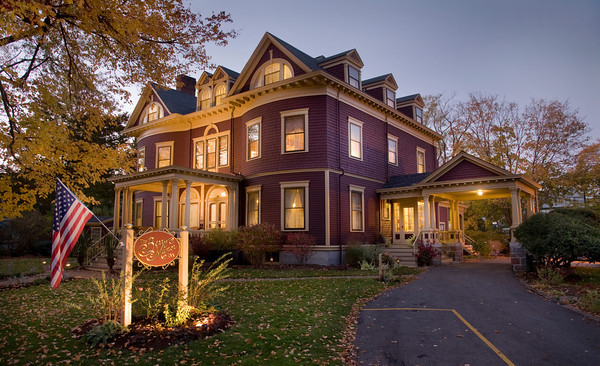 These inns take full advantage of their location not only for their breakfasts, but also to help curate a local foodie excursion for their guests. At Le Vatout Bed & Breakfast in Waldoboro, inspired creations are at the core of Innkeeper Dominika Spetsmann's menu. Broken Eggs (yolks released just enough so they look like paintings), Buckwheat and Blues (almost plate-sized pancakes generously topped with blueberries and walnuts with thickly sliced German bacon) and Sunshine Shrimp (Pandalus borealis shrimp paired with eggs) are some of the dishes a guest might savor. Foodies visiting the inn can even pair up with Laura Cabot, a well-known local food expert and founder of Pine Cone Café, the first "farm-to-fork" restaurant in Waldoboro. She will take guests on a foodie field trip of their choice to collect local ingredients before joining up in her kitchen for a cooking lesson inspired by those chosen ingredients.
There's a reason why Portland has become one of best small foodie towns in the U.S. Well, many reasons. There are the farmers markets and food stands where the restaurants procure fresh ingredients. Speaking of restaurants, there are over 300 within the city limits to choose from, and many of their menus are built around which produce is available at the time. Culinary tours are plentiful including the 2.5 hour Culinary Delights Trolley tour and the Oh So Sweet Chocolate Tour. Inns such as The Chadwick B&B pride themselves on their culinary creations including the Maine Lobster Eggs Benedict with lemon scallion hollandaise, Blackberry Cobbler Waffles with oven bacon, and Rosemary and Thyme Goat Cheese Quiche with Panzanella breakfast salad.
Alan Feuer serves up a three-course breakfast at the Ann's Point Inn, located in Bass Harbor, which could include a Lemon Almond Frittata to start, followed by a course of strawberries with mint pesto and ending with a Broccoli Egg Puff with Costa Rican rice and beans, all-natural chicken sausage with sun-dried tomatoes and caramelized bananas. If you want to learn a few tricks of the trade, the inn is hosting a three-day "Cooking Adventure" from June 9 - 12 with James Lindquist, owner and chef at Red Sky.
Rockland not only is the home to Primo, a restaurant owned and operated by Melissa Kelly, a 2013 James Beard Best Chef of the Northeast Award winner, but also the Berry Manor Inn (pictured). Cheryl Michaelsen, one of the owners and innkeepers, purchases food from the local co-op in the area for the inn and grows her own herbs and garnishes in their kitchen garden for their daily breakfasts. Guests at the inn can take part in a progressive "Rockland Dine Around" dinner where they get to savor a specially created tasting menu at three participating restaurants. A map of Rockland's specialty shops to use on a self-guided tour also will be provided.
In keeping with her focus on wellness, Shadi Towfighi, owner and innkeeper at the Kismet Inn located in Bath, keeps her guests' well-being in mind from the yoga classes and a Japanese Soaking Tub to the completely organic morning meals. "All of my breakfasts are created with organic, natural produce," said Ms. Towfighi. "I serve a Wild Mushroom Omelet with seven different kinds of mushrooms from Oyster Creek Farm and even the eggs come from a local small farm nearby." She makes her own tomato paste, jams, yogurt, pickles and pastries and does not use anything canned or pre-made.
Innkeepers are adept at creating delectable meals for their guests. So where do they go when they want to have a fabulous meal in town? Monica Kissane of the White Cedar Inn in Freeport enjoys the Azure Cafe. She's also a fan of Harraseeket Lunch and Lobster Company where she says visitors can watch the sun set behind the harbor while cracking into fresh lobster at the picnic tables. To truly appreciate the area's varied offerings, she recommends her guests check out different lobster shacks in the area.
"Everyone has their own special twist," said Ms. Kissane. "It's the same with the different kinds of clam chowder; some people enjoy the Rhode Island style, which has more of a thin broth and others like the New England version, which is thicker. We encourage guests to go out and create their own foodie experience."
--Mary White, Founder of BnBFinder.com