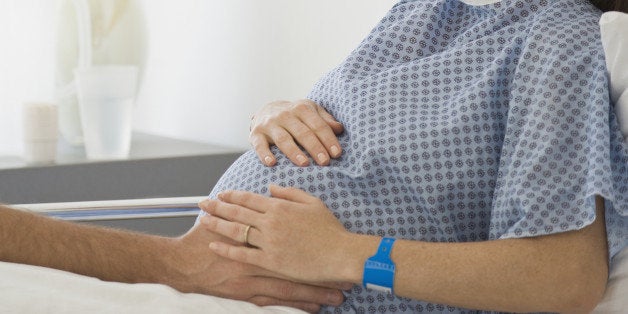 I am entering my sixth week of bed rest at 30 weeks pregnant, and I am often surprised by the reaction I get from the people I tell.
"Oh, you poor thing!" a woman might say. "I was on bed rest for two days and I wanted to go crazy."
The reason why bed rest is so difficult for mothers now is that were are skilled multi-taskers and do-ers; always busy, constantly working by engaging in the things that moms do. Even if we don't work, there are countless chores and errands required of us to keep the house running at a healthy speed -- or so we think.
But bed rest requires you to stop working, at least physically, and makes you confront the sometimes uncomfortable act of doing nothing. To let thoughts come and go, and reflect on them, something that we hardly give ourselves the space to do in our normal daily lives.
By doing nothing, I don't mean binge-watching television shows, or performing various "bed rest" activities like magazine reading or scrapbooking as suggested by many well-meaning sites about how to deal with bed rest boredom. What I mean is that you enter that space where you allow your mind to float and process, which may amount to you looking as if you are staring at a wall and doing, well, nothing.
To most people, this sounds unfathomingly boring. During my first bed rest with my second pregnancy, which included a three-month hospital stay, I fought against it too. I watched endless re-runs on HGTV, The Little People and Here Comes Honey Boo Boo, I confess. But by the first week, I turned to the television off. I was in sensory overload; with the contractions and the sheer physical experience of being pregnant and confined to bed, I needed a break.
And so I allowed my mind to process -- hence, the staring into space. By doing so, I figured out a lot about my identity as a mother as I reflected upon the mind-dulling postpartum depression that I had experienced with my first daughter. For hours, days, then weeks, I spent time in my room quietly reflecting on all those had transpired as my first years as a mother, particularly one that experienced the heavy lows of PPD.
For so long, I could not be present, though I was physically there with my first child. I went through the act of bathing, feeding, diapering, all the while feeling very far away. But some part of my emotional and mental self must have been there, because memories came back to me during that bed rest. Songs that my daughter first sang, the first time she started to babble. For the first time, I felt truly that I was a mother, in a way that did not feel alien to me. And I embraced it from the hospital bed, processing it into being.
Now, I am fighting the urge to work, as I am an adjunct professor at a local university and am teaching composition via online courses. It is easy for me to pop open my computer on my lap and lose myself in the endless repetition of grading, assigning exercises, answering emails. After all, isn't that the purpose of a mother, or a parent, that is, this endless productivity of either working for money, taking care of our household, raising our children in the correct way?
I can't say I am not afraid of letting go, as I've let a new nanny come into our house to help me do what I cannot: respond to the never-ending requests of more yogurt from my 2-year-old, or just one episode of SpongeBob SquarePants from my 5-year-old. I will have to watch from the couch as the nanny cooks, prepares lunches and plays with my children.
Of course, I can still interact with them, but not in the same all-engrossing way. But I least I know that this time around, as well, I will come out a better mother, having spent the time to reflect on the blessings and complications of my life, and allow myself to simply rest.
Related