Guilty of falling asleep with your slowly dying iPhone laying next to you? Or leaving it on the floor overnight, only to step on it the next morning? A new invention claims to alleviate both those woes simultaneously.
The invention, Z-Charge, is simple enough: It's a long fabric-based pouch that hangs on both sides of your bed, allowing you to easily charge up to six electronic devices while you sleep right next to them.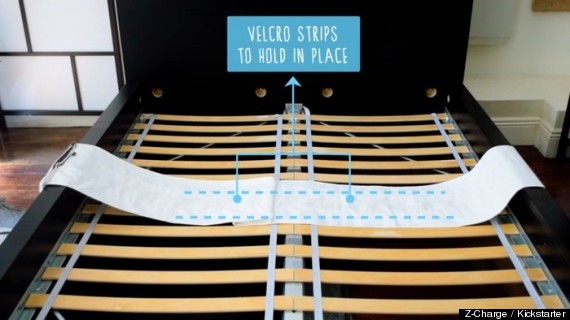 Kind of looks like a roll of paper towels, but in it, there's a wire.
The Z-Charge has two pouches, each with three USB ports, two pockets and a larger pouch to store a larger tablet or e-reader. Just link your chargers up and you're one step closer to an easily charged world.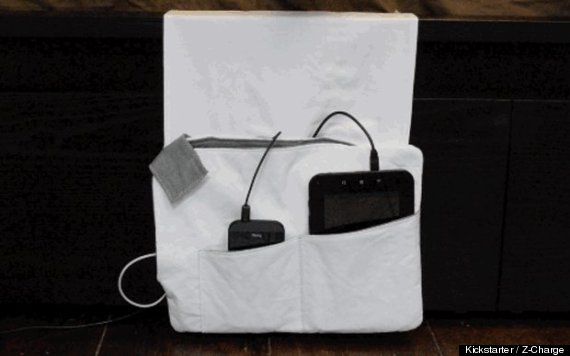 The larger pouch can be opened on the top or side and is secured by velcro.
The two sides are connected by a wire, so you'll only need one wall socket to power the Z-Charge. The makers of the product offer the correct plug for every country.
If you're worried about your electricity bill, the strip can be turned off with the switch of a button. And if you're worried about your bed size, the length of the strip is adjustable by velcro.
So how much would you have to pay for this storage convenience? The first 300 Z-Charge have already been reserved for around $50. The next 200 are currently priced at about $63.
The designers are attempting to raise about $50,000 in a Kickstarter campaign that ends Nov. 20. If they meet their goal -- they're at about $30,000 short with 22 days to go -- they plan to ship the chargers by March 2015. The product is only shown in white, but the team said they'll offer different color options if they reach their goal.
But remember, using smartphones or other bright screens before bed has been scientifically proven to disrupt your sleep cycle -- regardless of where you rest them. So you might want to limit those late-night texts either way.
UPDATE: The creators of Z-Charge sent us a video detailing what's inside the fabric and how the power supply works. If you're interested, here it is: