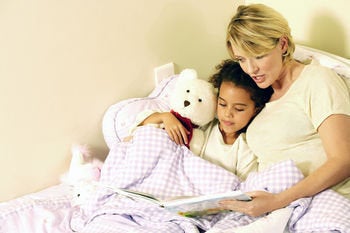 When the sun goes down, fears come up. The blessing of a transcendent story for any age is that it helps us to escape, to relate, to connect and to understand the perils and magic of our mortal universe.
Great children's literature assures us that frail looking boys with scars on their foreheads can become heroes, spiders can write words to save lives and bunnies can go to bed fearlessly. Great children's literature inspires us to want to live backwards: to live as openly and tenderly as a child. Great children's literature for adults encourages us to live every day with intention to make the world harmonious for children, just as Fern's father did in Charlotte's Web when he lowered the ax on that fateful day and spared Wilbur.
Here, below, are my top recommendations for bedtime reading for all ages for the year 2010. In the midst of the swirling clouds of conversations on recession, terrorism threats and environmental anxieties, our great authors, honoring the mysterious yet profound world of childhood, steer us toward peace and community, and the promise of hope in the morning.
The Gift of Nothing by Patrick McDonnell: Mooch so wants to give his friend Earl a special gift, but Earl has everything. When Mooch realizes what Earl really wants is nothing, he goes about giving him nothing in a new and wonderful way. What you end with: Mooch and Earl's simple yet joyous embrace.
Gone Wild by David McLimans: A brilliantly illustrated alphabet book depicting 26 endangered animals. Information is given on habitat and the threats to the animals' existence. Why we read this: to marvel at inventive art and to get active on protecting our quieter friends in nature.
The Three Questions by Jon Muth: Based on a story by Tolstoy, Jon Muth takes us on Nikolai's journey to discover his purpose: "When is the best time to do things? Who is the most important one? What is the right thing to do?" He visits Leo, an old turtle who lives in the mountains. Leo explains, "There is only one important time, and that time is now. The most important one is always the one you are with. And the most important thing is to do good for the one who is standing at your side." And Nikolai realizes he has been discovering these answers all along. For whom would this book most matter: if every world leader answered the question, "Who is the most important one?" with: "the child", we would achieve world peace, safety and health.
Haiku Baby by Betsy Snyder: about a bluebird who visits animal friends; the story, of the moon, a flower, and other natural gits is told through haiku. The simplicity and peacefulness of the pictures and words is revelatory. "In tickly-toe grass a buttercup offers up yellow nose kisses." To remind us to: savor the moments and to cradle the miracles of every day.
Planting the Trees of Kenya: The Story of Wangari Maatthai by Claire Nivola: Wangari Maathai won the Nobel Prize in 2004 for her efforts to repair the environmental damage done to Kenya. She taught women and children to plant seeds and grow trees. Nivola shows the children restoring the health of a country. How this book will inspire: it's not just Wangari who rallies us; it's the tenderness of the children and their mothers, taking political action by planting gardens.
Poppy by Avi: Poppy is a mouse who shows tremendous courage on behalf of her people. Although she is by nature shy, she wills herself to stand up to injustice. Inspired by her friend Ragweed, she embarks on a great quest. Why read this: Poppy proves you might be small but you are not insignificant. It is what is within that counts.
One Hen: How One Small Loan Made a Big Difference by Katie Smith Milway: Kojo lives in a small Ashanti village. His life is changed when he is given a micro-loan by his village and he is able to buy a hen. His success after this impacts everyone in his community and beyond. Why we all should read this: When we try to figure out what to do to help in this year 2010, this book gives us a good model for how teaching a man to fish is more important than the fish itself.
The Dream Keeper by Langston Hughes: One of the greatest poetry collections ever compiled, The Dream Keeper contains Hughes' masterpiece, "April Rain Song" as well as "The Dream Keeper" itself. But it is also the small poems that resonate: "I loved my friend/he went away." What's important: Langston Hughes shows us that words can change worlds. His poems told the story of a people, in a time, in a place, and that love is always and forevermore the sword of justice.