Growing up, many of us had a bedtime routine -- a certain story we read every night, a particular song performed by a parent, a favorite cassette tape we played until it wore out. And some of us have kept up with some kind of a routine into our adult lives -- the sleep articles I've read have encouraged me to find a way to train my body into recognizing that it's time to start winding down, whether that's taking a warm bath, reading a book or even just turning off all electronics an hour before bedtime.
I, on the other hand, take a different tack. I let sleep find me. The basic gist is that I get home from work, cook dinner and then just carry on with my nightly activities until sleep more or less punches me in the face (metaphorically speaking, of course). Somewhere around 1:00 or 1:30 in the morning, it hits me that, why yes, I am tired. And so I shut down my computer, turn off the tv, close my book, hang up the phone , stop mid-project (not all five at the same time) to brush my teeth, wash my face and fall asleep within two to three minutes. Sometimes I'm so tired by the time I finally realize I'm tired that this last process can actually feel painful (setting off a vicious cycle where I'm too tired to get ready for bed so I don't go to bed -- am I the only one?).
As I mentioned in my previous posts, I'm a self-proclaimed (and now, thanks to the Great Wake Up Program, officially diagnosed) night owl. I love the extra energy I get in the evenings and equally hate the frustrating feeling of laying in bed for hours on end, unable to fall asleep. So, rather than me searching in vain for sleep each night, I let sleep come to me -- the hard-to-get tactic, if you will, seemed like the best (and least desperate) solution.
Not so, according to what I've learned as a participant in AOL and Lark's Great Wake Up Program. Each week, I'm sent a personalized coaching plan encouraging me to seek (and avoid) light at very specific times of the day, while also remembering other daily routines, such as when to exercise and when to consume caffeine. This was surprisingly difficult for me -- and then I realized why: I put zero effort into sleep. All of a sudden, instead of taking what I can get, I have to work toward getting to sleep on a somewhat regular basis.
In one of my conversations with LARK's sleep team, Cheri Mah asked me what my bedtime routine was -- that time that signals to my body that it's time to slow down. I couldn't answer her.
So my personal goal for this next week is to find what bedtime routine works for me. I know it won't be reading -- I never feel like I have enough time to read good books, and so once I do start, I get so wrapped up that I could stay up half the night. I know it won't be working -- I've found that doing work too close to bedtime means that I dream about editing all night long. So what will it be?
Growing up, when I couldn't sleep, my dad suggested that I try a sort of progressive muscle relaxation where I focus on each area of my body, starting with my feet and working my way up to my head. For each spot, I think about how hard it's worked all day (i.e., my feet have walked me to work, my fingers have typed my articles, etc). Then I concentrate on letting just that one area completely relax before moving on to the last one.
I think I'll try that one again. I also asked our Healthy Living team what works for them. Our associate editor on fitness, Sara Gaynes, says that she likes to do puzzle games before bedtime to "tucker out" her brain and remind it that it's time to slow down. Our assistant editor Emma Gray told me that she watches an episode of something on Netflix (yes, she knows the glow of the TV isn't a smart idea) and drinks a glass of water -- assistant editor Jordan Turgeon also grabs a glass of water. Associate editor Riddhi Shah keeps work out of bed and listens to the "white noise" of an iPod while she's trying to fall asleep -- our health reporter, Catherine Pearson also turns to music sometimes ("I get freaked out if it's too quiet," she explains).
I think I'll try a few of these and report back on how it's going -- but, as the cliché goes, more minds are better than one and I'd love to hear what your helpful (or hey, even quirky) bedtime rituals are to wind down at the end of the day.
To help in the process, SHEEX, a brand of "performance sheets" that offer technology to control temperature, wick away moisture and feel extra comfy all through the night, has offered to give away two sets of sheets (retail value between $159 and $219, depending on your bed size) to a lucky AOL Healthy Living reader. I've tested them (hey, I get a few perks for being your resident sleep blogger) and really did notice the difference.
So tell me (either in the comments or by tweeting @healthyliving) your go-to bedtime routines and rituals, and you'll be entered for a chance to win a set of SHEEX. Here's the deal:
WIN IT: SHEEX luxurious sheets and pillowcase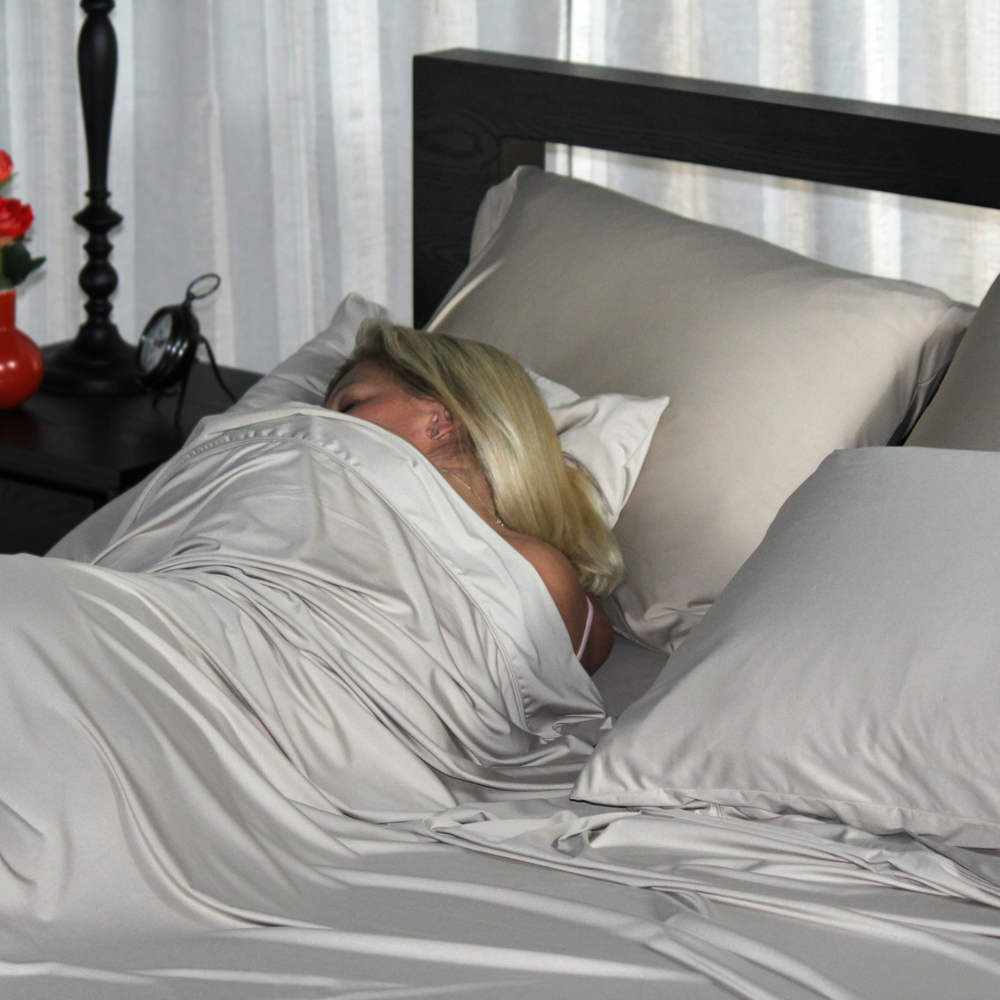 You have two chances to win this giveaway! Two individuals will win a fitted sheet, flat sheet and two pillowcases from SHEEX. These sheets from SHEEX's home collection retail between $159 and $219 depending on your bed size.
The sheets -- which are sold at Bed Bath & Beyond as well as Brookstone -- are meant to promote proper temperature-control and breathability so that you sleep soundly through the night. (They're also super soft.)
Tell us what your go-to bedtime routine or ritual is by either:
1.Tweeting @HealthyLiving with your answer
OR
2.Leaving a comment in the comment section below
The comment or tweet must be left before 5 p.m. eastern time on Thursday, August 25, 2011.
Open to legal residents of the 50 United States, the District of Columbia and Canada (excluding Quebec) who are 18 and older. You may enter one time. One winner will be selected in a random drawing. Please enter only once. Click here for complete Official Rules.
The winners will be notified by email. Good luck!