As a society we've devalued sleep. There is an increased expectation of being "on" at all hours with the ever-present smartphone. Not only do we get less sleep, but we also receive more stimuli when awake than ever before. It can seem nearly impossible to relax and to get the quality sleep we need to stay productive, healthy, and happy.
Hit reset on your nervous system by doing three simple yoga postures to calm you down and quiet the mind before bed time. These three approachable postures can be done in your own home without any props or even a mat. In just 10 minutes you can shake off the day, get ready for bed, and receive a more restful sleep.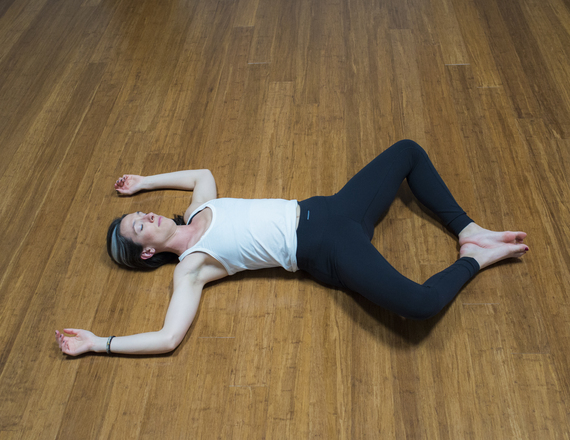 1. Supta Boda Konasana (Reclined Bound Angle pose) -- Start by lying on your back. Bring the soles of your feet together to touch. The closer your heels are to your groin, the more sensation you will feel. Let knees splay out to the side or support them with blankets or a block. Bring your elbows in line with your shoulders and bent to 90 degrees. This posture begins to open up the body -- the groin, thighs, chest and stomach -- countering the effects of sitting in a chair all day.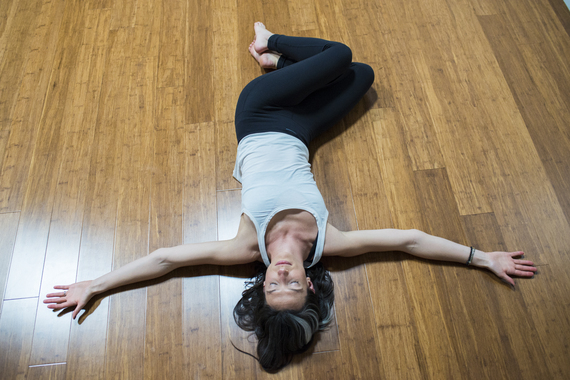 2. Supta Jaṭhara Parivartānāsana (Supine Twist) -- Start by lying on your back. Bring your knees toward your chest in a tuck position. Lay your arms out to your side in a "T" shape. Twist to lay your legs to your left side, keeping your shoulders on the ground (as much as possible). The twist should happen in your upper spine behind the heart. Bring your legs through center to switch sides. When you're finished, lay on your back, knees to chest for a moment to reset the lower back. A twist is used to recharge the organs and ground the central nervous system.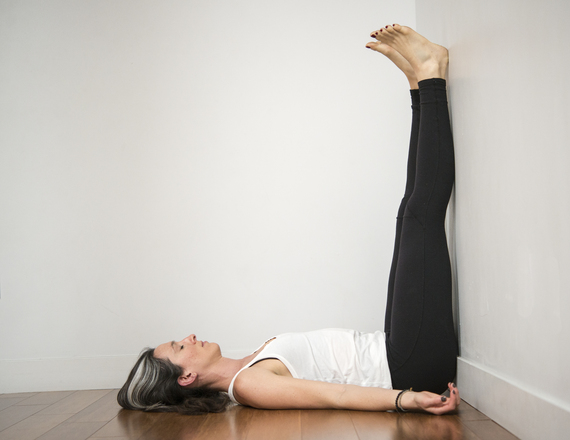 3. Viparita Karani (Legs Up the Wall pose) -- This inversion reverses the blood flow in your legs and has a number of health benefits, along with calming the mind. Sit with one hip next to the wall. Swing your legs over and up the wall sitting with your buttocks as close to the wall as comfortable. Feet can splay out and your arms should fall comfortably to your side. This posture is great for relieving insomnia.
All yoga postures should be done with a focus on your breath. Remember that inhaling and exhaling through your nose is optimal. If possible, try to extend your exhale releasing air for longer than you inhale. Closing the eyes helps focus on the breath and further quiet the mind.
Bonus: If you need a quick calming break mid-day, stand up from your desk and fold your chest over your legs in a forward fold. This posture calms you down, stretches your hamstrings, and releases the lower back.